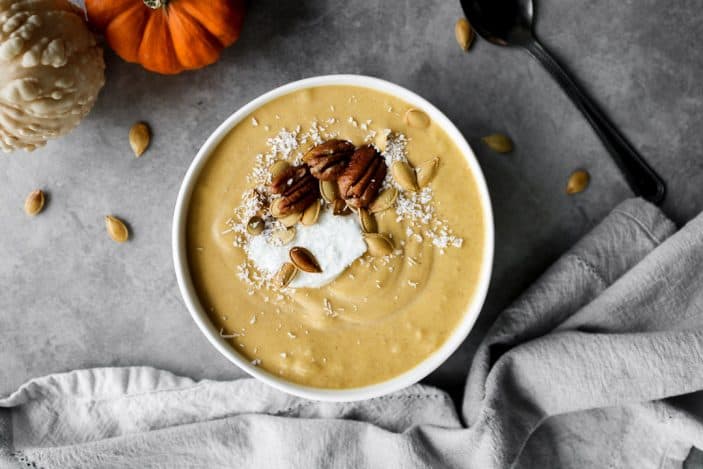 Pumpkin Pie Smoothie Bowl (No Added Sugar)
Happy Saturday!
I hope you're all having a great weekend? I actually have an extra long weekend. It's a long weekend in New Brunswick, plus I went to a nutrition symposium on Thursday morning, so I only worked three days this week. The symposium was SO interesting! They talked about trendy diets (paleo, gluten-free), superfoods, the link between cardiovascular health and dairy products, saturated fats and the DASH diet. It made me love my field even more!
Since the symposium was in my hometown, I took the opportunity to visit my family Thursday and Friday before driving back to Saint John. I also went Christmas shopping and ended up buying only a book and tea for me…
I always have a hard time Christmas shopping. I have so many gift ideas, but I can't afford to buy them all and I can't make a choice. Being a perfectionist doesn't help, but I do LOVE gift giving! It brings out my creativity and the artist side of me. 🙂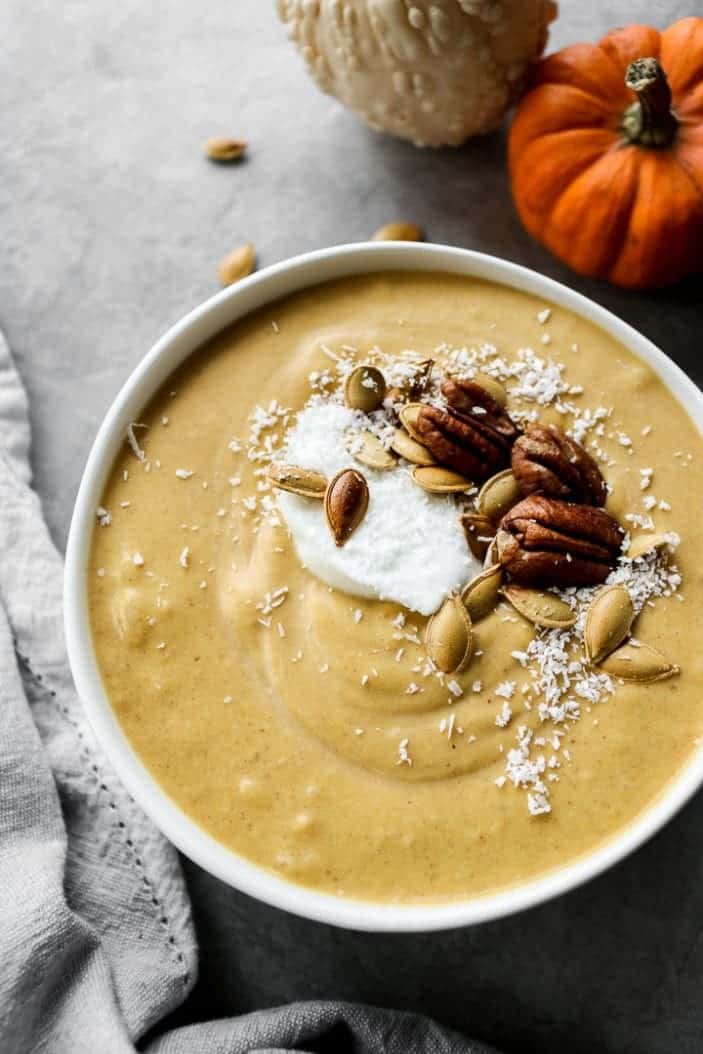 Anyway, now I'm back home and I'm planning to do some recipe testing for a good part of the weekend.
To me, November is a great month for pumpkin recipes. October is probably better, but it seems that after Halloween, we all have pumpkins to use. When I was young, we threw away our carved pumpkins, but now I would never dream of doing such a thing! I use my pumpkin to create a bunch of recipes, including this pumpkin pie smoothie bowl!
Who else is obsessed with pumpkin pie smoothies?! Well, this is my sugar-free version.
As usual, it's sweetened with fruits only. Dates to be exact. However, if your blender isn't powerful enough for dates, you can replace them with maple syrup.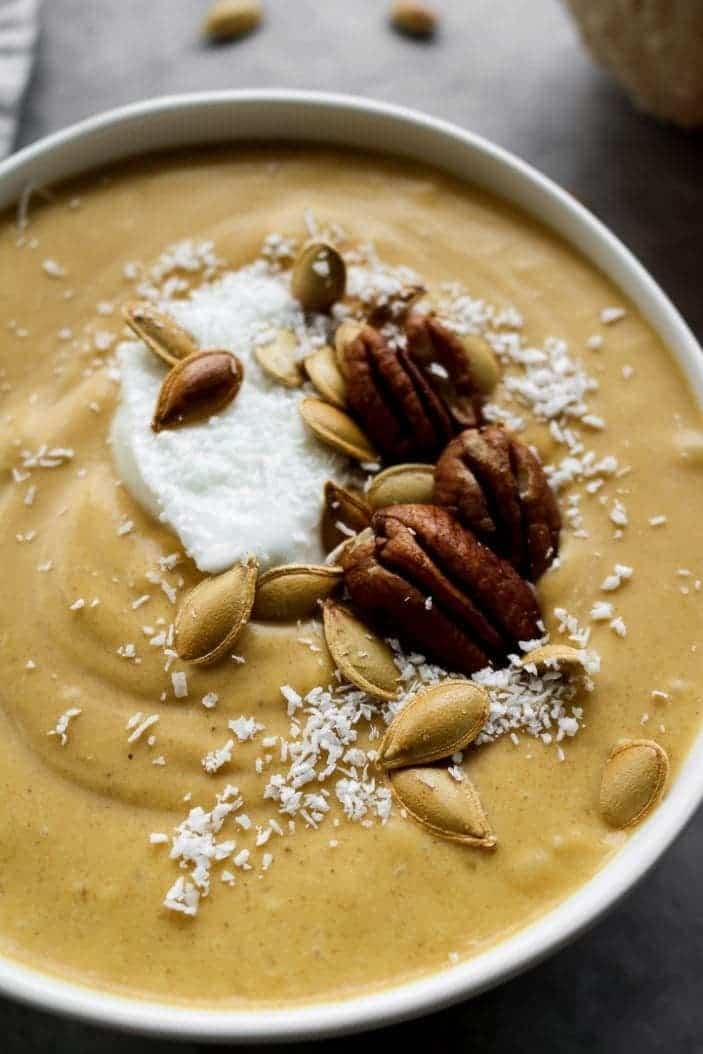 So since I had a pumpkin to use, I made homemade pumpkin puree for this recipe. The advantage of using a fresh pumpkin is that you can also roast the seeds. Roasted pumpkin seeds are the BEST. I seriously couldn't stop eating them, but I did save a few to put on top of my smoothie. Making a homemade puree is actually really simple, but you can always use canned pumpkin puree. If you use canned pumpkin, you'll need to reduce the amount… I tried it with one cup of canned pumpkin and trust me when I say that it wasn't good. Then I tried it with half a cup instead and it was a lot better!
I also topped my bowl with pecans, shredded coconut and a dollop of Greek yogurt (coconut whipped cream would of been even better!). The toppings are up to you! It's so simple and so healthy.
I know it's getting cold outside, but if it's a pumpkin recipe, I think it's totally appropriate for November. Just eat it covered in blankets like I do. 😉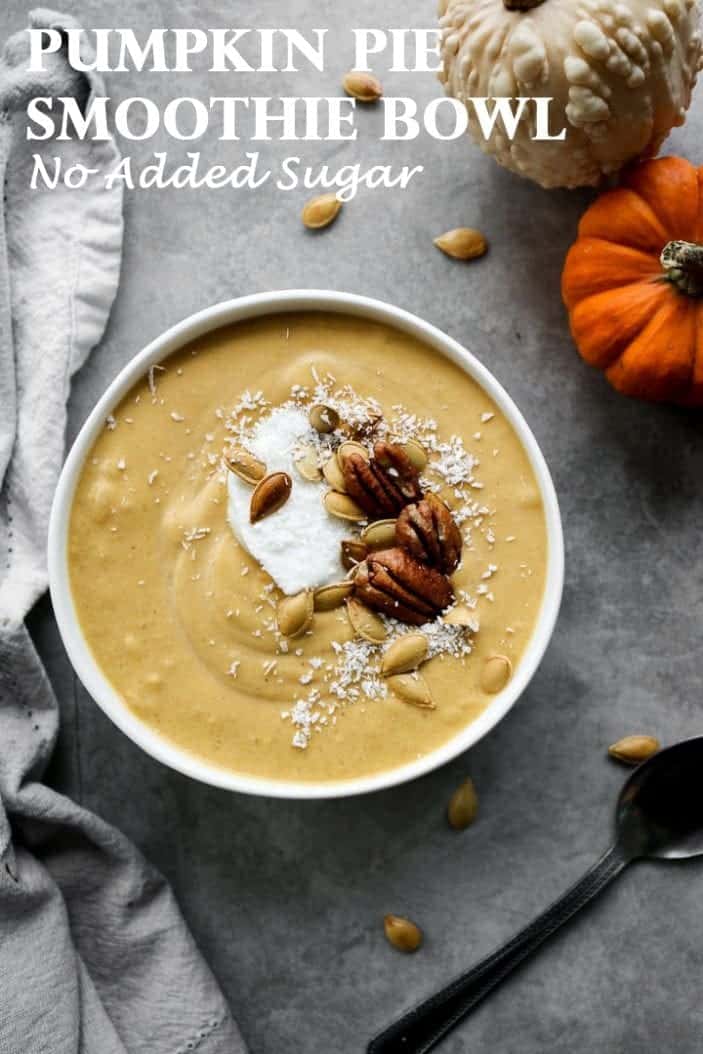 Pumpkin Pie Smoothie Bowl (No Added Sugar)
A creamy, subtly sweet smoothie with a blend of pumpkin pie spices. It's an easy way to add vegetables to your breakfast! Sweetened with dates only to give you a healthy, yet delicious bowl! Top with pecans, coconut whipped cream and roasted pumpkin seeds.
Ingredients
1/2

cup

pumpkin puree

1/2

cup

low-fat coconut milk,

canned

2-4

Medjool dates,

pitted

1

teaspoon

vanilla extract

1

teaspoon

cinnamon,

ground

1/4

teaspoon

nutmeg,

ground

1/4

teaspoon

cardamom,

ground

6

ice cubes
Instructions
Add all the ingredients in a high-speed blender. Blend until smooth.

Top with pecans, coconut whipped cream, shredded coconut, roasted pumpkin seeds or toppings of choice.
Notes
If your blender isn't strong enough to blend dates, you can soak them for one hour before blending or replace them with maple syrup to taste.
I also tried this recipe with homemade pumpkin puree. I used 1 cup instead of 1/2 cup since it wasn't as strong tasting as canned. I recommend starting with 1/2 cup and adjusting to taste.
If you try this recipe, make sure to tag your photo #unsweetenedcaroline on Instagram, Facebook and Twitter! Don't forget to also tag me @unsweetened.caroline on Instagram so I can see your creations!