Minimalist Vegan Kitchen Tour
A look at our minimalist vegan kitchen in Lake Country, British Columbia.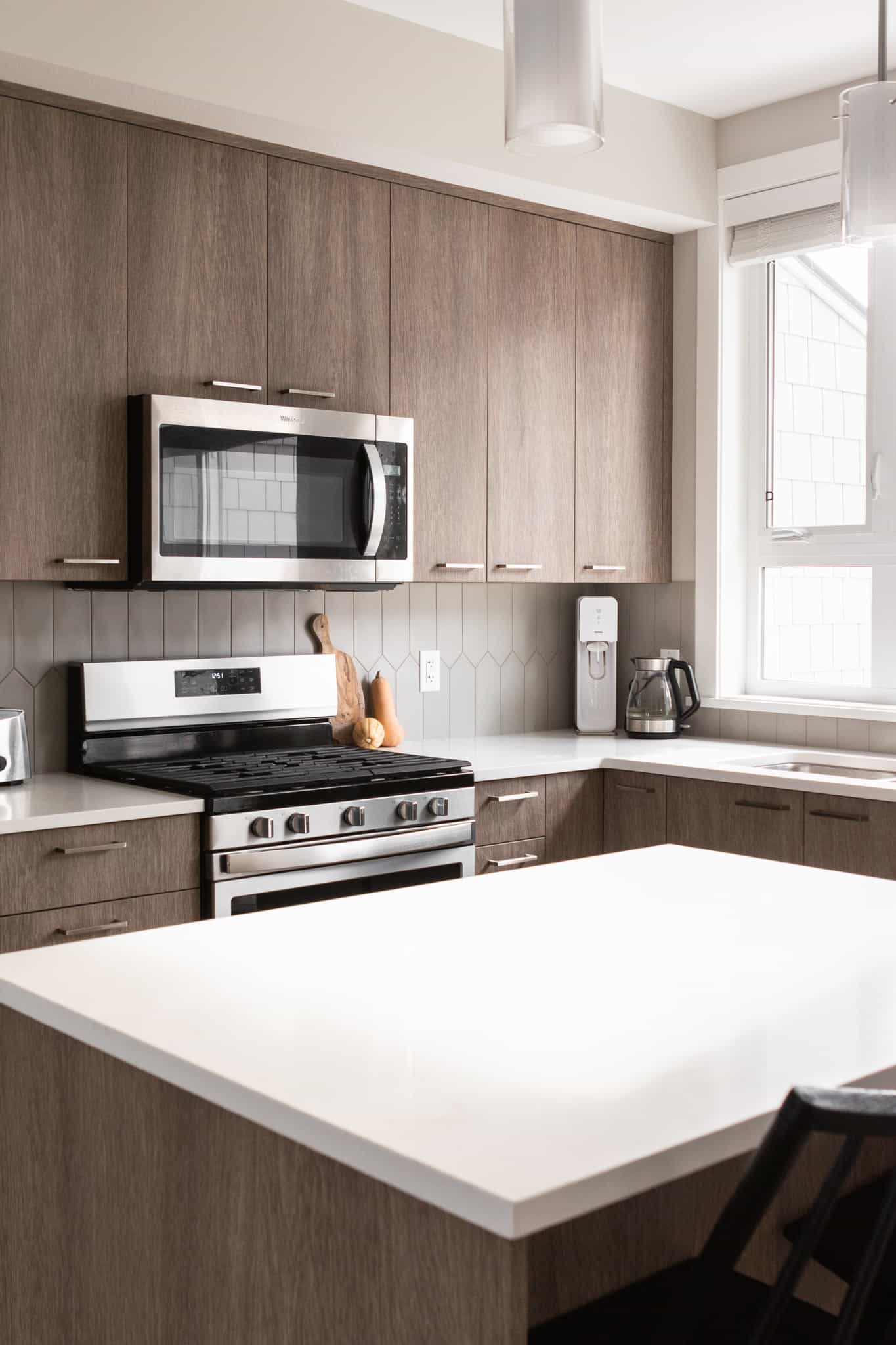 Welcome to our new kitchen!
Earlier this year, my husband and I bought our first home in the Kelowna area in Canada. We live in a newly built townhouse and it's no secret that my favorite part of our new home is the kitchen.
As a dietitian, recipe developer and food photographer, it's the room in our home where I spend most of my time. For that reason, when we were looking to buy our first home, the kitchen was my number one priority. I wanted a kitchen with a big island, lots of counter and storage space and lots of natural light. This kitchen checked most of those boxes.
While I always dreamed of having a white kitchen, I've come to appreciate the neutral color of our cabinets. I also love the clean white counters, which makes our kitchen look bright and beautiful. The biggest challenge was the limited amount of storage space. This kitchen didn't have a pantry…
The kitchen did have an empty nook next to the patio doors and when we bought the house, we knew we wanted to put a built-in pantry in that corner. So that's what we did. We hired the company that did the original cabinets and we had our big matching pantry within a few months. We installed a few floating shelves next to the pantry to finish that corner and decorated them with a plant, cookbooks, a mini cutting board and a fruit bowl. My dream kitchen was done.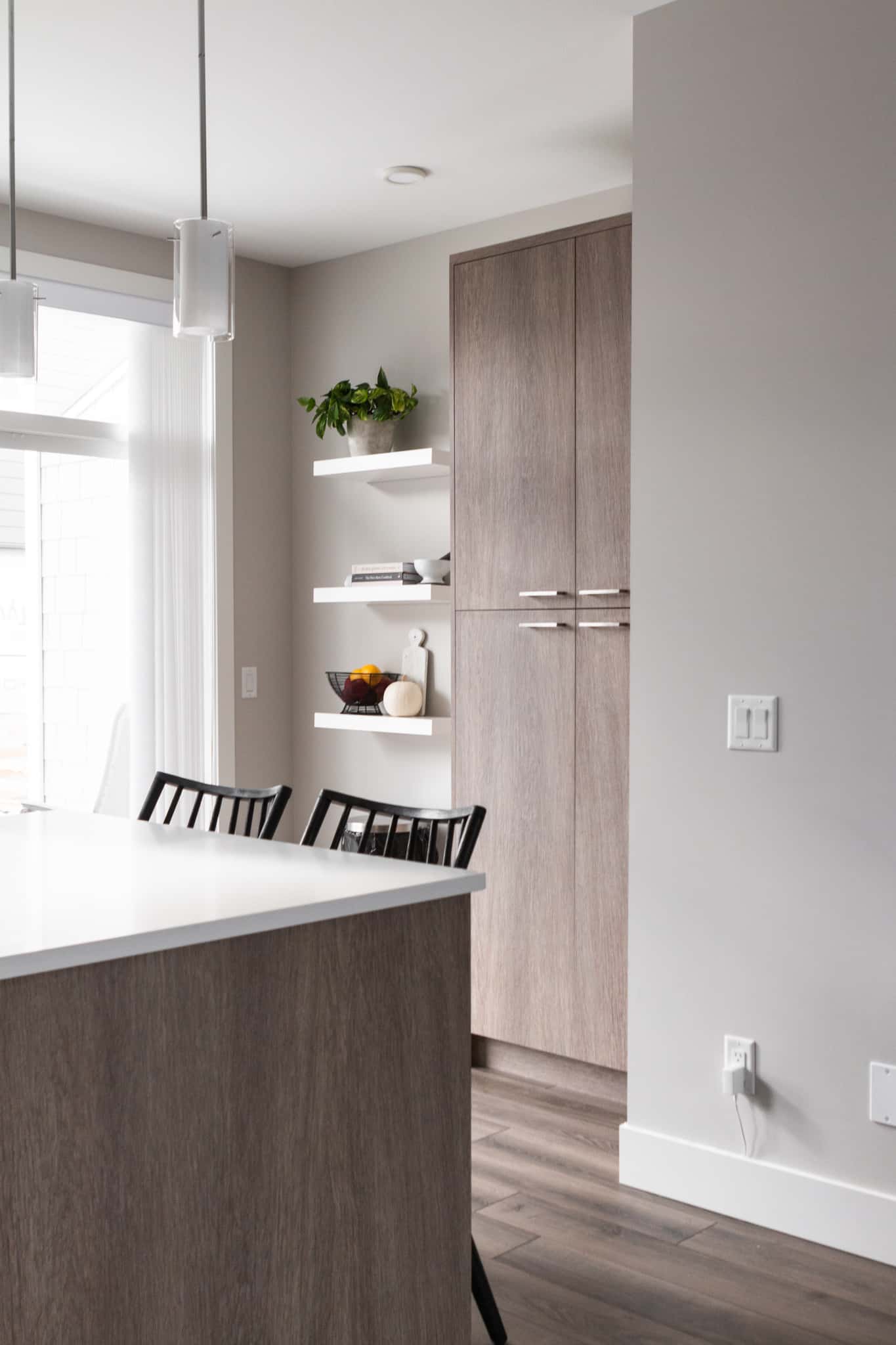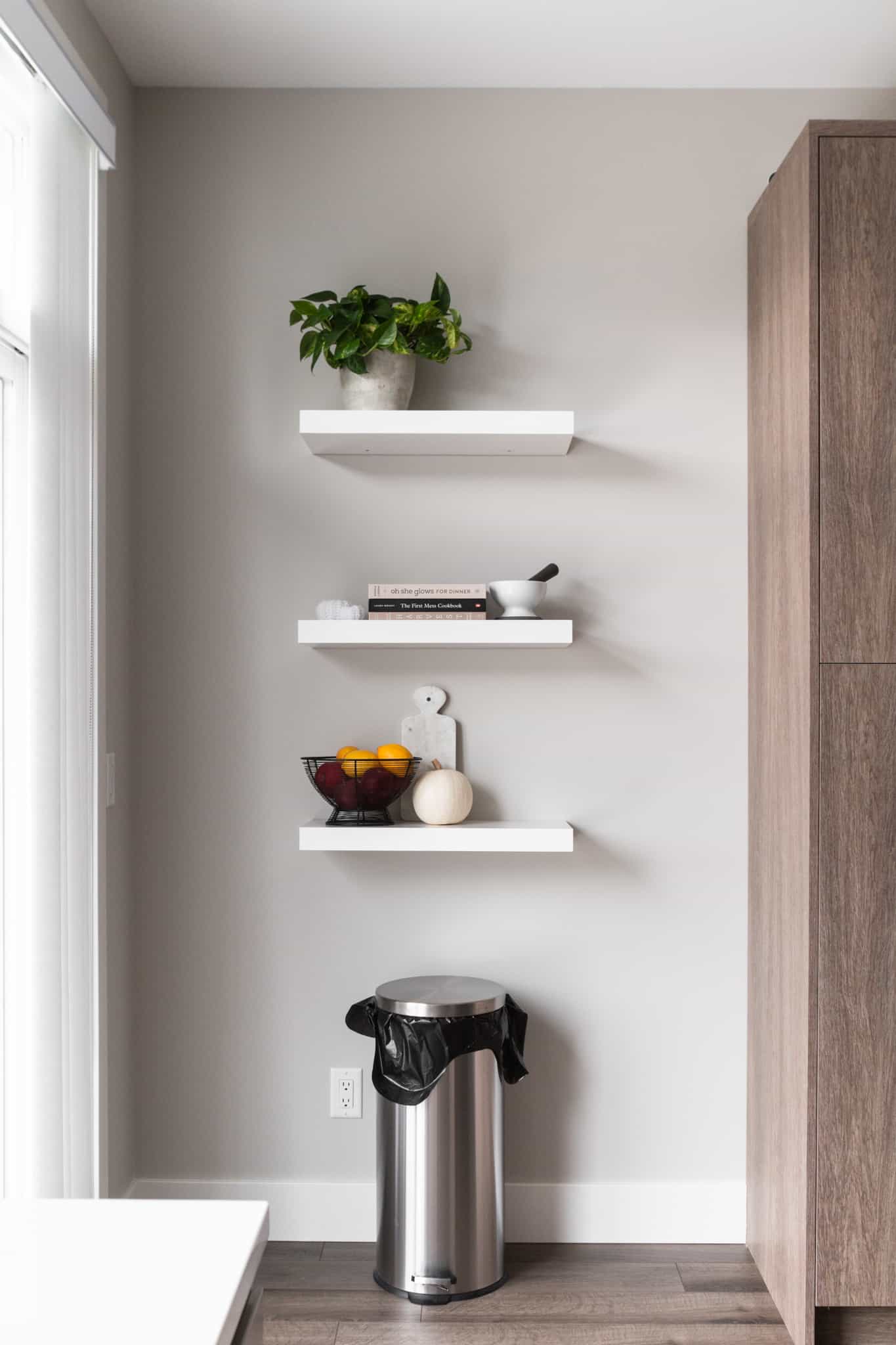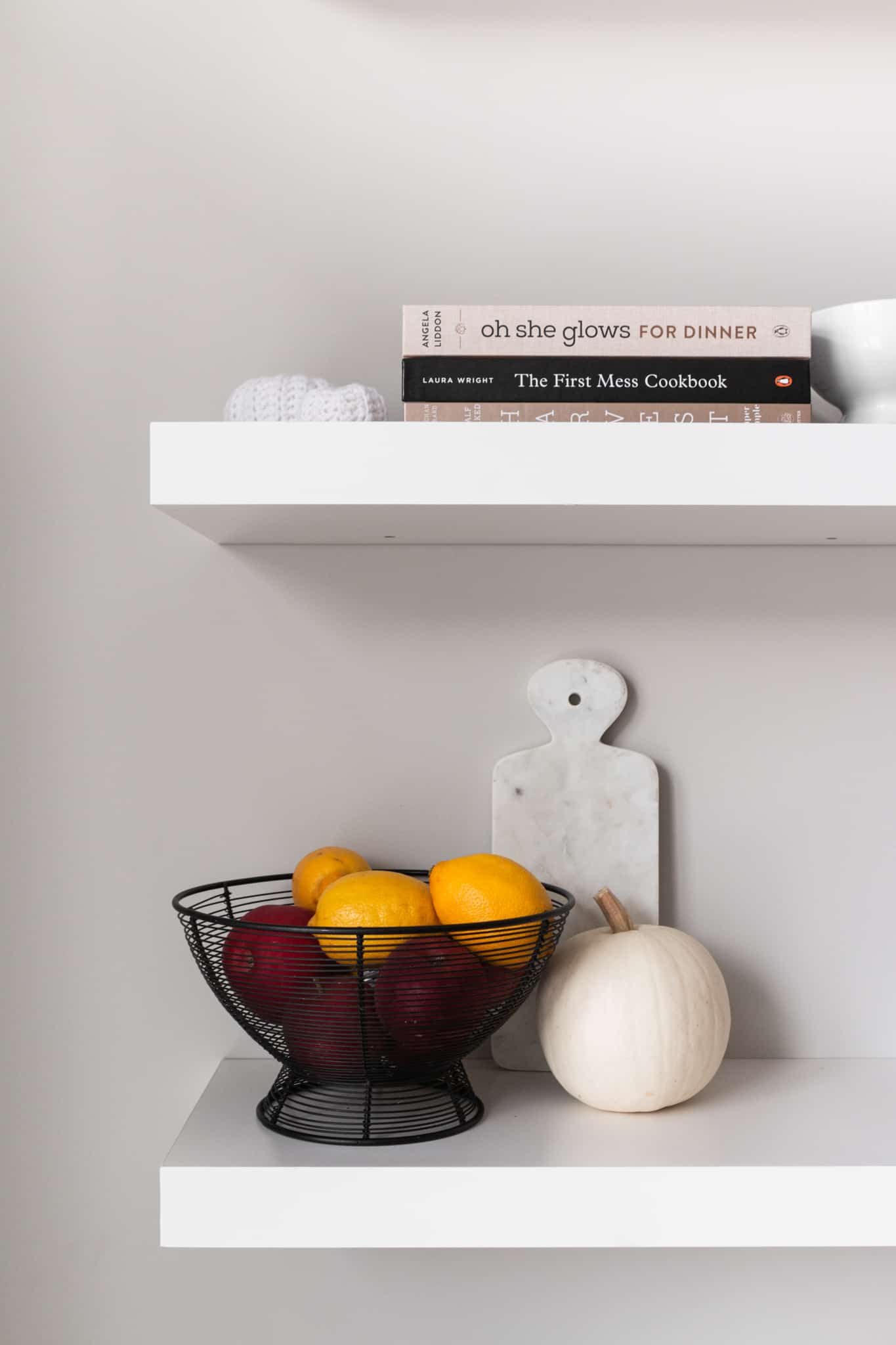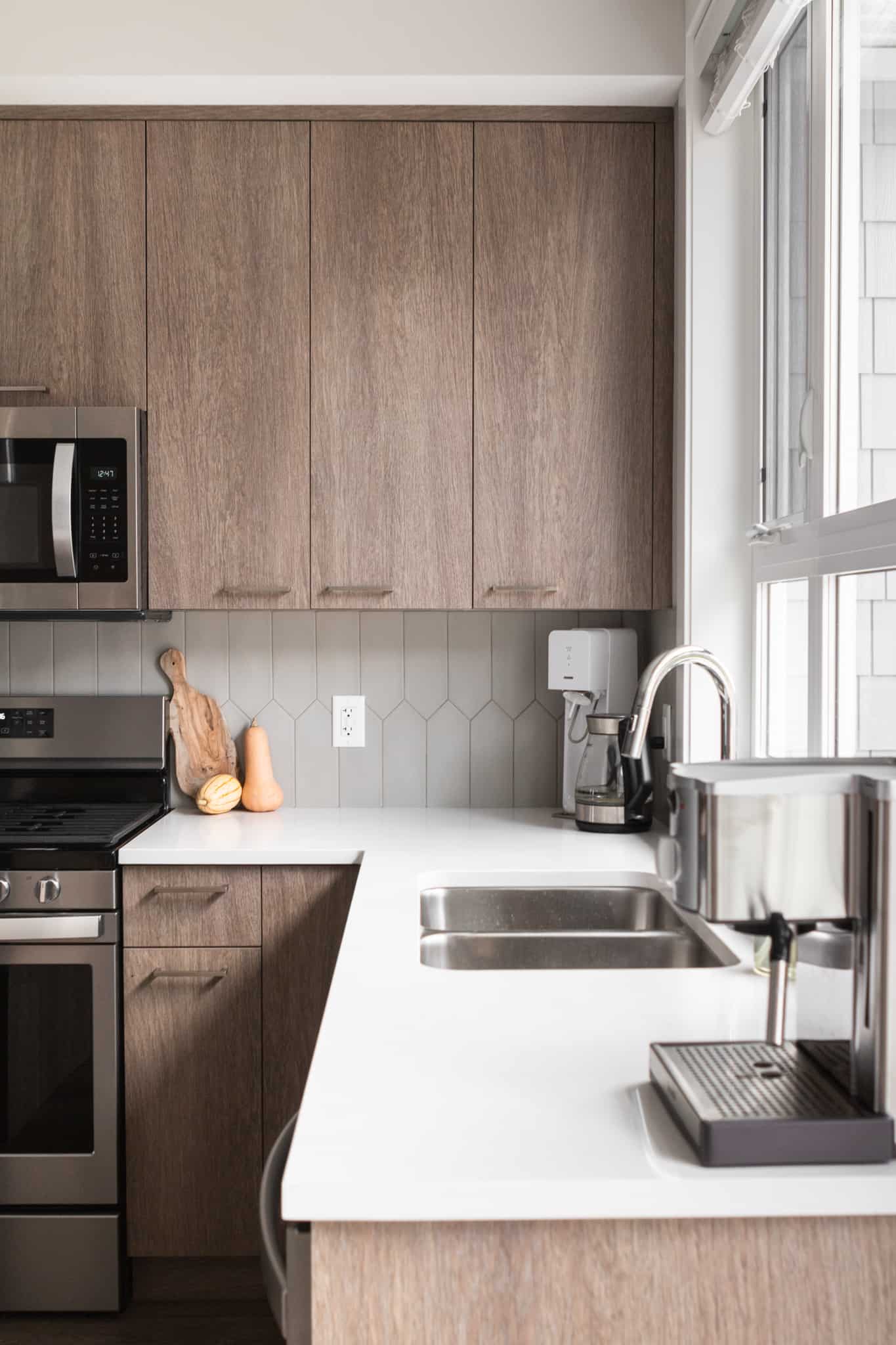 Keeping a Minimalist Kitchen
As a recipe developer, my kitchen is the least minimalist room in our home. That being said, I still consider myself to be a minimalist and it can be seen by my limited amount of photography props, backdrops and general clutter.
Minimalism is not necessarily about having less. It's about intentionally keeping things that have a purpose and/or brings you joy and decluttering things you don't need or want. It looks different for everyone. For me, it's all about having less visual clutter, investing in a small amount of quality products that will last for years and keeping my space clean and organized.
A few ways in which I keep a minimalist kitchen:
I limit the amount of clutter and appliances that I keep on the counters. Our island is completely bare and I only keep the appliances we use daily on our counters. This includes: Our espresso maker, soda stream, tea kettle and toaster.
I limit myself to appliances that I use regularly. Being a recipe developer, I do have more appliances than I would have otherwise (I wouldn't have those last 4 ones if it weren't for my job). My appliances include:

Vitamix blender
Cuisinart food processor

Popcorn maker
Espresso maker
Soda Stream
Hand mixer
Spiralizer
Waffle maker
Slow Cooker
Stand Mixer

I try to invest in quality appliances that will last me years. A few of my appliances (stand mixer, waffle maker, hand mixer and spiralizer) were gifted to me by brands.
I organize my ingredients in jars as much as possible to limit the amount of visual clutter in my pantry. I also don't over stock on ingredients.
I don't have doubles of appliances or kitchen gadgets. This doesn't include dishes and cutlery of course.
I keep my kitchen clean and organized (most of the time). I try to clean my dishes as I use them and at the end of every day. Again, this limits visual clutter. It's only Shaun and I and we don't have kids. I do understand how that makes it significantly easier.
I limit the amount of decorations that I add to the kitchen. I don't buy decorations. Instead, I use things that I already have or are useful, such as seasonal produce, cookbooks, plants and beautiful cutting boards.
I don't have magnets and paper on the fridge. I keep it clean and clutter-free.
I also have a chalk board in the kitchen to write down ingredients we need to buy and ideas for new recipes!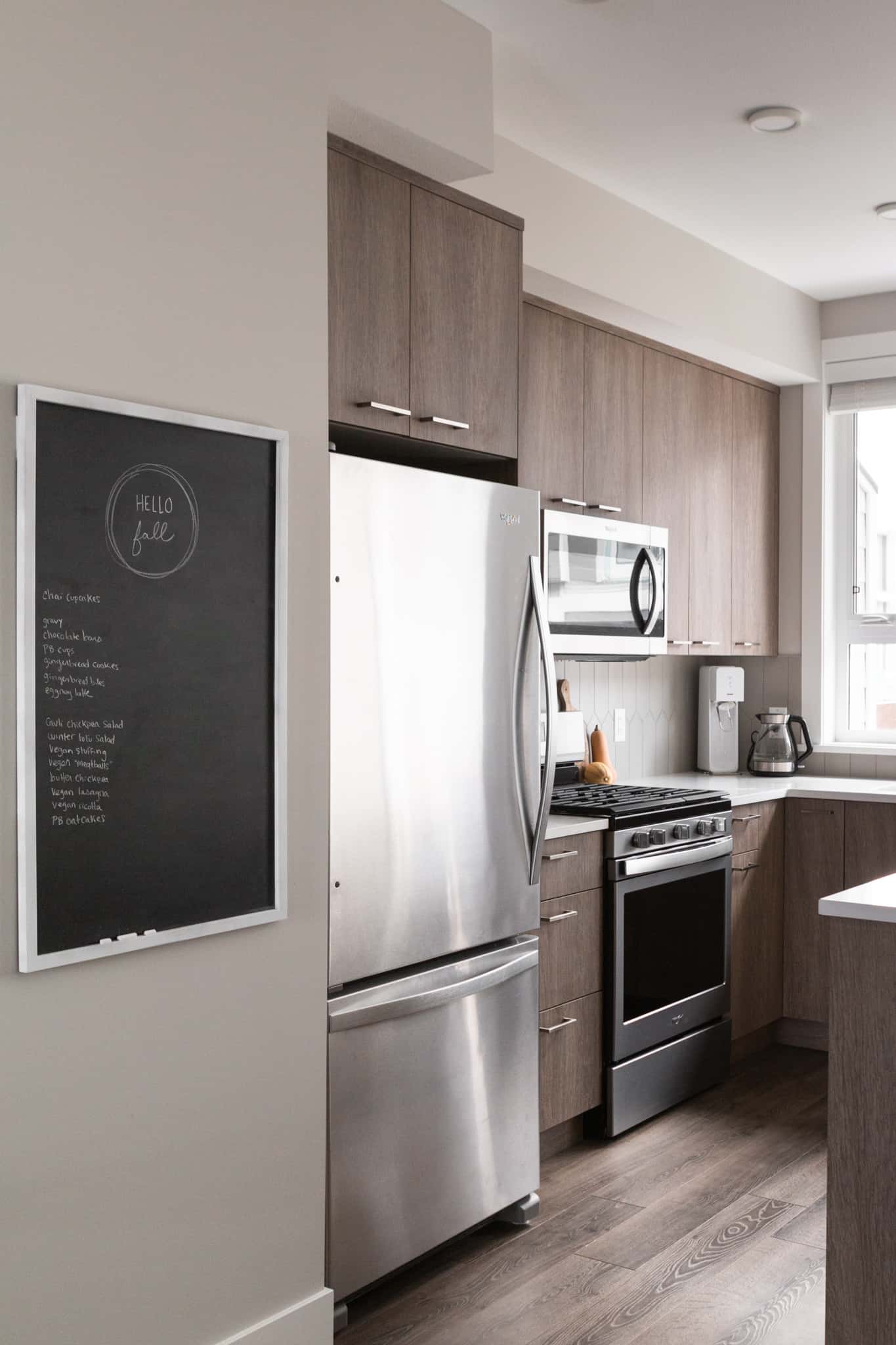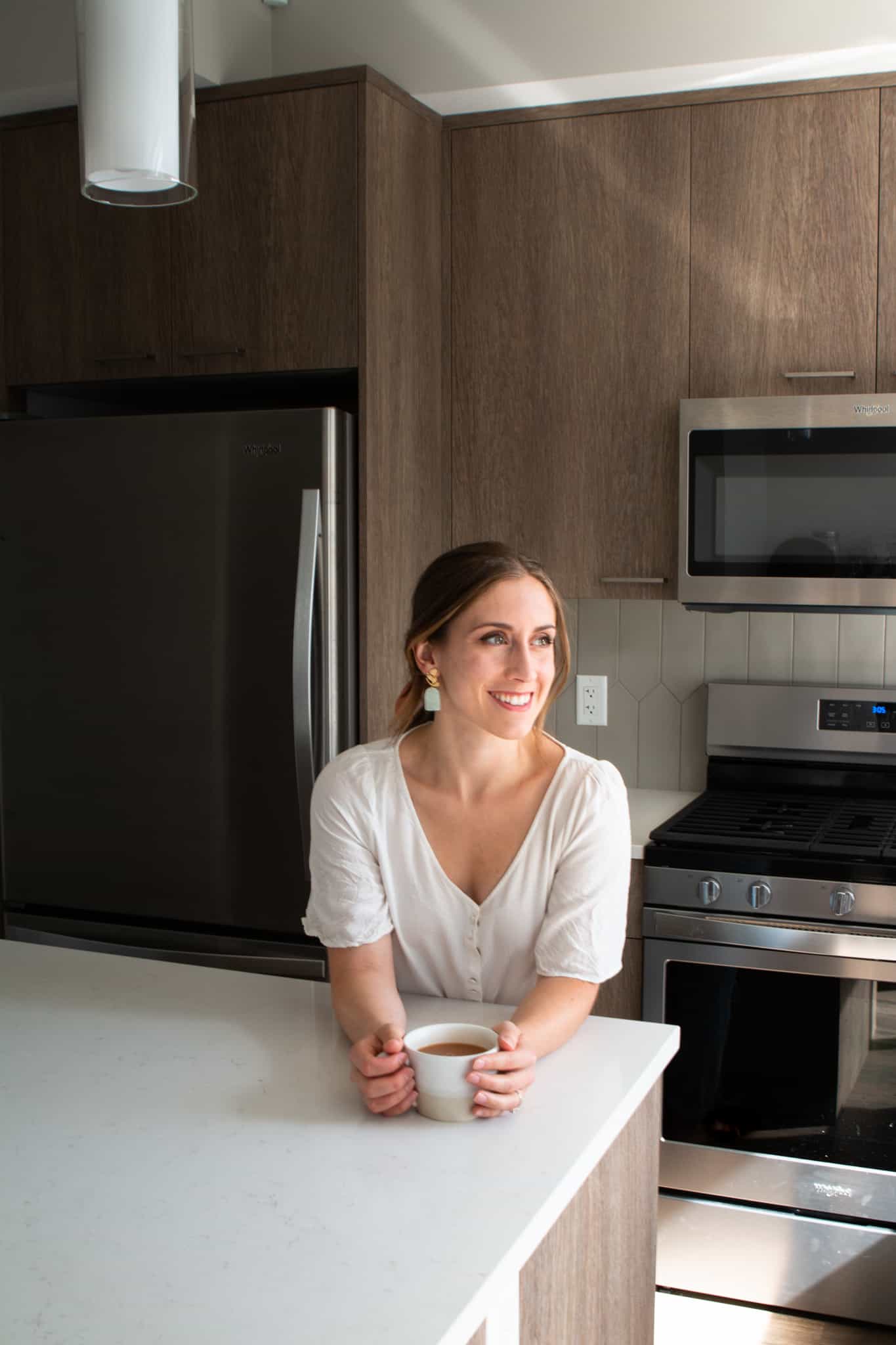 To see the inside of every cabinet and a look at my pantry, check out my YouTube video below! I hope you'll find it helpful.
Watch Our Minimalist Vegan Kitchen Tour Video
We've teamed up with Lux Decor to decorate our living room and dinning room. Those rooms aren't finished yet, but stay tuned for a final house tour! And a big thank you to Lux Decor for helping us choose our bar stools. I can't wait to show you our beautifully designed living room and dining room!