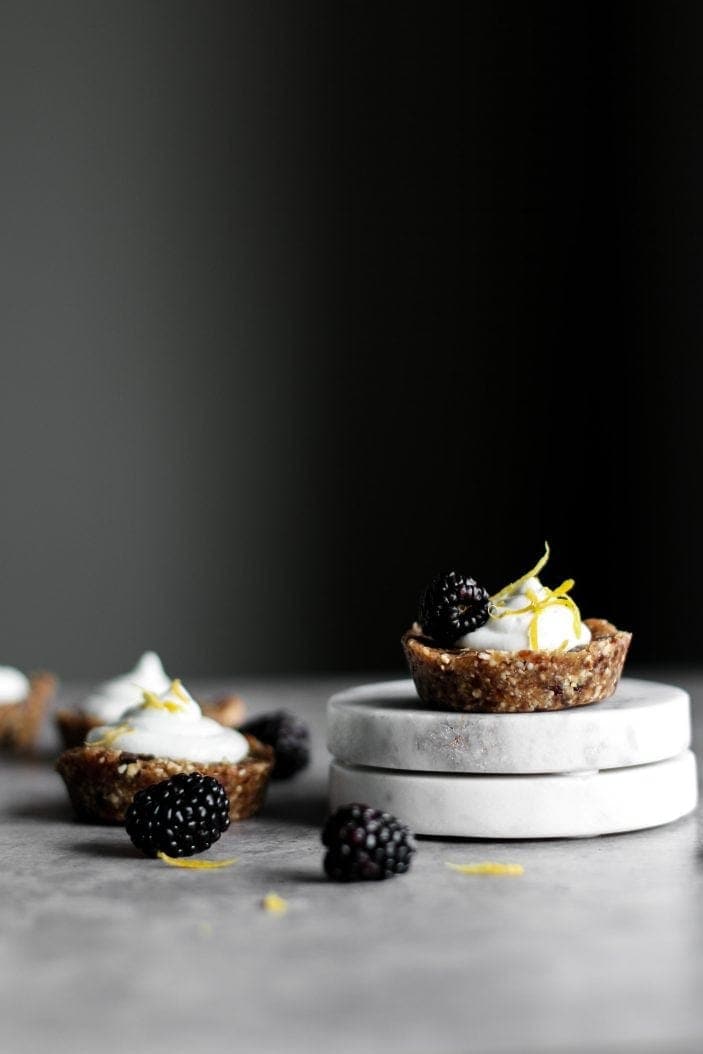 Mini Cookie Dough Cheesecake
I'm back with another recipe before Easter!
This time, I'm sharing these mini cookie dough cheesecakes. I know, two cookie dough recipes in a row… I'm not even sorry.
Here's how the recipe goes:
The base is a raw cookie dough cup made with dates, roasted cashews, oats, vanilla and cocoa nibs. Very similar to the cookie dough bites in my brownie cookie dough "ice cream" bars. It's the BEST! I actually just used the base as a snack for work the other day and when Shaun came home, he asked me what I put in it. He said "It's so sweet, it tastes like candy!". Yes Shaun, it really does.
The cream cheese frosting is made from only two ingredients: cream cheese and coconut milk. Yup, it's that simple! I only add a dollop of cream cheese frosting to each cookie dough base since it's unsweetened and too much of it could be overpowering. The cookie dough base balances the sweetness of the recipe and I think it turned out perfectly.
For topping, I used lemon zest and blackberries. Lemon seems to pair perfectly with cheesecake, and blackberries add a touch of sweetness. Feel free to use any other toppings. I'm thinking that any berries, citrus or chocolate would be good. Try adding a chocolate mini egg to make it extra special for Easter. 😉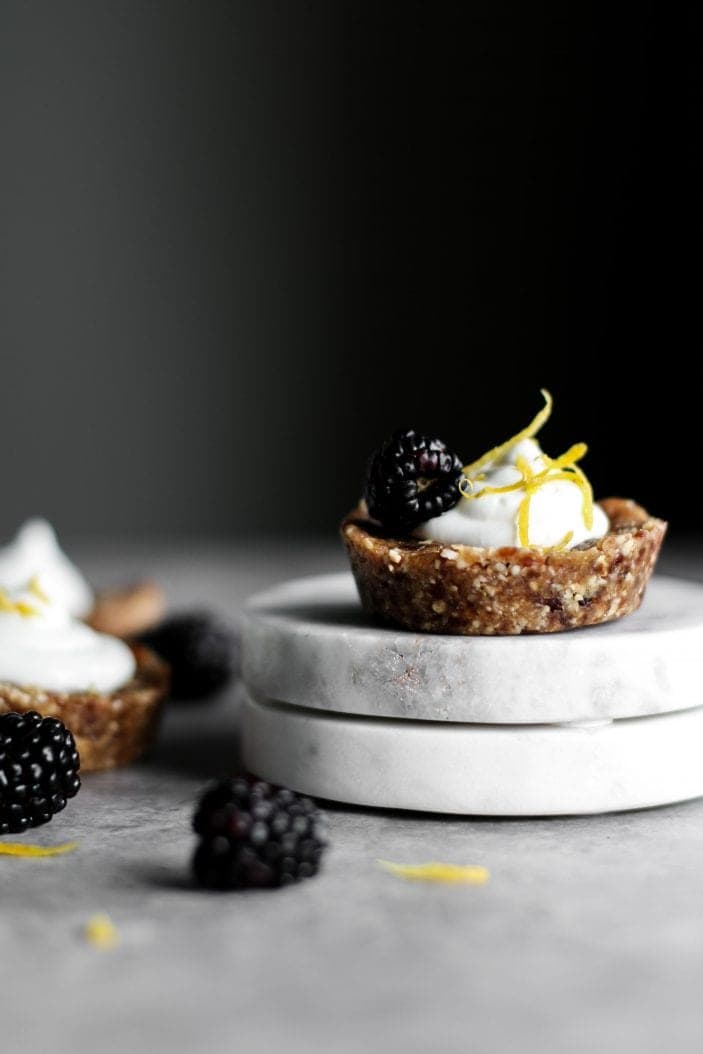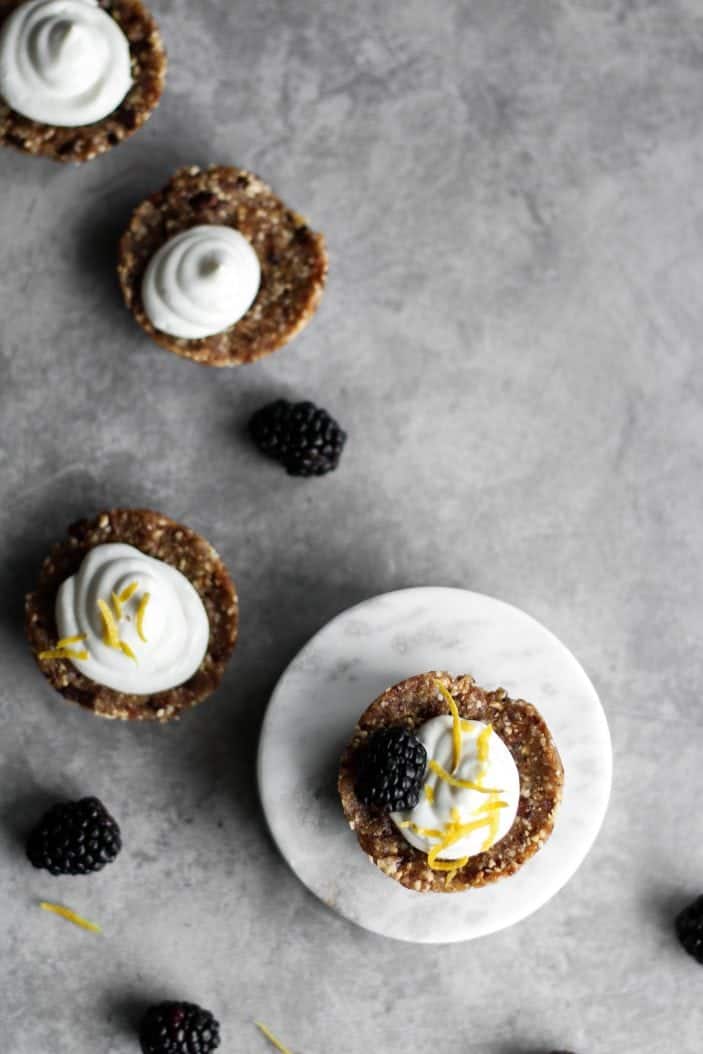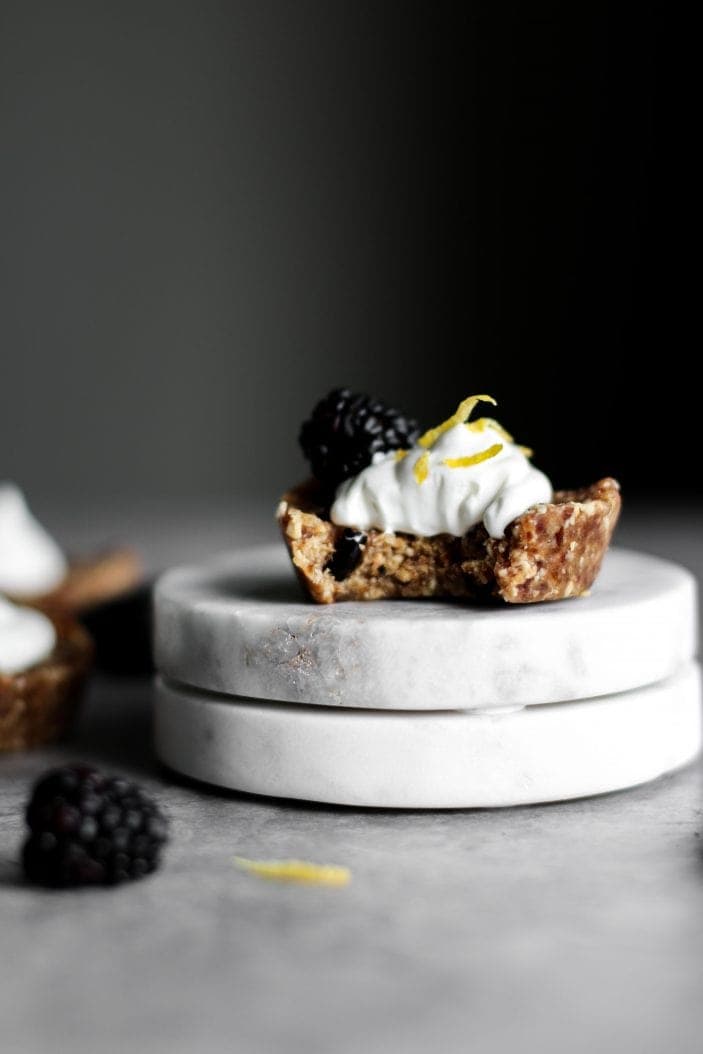 I wish you all a happy Easter!
Mini Cookie Dough Cheesecake
A raw cookie dough base topped with an unsweetened cream cheese frosting. The base is made with dates, cashews, vanilla, oats and cocoa nibs, while the frosting is made with cream cheese and a splash of coconut milk. It's a compromise between a decadent treat and a wholesome dessert.
Ingredients
Cookie Dough Base
1

cup

dry roasted unsalted cashews

(or raw)

1/2

cup

rolled oats

1

cup

Medjool dates,

pitted

1

tablespoon

vanilla extract

2

tablespoons

cocoa nibs
Cream Cheese Topping
1/2

cup

cream cheese

1/4

cup

low-fat canned coconut milk
Instructions
In a food processor, add cashews, oats, dates and vanilla. Process 30 seconds or until the mixture sticks together when pressed. Stir in your cocoa nibs.

Press the mixture to the bottom of a muffin pan. Place in the fridge while you make the frosting.

In the same food processor (crumbs removed), add cream cheese and coconut milk. Process until smooth.

Scoop the mixture in a small plastic bag. Cut a small hole at one corner of the bag. Use the bag to pipe the frosting at the top of each cookie dough base. Alternatively, place a small spoonful of frosting on each cookie dough base.

Remove the mini cheesecakes from the muffin pan by carefully scooping them with a butter knife.

Add toppings of choice.
Notes
Keep leftovers in an airtight container in the fridge.
For a vegan and dairy-free option, use vegan creme cheese!
If you try this recipe, make sure to tag your photo #unsweetenedcaroline on Instagram, Facebook and Twitter! Don't forget to also tag me @unsweetened.caroline on Instagram so I can see your creations!