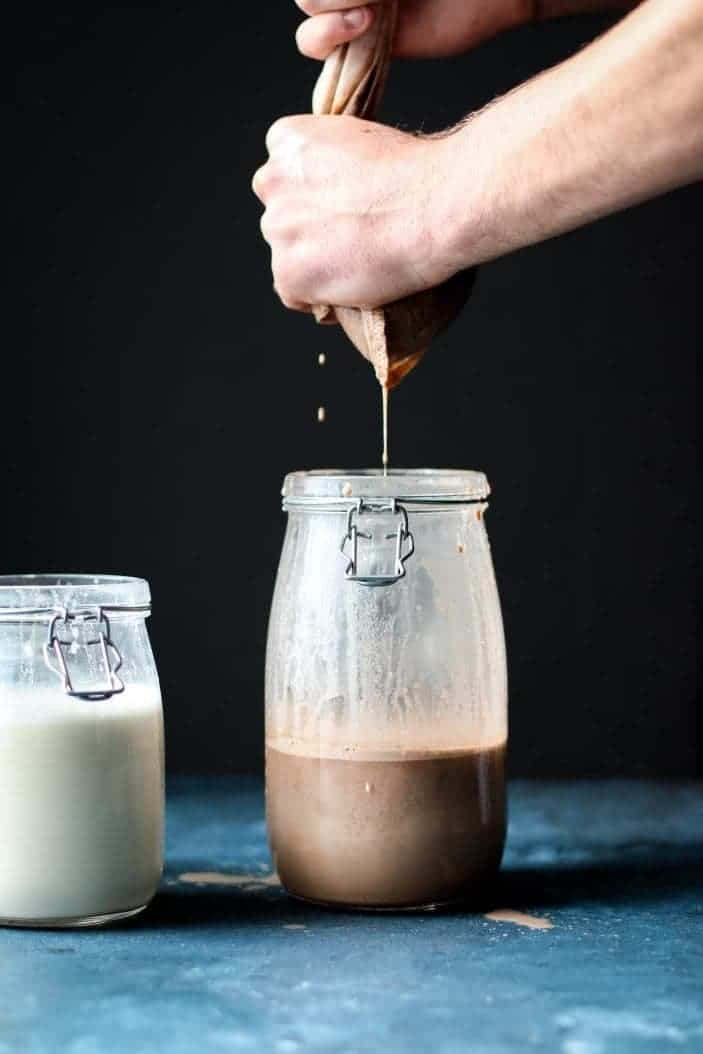 Date-Sweetened Hemp Milk (Two Ways!)
I finally made homemade nut milk. Or I should say hemp milk.
It was about time! Everyone has been making their homemade nut milk for years and somehow, I just tried it for the first time a few weeks ago. I think one of the reasons I never made homemade nut milk before is because I never knew where to get a good nut milk bag. I had given up on the idea of making homemade nut milk until I stumbled upon Ellie's Best. They were generous enough to let me try one of their's and I have to say, I absolutely love it! I know many other food bloggers who use their nut milk bag and now I know why. It's good quality, it cleans easily and it's fairly cheap.
If you want to try it for yourself, you can get a 10% discount by using the code "unsweetened". You can find the nut milk bag here and you'll have the option to add the code when checking out your order. Know that you are supporting this blog when buying your nut milk bag and I wouldn't share this product with you, unless it were something I truly love and use myself.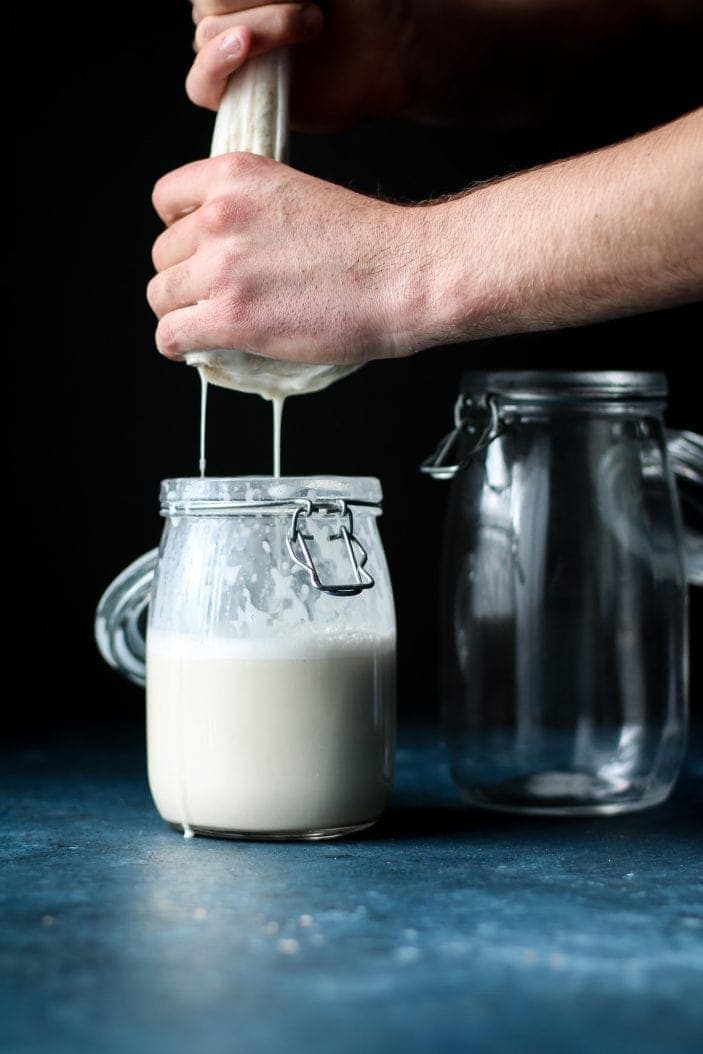 Trust me, homemade nut milk is life-changing, especially when you don't eat (or avoid) any added sugar. For the first time in 3 years, I got to drink good chocolate milk! That's right, I made chocolate milk using dates as a sweetener. Let me tell you, it's perfectly sweet without any added sugar! Once again, life-changing.
I also made a vanilla hemp milk lightly sweetened with dates. Since I'm used to drinking unsweetened nut milk, I don't like to add too much sweetness. However, if you want a sweeter milk, you can add more dates to taste. I find that one or two results in a perfectly sweetened milk, but then again, I'm used to unsweetened milk. I should also note that hemp milk definitely has a strong taste, but I absolutely love it! You get used to it and honestly, I find myself craving it. Again, dates help balance out the strong taste of hemp seeds in this milk.
Also, I should warn you that homemade nut milk doesn't replace store-bought nut milk or soy milk. Milk is an important source or vitamin D and calcium and unfortunately, you can't get that from homemade nut milk. What I'm saying is that I will continue to drink store-bought soy milk and nut milks, but I will definitely regularly make this homemade version for a treat. Especially when I want chocolate milk. Lets be real, unsweetened chocolate milk is just not the same thing and I never buy it. Now, I'll certainly make a batch of this one every month!
As for the vanilla hemp milk, I've been enjoying it in a bowl full of fresh, wild blueberries. Have you ever eaten blueberries in cream? I often ate that at my friend's house when we were young. I never had it since, but this summer I turned back to this childhood favorite in a healthier way. Blueberries are amazing in this homemade nut milk, trust me. If you've never tried blueberries and cream, you're missing out. It's basically like berry cereal. The lightly sweet taste of this milk mixes very well with fruit. I know it's getting a little late for fresh berries, but enjoy them at least once in this milk if you can!
If not, I highly recommend drinking this milk as is or using it in smoothies or oatmeal.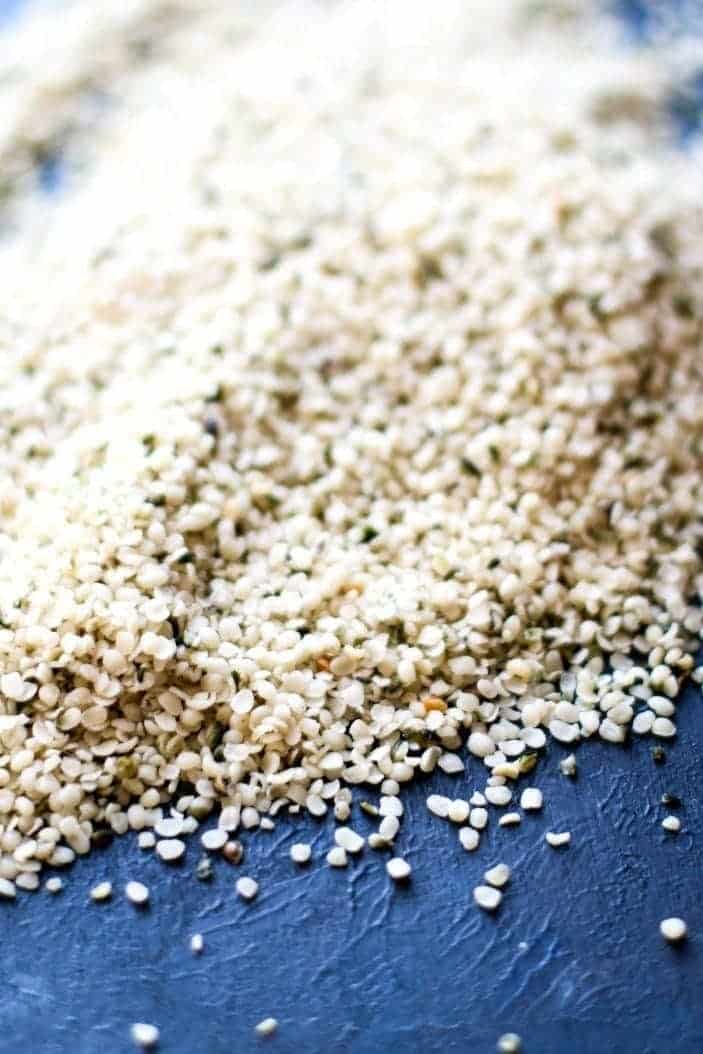 I'll explain quickly how I make this nut milk.
First, the best thing about hemp milk is that it requires absolutely zero pre-soaking. All you need to do is throw some raw hemp seeds, water, dates, vanilla and a pinch of salt in a high-speed blender (plus cocoa powder if making the chocolate milk). Blend all the ingredients a few seconds until you get a smooth mixture. I use a vitamix, so it gets very smooth. With other weaker blenders, you may have more chunks, which makes the nut milk bag even more important. As long as the milk is white, you should be fine. Taste it and add more dates as needed. I use Medjool dates, which are softer than deglet noor dates. If using those, you may want to soak them in warm water first until soft.
Then, place the nut milk bag on top of a large bowl or a large container. Pour the milk over the milk bag. Lift the milk bag slowly, grabbing the top with one hand, making sure it's secured and won't over flow when you squeeze the bag. Then, taking the other hand, gently squeeze the bottom of the nut milk bag to release some of the liquid. Squeeze it down, kind of like milking a cow (not that I ever milked a cow, but I imagine it like that).
Make sure to squeeze out as much liquid as possible. All that should be left in the nut milk bag should be a paste of dates and hemp seeds (not much of it). You can use it in oatmeal, smoothies, cookies or other recipes if you'd like.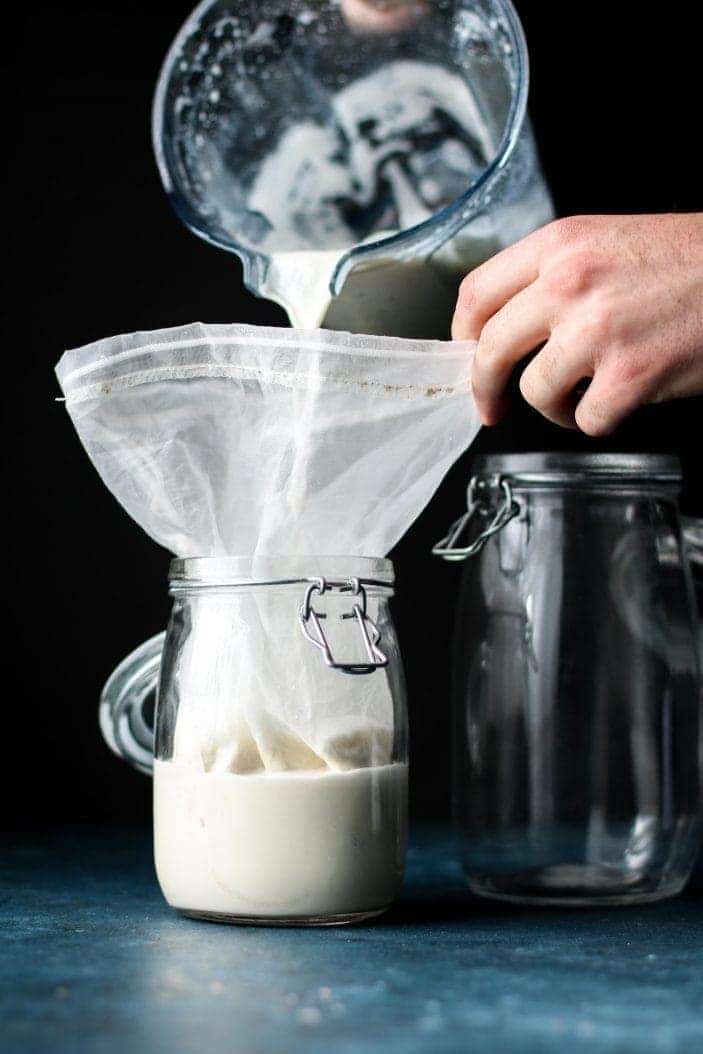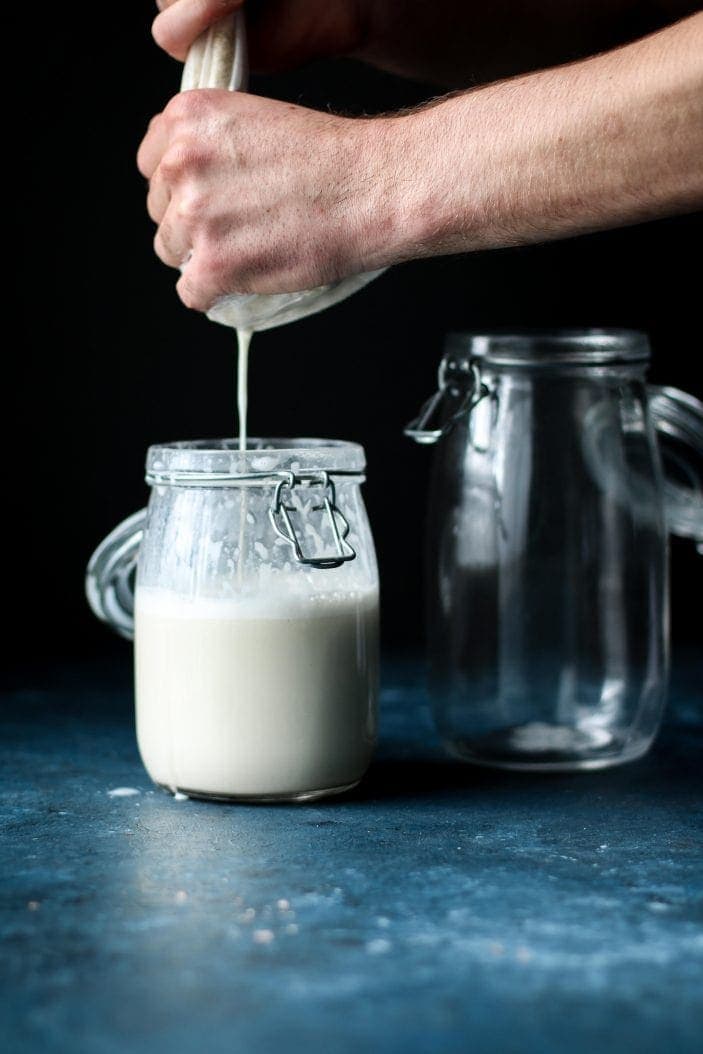 If you're like me and you've been wanting to try homemade nut milk since forever, I say do it now! It takes about 10 minutes to make and it's worth every second.
Don't forget that you can save 10% on an Ellie's Best nut milk bag by using the code "unsweetened". Happy milking!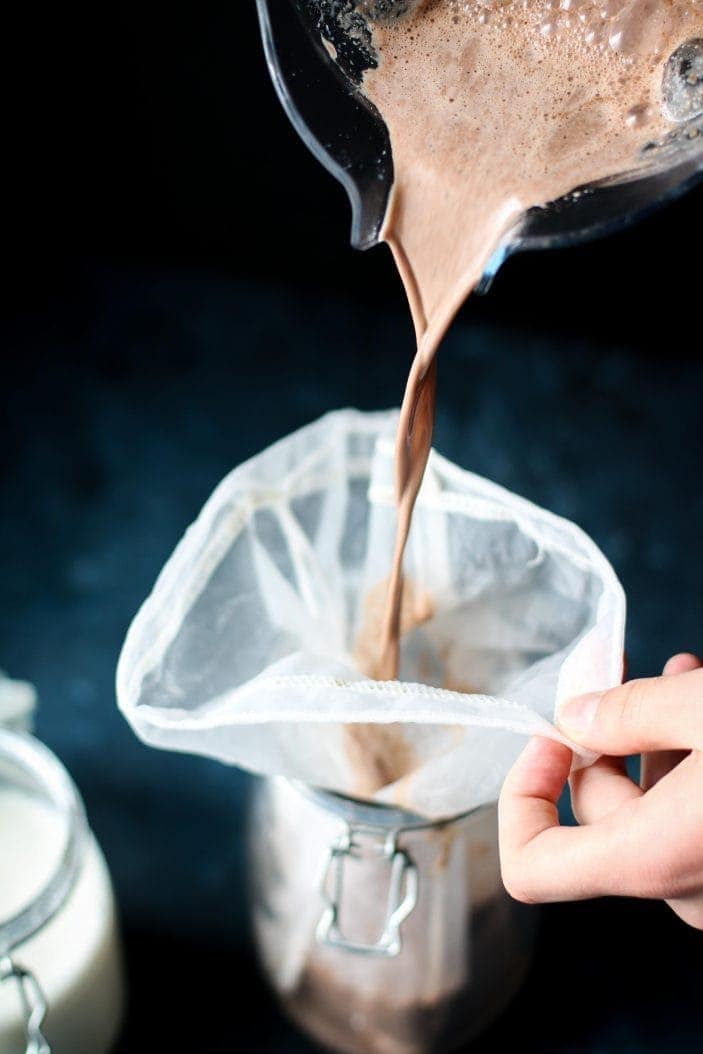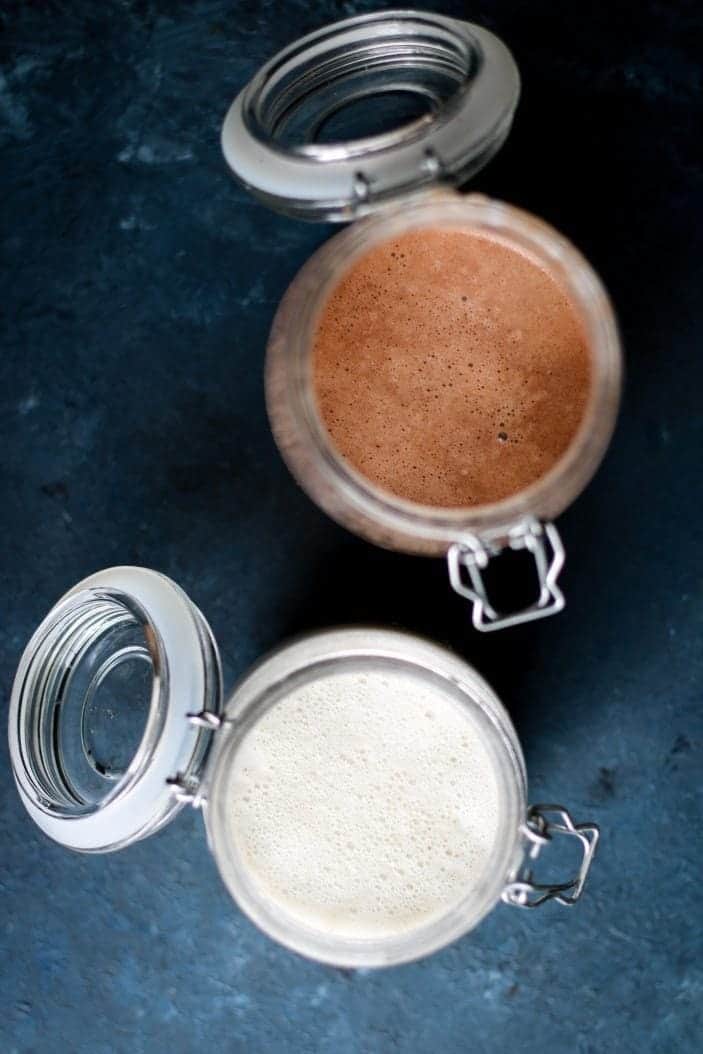 Date-Sweetened Hemp Milk (Two Ways!)
This easy homemade plant based milk can be done in under 10 minutes! To make it even better, the milk is sweetened with dates only and the hemp seeds require absolutely no soaking! I like making a batch of vanilla hemp milk to enjoy with fruits, oatmeal or smoothies. As for the chocolate milk, my favorite is to drink it on its own! This date-sweetened version is a million times better than unsweetened chocolate milk. Why? It's perfectly sweet and healthy.
Ingredients
Vanilla Hemp Milk
1/4

cup + 2 tablespoons

raw hemp hearts

3

cups

water

1-2

Medjool dates,

pitted

1/4

teaspoon

vanilla extract

Pinch of salt
Chocolate Hemp Milk
1/4

cup + 2 tablespoons

raw hemp hearts

3

cups

water

4

Medjool dates,

pitted

1 1/2

tablespoons

unsweetened cocoa powder

1

teaspoon

ground coffee

(optional)

Pinch of salt
Instructions
In a high-speed blender, blend all the ingredients until smooth (about 10 seconds).

Place the nut milk bag inside a bowl or container, the edges of the bag hanging on the sides of the bowl. Ideally, use a bowl or container with a large opening to prevent a mess.

Pour the hemp mixture in the nut milk bag on top of the container. Lift the bag, holding it tightly from the top with one hand. With the other hand, squeeze out the liquid from the bag. When you're done, there should be only a small amount of date and hemp paste left in the bag. Clean the bag and enjoy your homemade hemp milk!
Notes
Store in an airtight container in the fridge for up to 5 days.
Shake the milk before every use.
You can save the small amount of pulp and use it in smoothies, oatmeal, etc.
This recipe makes 3 cups of hemp milk. Feel free to double the recipe.
If you try this recipe, make sure to tag your photo #unsweetenedcaroline on Instagram, Facebook and Twitter! Don't forget to also tag me @unsweetened.caroline on Instagram so I can see your creations!