This creamy cashew dirty chai latte is a delicious and healthy drink to enjoy all winter. You'll want to make it every morning! Cashews are simply blended with brewed coffee, dates and chai spices to give you this creamy vegan latte. The best part? This drink can be made in under 5 minutes.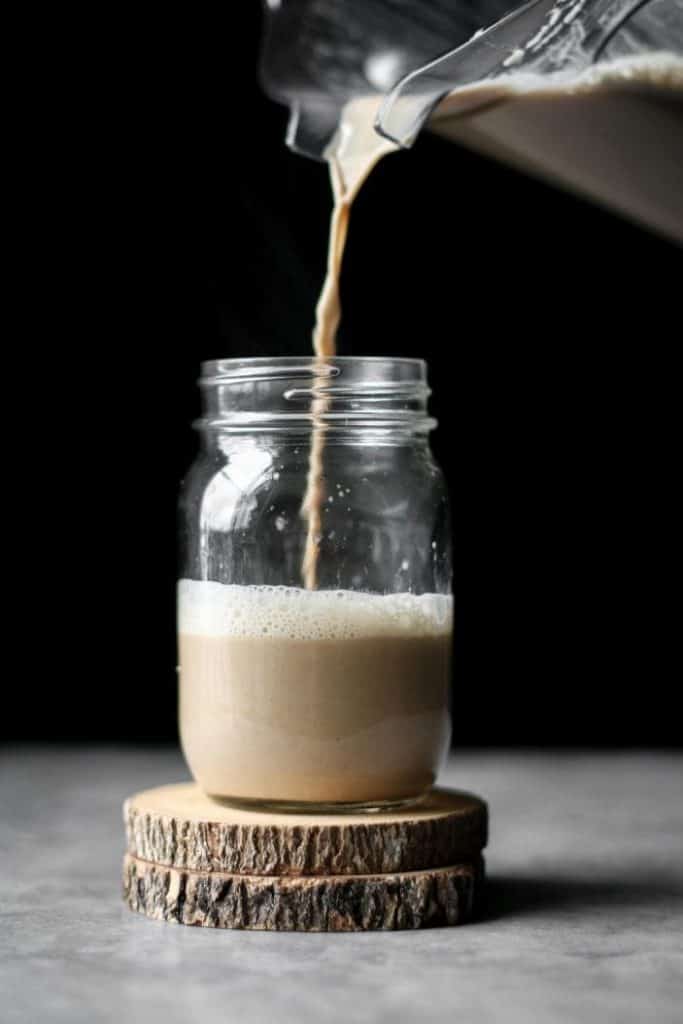 This cashew dirty chai latte is just what you need to keep you warm this holiday season.
First, how is it November already?! It seems like just a week ago I was excited for September and now the holidays are just around the corner. Has it snowed where you live yet? We haven't had any snow yet, but the weather is slowly starting to cool. My morning walks to work are definitely getting a little colder!
This weekend, I was craving a warm, comforting drink and I unexpectedly made the best vegan latte recipe I've ever had. I knew I wanted to make a latte recipe this month, but I didn't expect to make one like this. Can you believe that this latte doesn't contain any milk at all? Yet, it's absolutely creamy. Instead of milk, I decided to use cashews. Yes, that's right. Raw cashews are blended with coffee to give you the richest, creamiest vegan latte. No need to heat up some milk. The recipe is inspired by this delicious cashew coffee by Pinch of Yum and it's truly incredible!
Since I'm using a blender for this recipe, I decided to throw in a Medjool date along with the cashews. The blended dates add a touch of sweetness and balances out perfectly with the light cashew taste and chai spices.
Not to mention that since the whole thing is blended, you end up with a ton of foam on top. It's the best!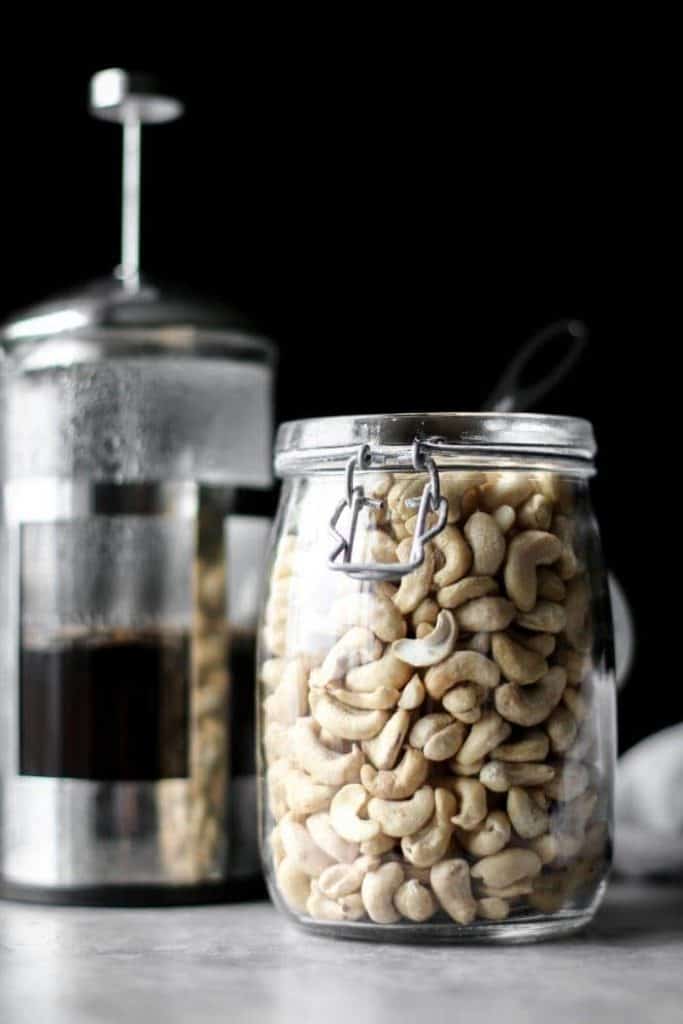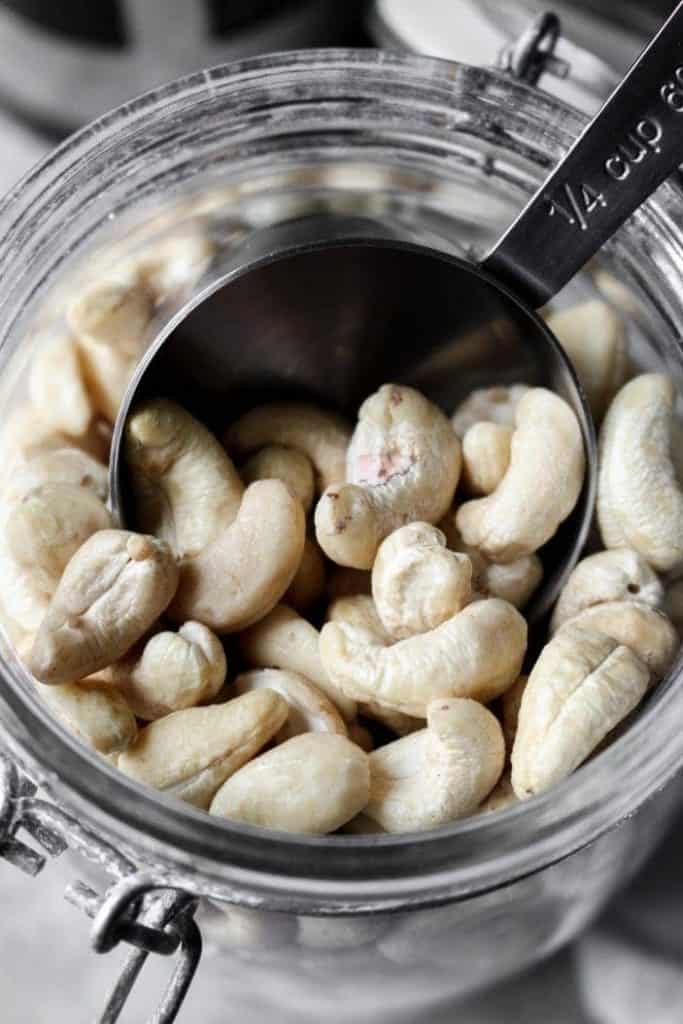 A few notes on this recipe:
First, you need a good blender in order to have a smooth drink. I use a Vitamix, which gives me a smooth latte without any cashew or date pieces. No need to strain it! That being said, if you own a weaker blender, you could try blending everything together for 1 minute or so, then straining it using a fine mesh sieve.
Second, if you have a strong blender, you may not need to soak the cashews. I don't bother with mine. However, it can make them easier to blend if your blender is on the weaker side.
You can also make this latte cold. Either make it while it's warm and let it chill in the fridge or make it using cold coffee or cold brew, then blend it with soaked cashews. I recommend using soaked cashews since the cold liquid won't blend them as well as it would warm.
I used a Medjool date, but feel free to add a touch of honey (if not vegan) or maple syrup instead. Also, adjust the spices to taste!
It really doesn't get much easier than that. All you need is one blender, 3 ingredients (plus a few spices) and less than 5 minutes. You could be enjoying a warm, creamy and comforting drink in a matter of minutes.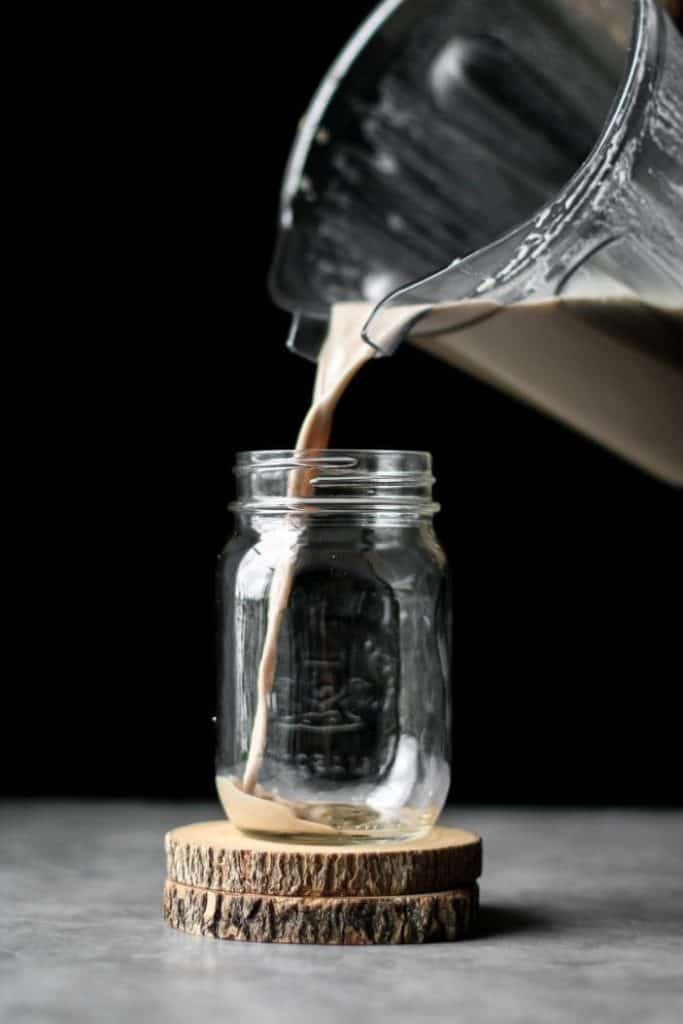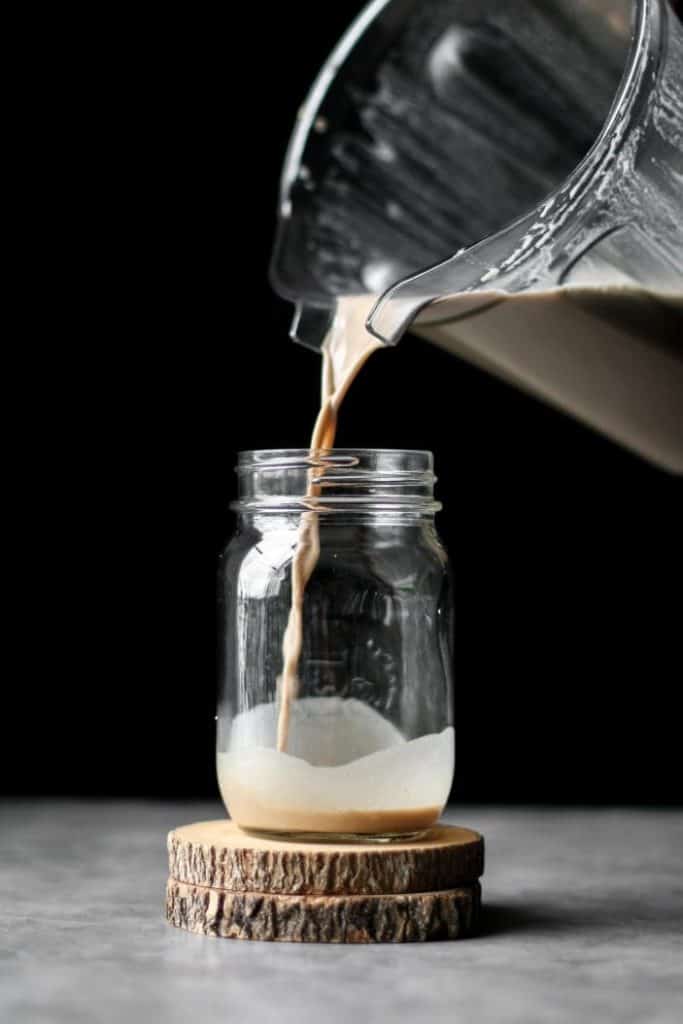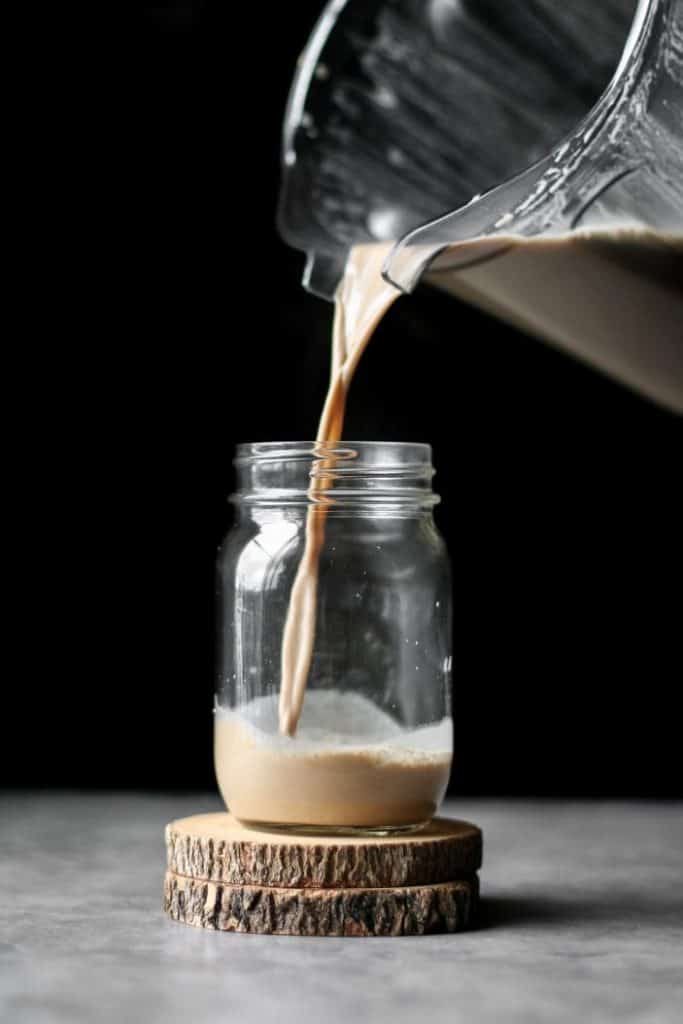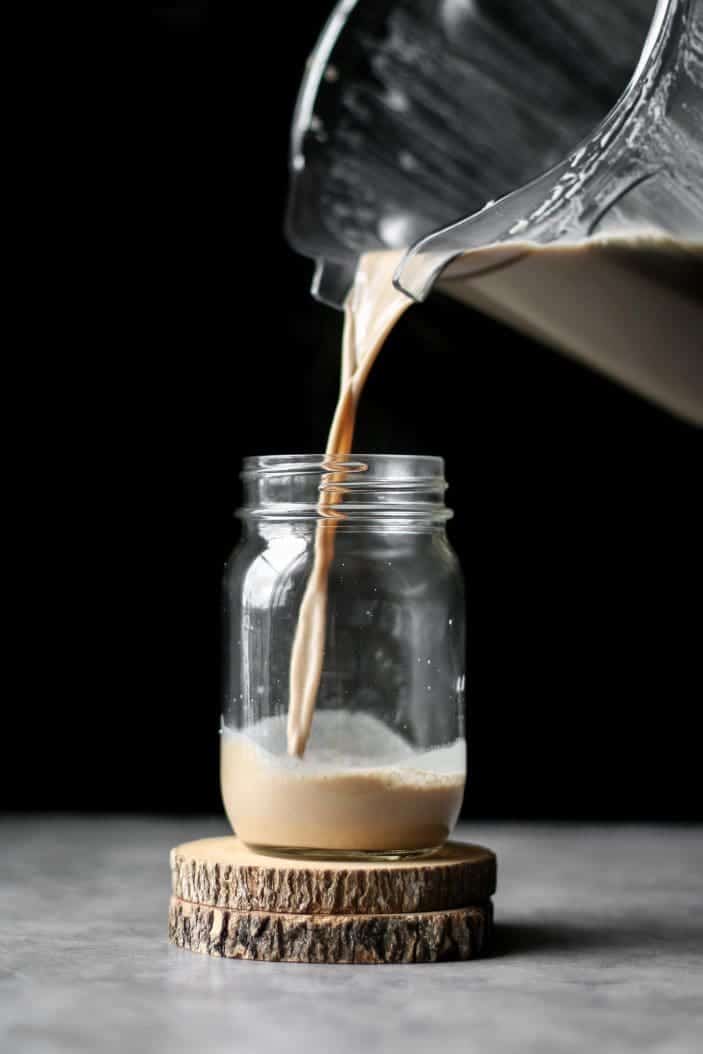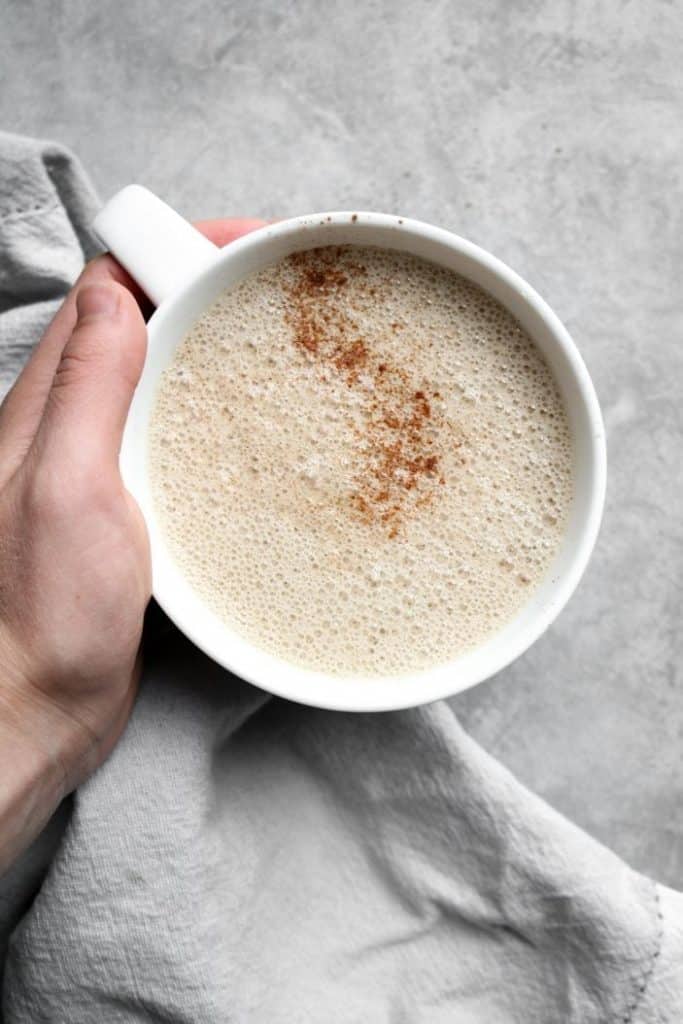 With snow and winter coming, I think we could all use a warm cashew chai latte. Don't you think?
Cashew Dirty Chai Latte
This creamy cashew chai latte is the healthiest and easiest drink you could possibly enjoy this season. You'll want to make it every morning! Cashews are simply blended with brewed coffee, dates and chai spices to give you this creamy sugar-free latte. The best part? This drink can be made in under 5 minutes. I promise, you won't miss the milk or sugar!
Ingredients
2

cups

strong brewed coffee

1/4

cup

cashews,

raw and unsalted

1-2

Medjool dates,

pitted (or maple syrup to taste)

1/8

teaspoon

cinnamon

Small pinch

each of

nutmeg, cardamom, ginger, clove and allspice

Small

pinch of

sea salt (optional)
Instructions
Add all the ingredients to a high-speed blender. Blend for 30-45 seconds until smooth. Enjoy!
Notes
If your blender is on the weaker side, you may not get a smooth drink. In this case, you can strain the latte with a nut milk bag. If using a strong blender, such as vitamix or blendtec, there shouldn't be any visible pieces of cashews or dates left and no need to strain.
I like my latte very lightly sweetened. If you prefer a sweeter drink, you may need to use more dates (or use maple syrup to taste instead!).
To make this drink cold, either make it warm and let it cool in the fridge or use cold brew with soaked cashews. The cashews should be soaked if using a cold liquid to ensure proper blending.
If you make this chai latte, be sure to leave a comment and/or give this recipe a rating! I love to hear from you guys. And of course, if you try this recipe, don't forget to tag me on Instagram!
---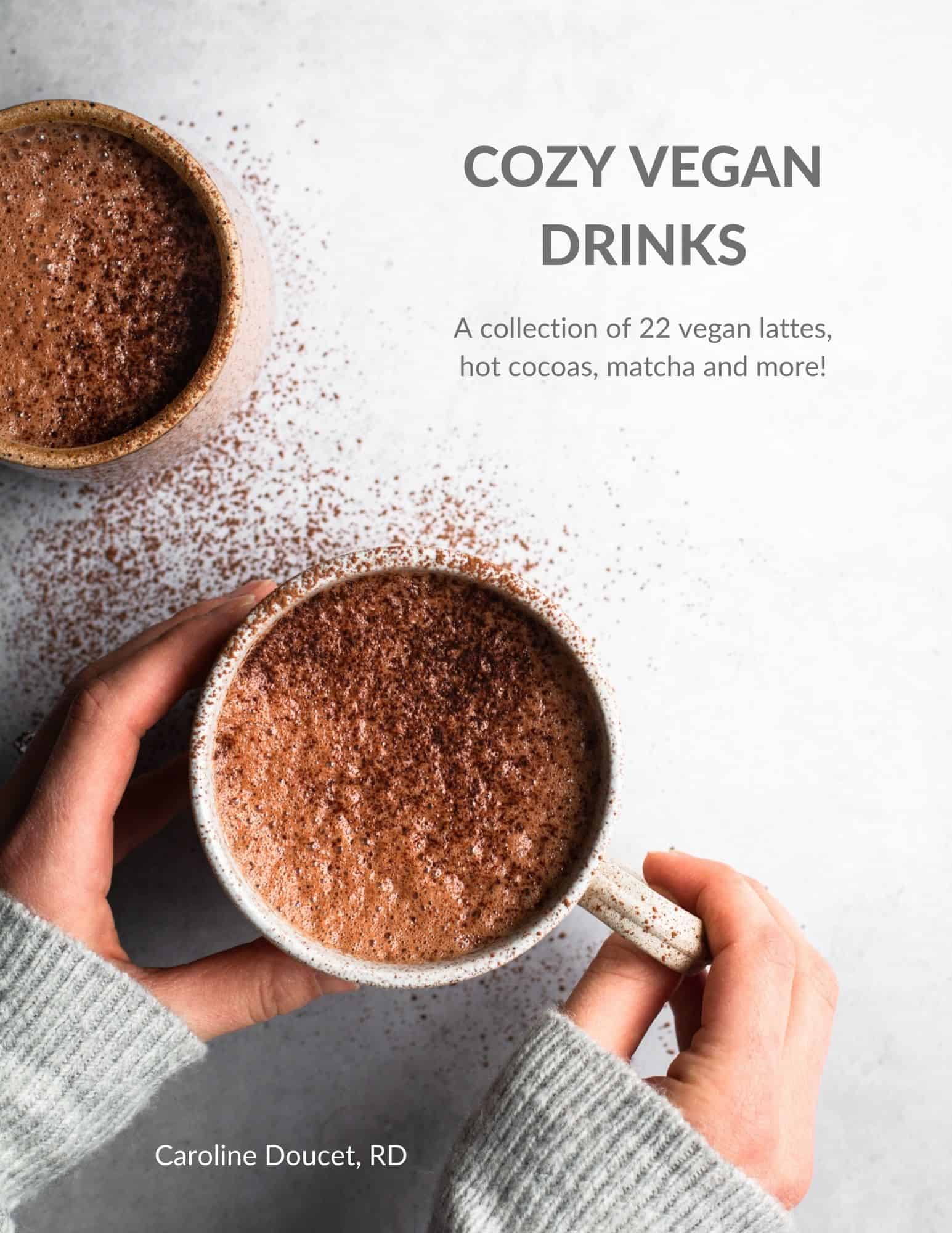 Looking for More?
Check out my Cozy Vegan Drinks eBook. It's packed with a total of 22 warm beverage recipes, including vegan lattes, hot cocoas, matcha lattes, teas and more!