Cozy Apple Cinnamon Oatmeal
Cozy apple cinnamon oatmeal. A quick and easy bowl of oatmeal that's perfect for fall! This cozy bowl is sweetened with apples and spiced with cinnamon and a pinch of nutmeg. Serve with almond butter and pecans or walnuts for a nutritious breakfast.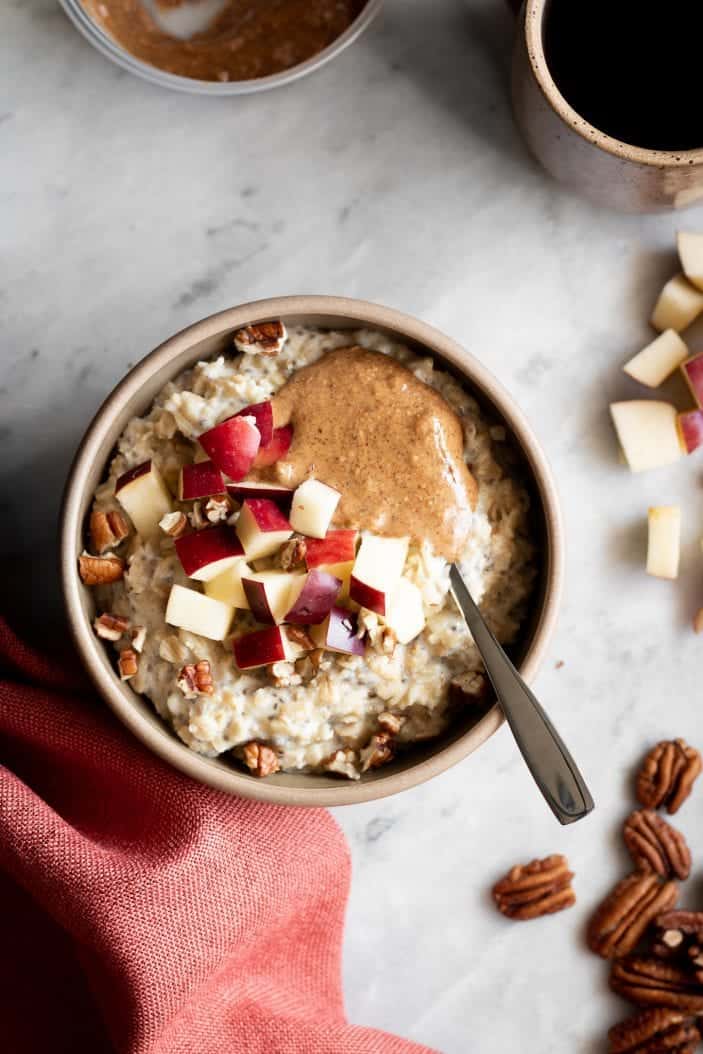 Fall, I'm ready for you!
Since we arrived in New Brunswick a few days ago, I've been feeling all the fall vibes. The air is colder than it was back in BC. I've been wearing layers and I've been spending my days in the kitchen, cooking up cozy recipes.
On top of that, we just experienced the end of hurricane Dorian this past weekend. I think it was my first time experiencing a real hurricane (versus the tropical storms we experience regularly). Thankfully we got away with very little damage. Only a flattened garden and 2 hours without power. Others weren't so lucky and I can't even imagine what people are going through in the Bahamas.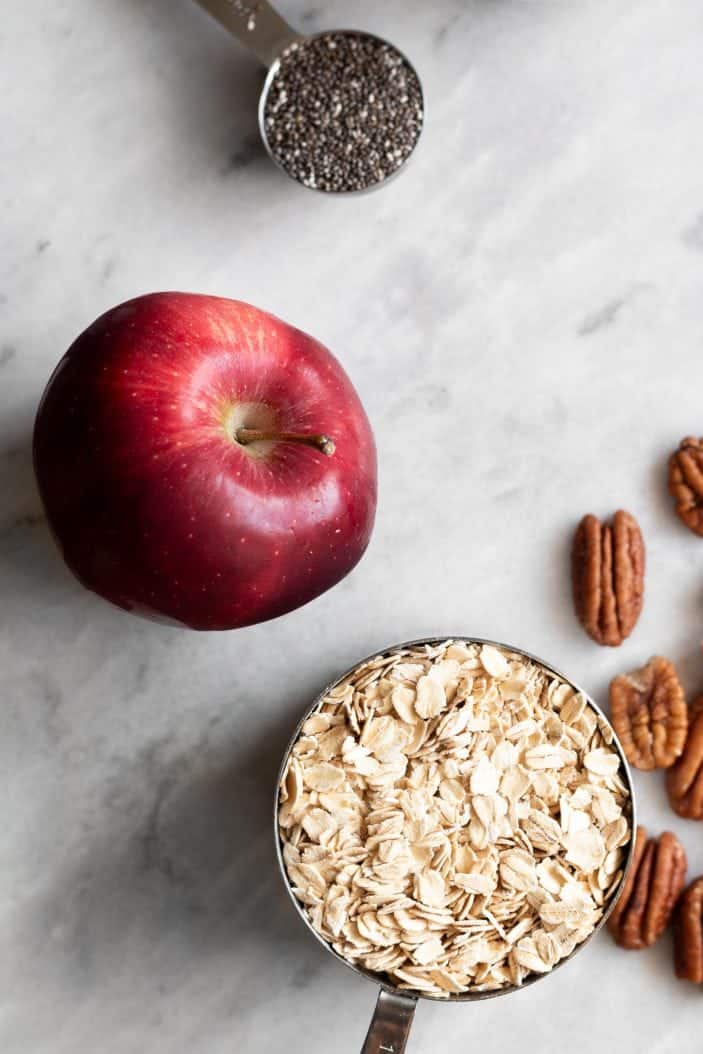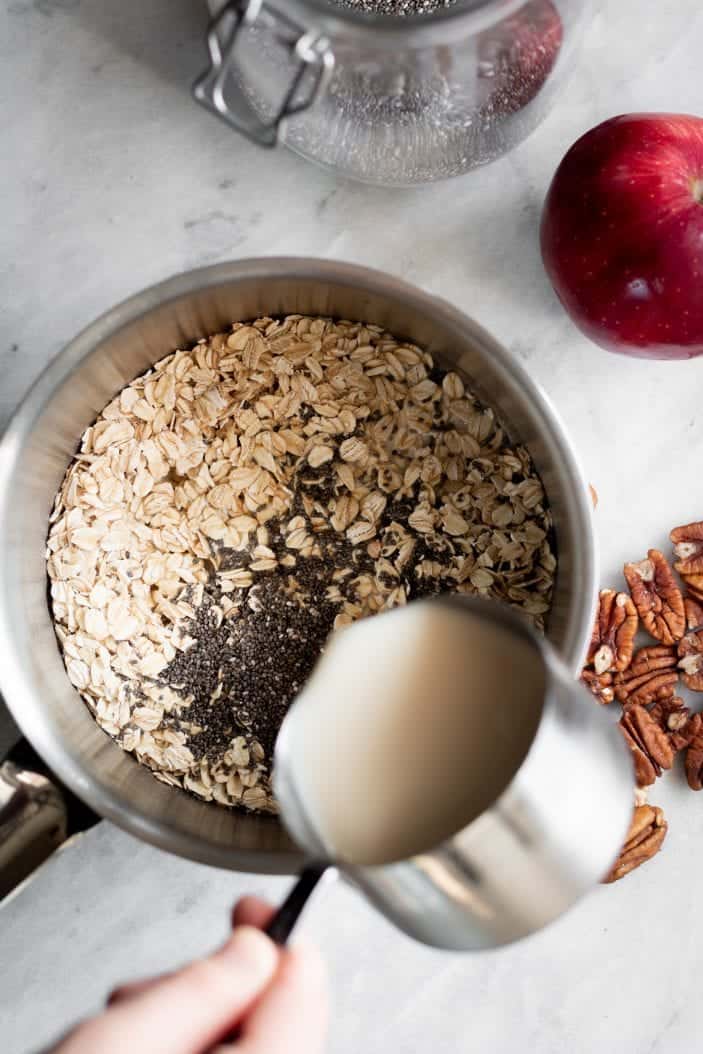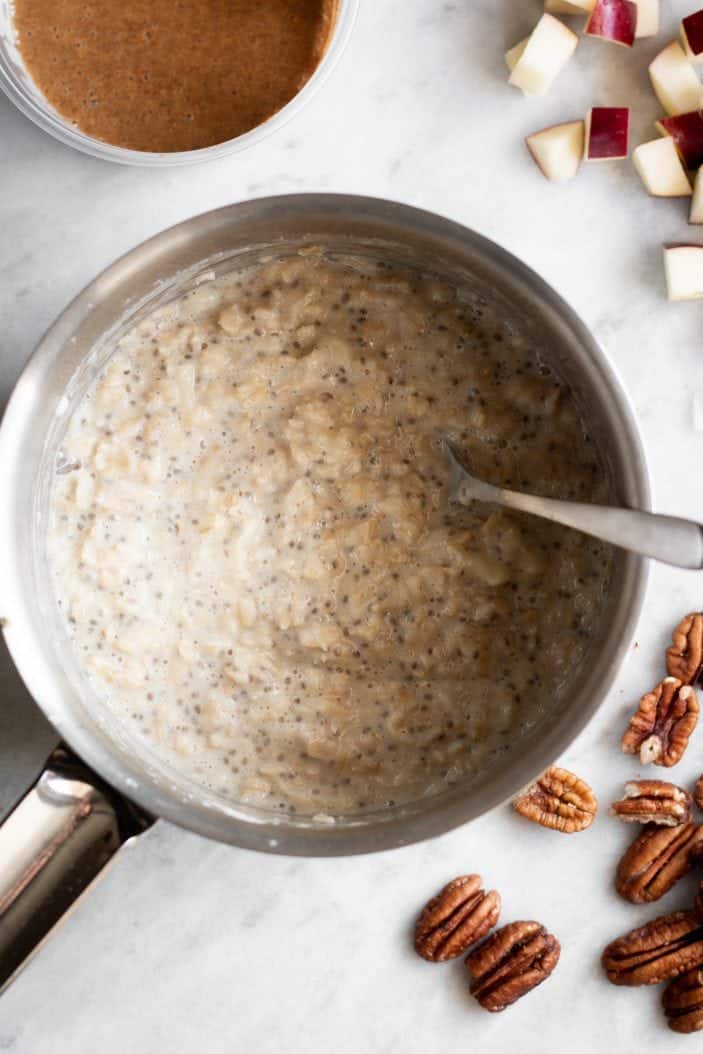 On a more cheerful note, apple season is upon us and I'm here to share a cozy bowl of apple cinnamon oatmeal.
I don't stray much from my regular peanut butter banana oatmeal, but once in a while, when I have fresh fruits in season, I love to change things up. This bowl of oatmeal is made similarly to my go-to oatmeal, but I skipped the bananas and used apples as a sweetener instead.
A Few Notes On The Recipe:
This oatmeal is lightly sweet. If you want a sweeter oatmeal, add a drizzle of maple syrup (perfect for fall), honey or chopped dates.
You can make this recipe with any plant-based milk, ideally unsweetened. I went with almond milk as that's what I always have on hand, but low-fat coconut milk would be delicious here too!
You can also use different nut or seed butters. I love almond butter or sunflower seed butter here. You can also top it with different nuts or seeds, pecans and walnuts being my favorite this time of year.
It's a recipe that can easily be adjusted to your taste. Add more cinnamon. Omit the nutmeg. Use a different milk. Top it with a different nut or seed butter. As with many of my recipes, make it your own.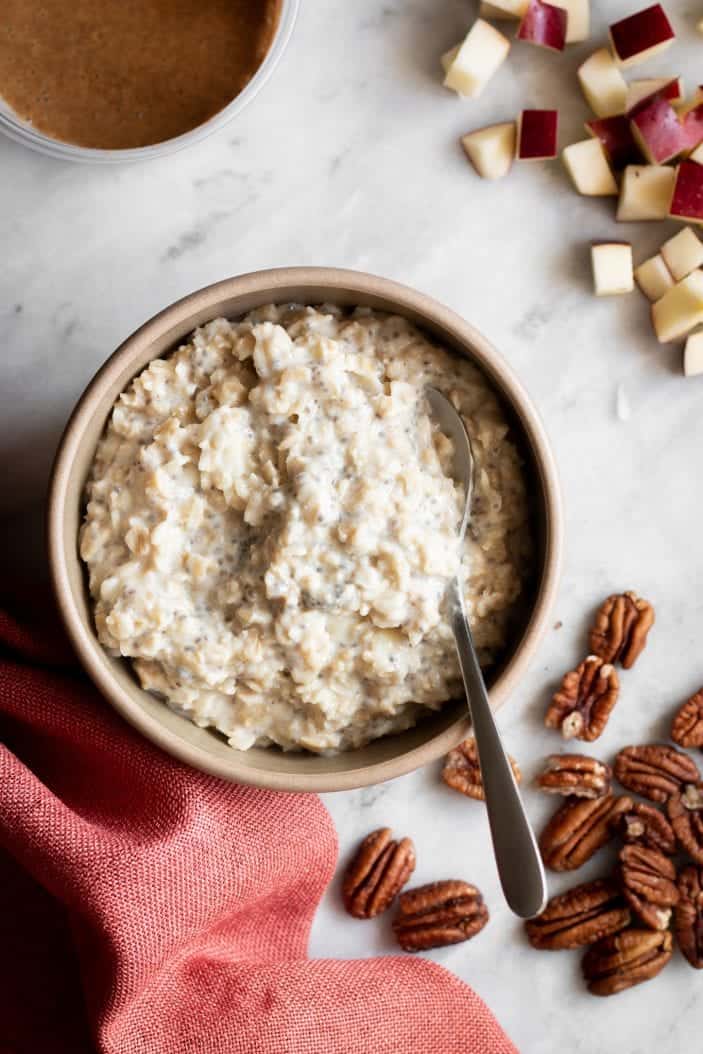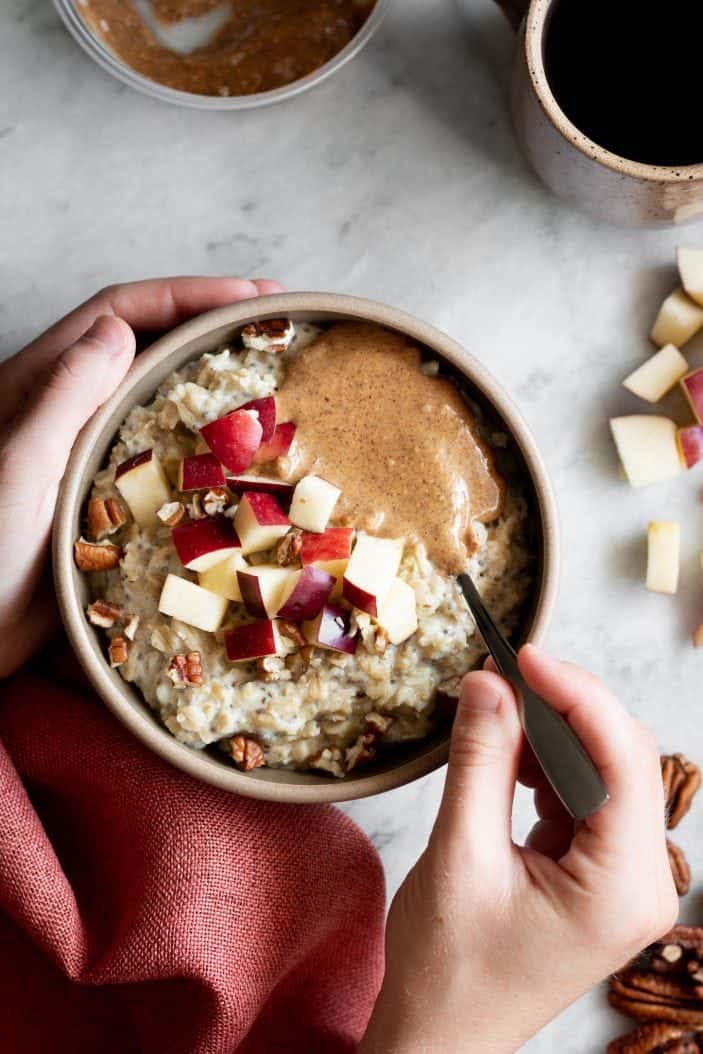 Cozy Apple Cinnamon Oatmeal
A quick and easy bowl of oatmeal that's perfect for fall! This cozy bowl is sweetened with apples and spiced with cinnamon and a pinch of nutmeg.
Ingredients
1

cup

rolled oats

2

cups

unsweetened almond milk

(or other milk of choice)

1

tablespoon

chia seeds

1

large

apple

1

teaspoon

cinnamon

Pinch of nutmeg

Pecans or walnuts,

for serving

Almond or pecan butter,

for serving
Instructions
Add the oats, milk, chia seeds, cinnamon and nutmeg in a small saucepan. Cut the apple in half and set one half aside. Peel and shred the other half and stir in with the oats.

Bring the oats to a boil, then reduce heat to low-medium heat and simmer until thick and creamy, about 5 minutes.

Transfer to 2 bowls and top with the remaining apple (diced) and other desired toppings.
Notes
This oatmeal is lightly sweetened with apples. If you want sweeter oats, add maple syrup to taste. I also recommend a sweet variety of apple, such as gala or honey crisp.
If you make this apple cinnamon oatmeal, be sure to leave a comment and/or give this recipe a rating! I love to hear from you guys. And of course, if you try this recipe, don't forget to tag me on Instagram!