Chocolate Pretzel Quinoa Bars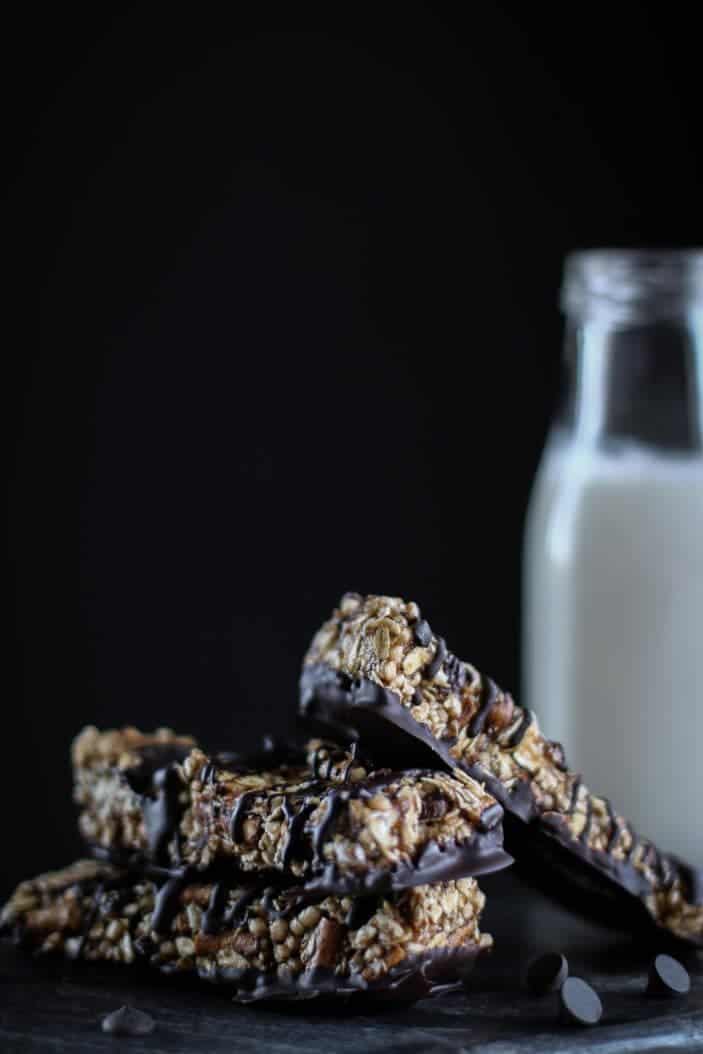 Happy Friday!
I'm sharing some delicious and easy granola bars today (the perfect recipe to make this weekend!). That's what I did last weekend and I think I'll do the same this Sunday. If I have enough ingredients in my pantry… I've been surviving on what I have in the freezer and in my pantry for almost 2 weeks now, so it's all getting pretty empty. I thought it would be a good idea to use up what I have before buying anything else. It's a great way to save money and to get creative in the kitchen! I've been coming up with very weird recipes that where surprisingly good… I made a pasta sauce using soy milk, tapioca starch, garlic, margarine, cheese, salt and pepper. It was one of the best pasta dishes I ever had! I also made a red lentil stew and added wheat berries… I know. Weird, but I liked it! Hah. The only vegetables I have left in the house now are a handful of frozen spinach, half a head of purple cabbage and half a bag of frozen green peppers… I'm trying to make it until next Tuesday, so lets see how that goes!
Just a side note: I've been sharing some tips on Instagram this week to eat healthy on a student budget. Take a look if you're interested! I'm thinking of writing a blog post about my meal prep and ways that I save money on groceries? I've been a university student for almost 5 years now, so I developed a few habits to save money on food while still eating a healthy diet. What are your thoughts?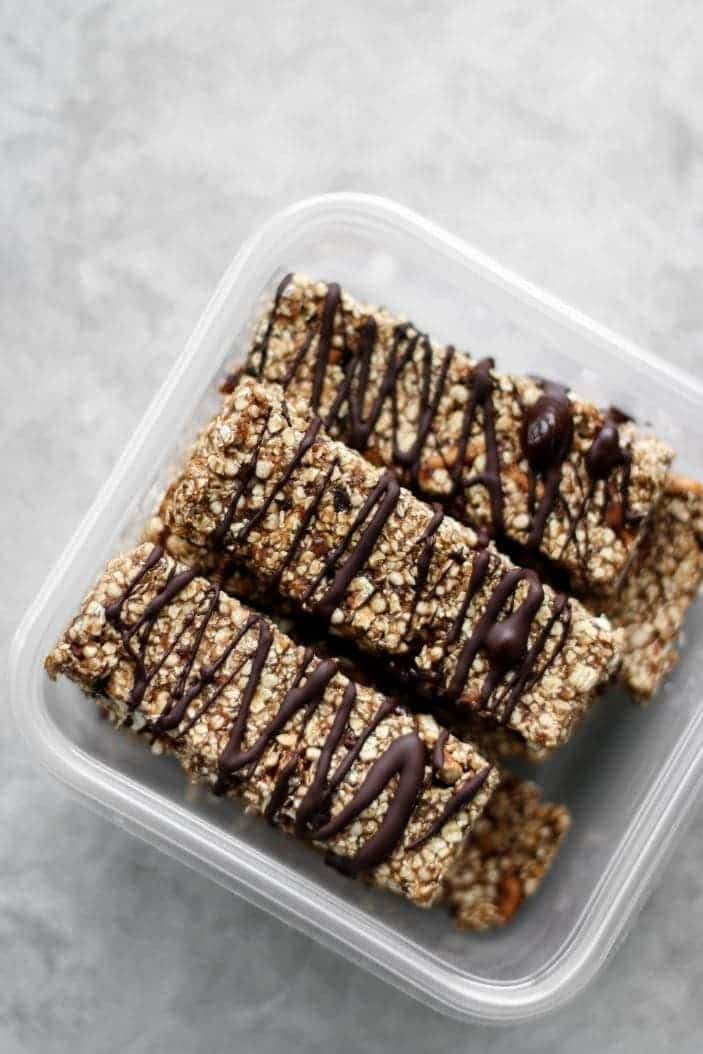 So last weekend, when I still had a lot of ingredients in my pantry, I made these granola bars. They made my morning snack the best part of my day. <— True story.
I used dates to sweetened the bars and to help them hold together. I blended the dates in a food processor, along with sunflower seed butter (my latest obsession), water and vanilla extract. That mixture is then transferred to a bowl and mixed with rolled oats, chopped pretzels, cocoa nibs and quinoa puffs. I never used quinoa puffs before, but I desperately wanted to try them in a granola bar. They are SO good! (Okay, they don't taste like anything, but they have a great texture). You end up with slightly crunchy, yet chewy granola bars. They are perfectly sweetened with dates only and then drizzled with chocolate to make them extra special.
A few possible substitutions for these bars:
Replace the sunflower seed butter with peanut butter or almond butter.
Use rice puffs instead of quinoa puffs for a cheaper option!
Replace the pretzels with sliced almonds, sunflower seeds or pumpkin seeds. You can also use gluten-free pretzels for an easy gluten-free option.
Use dark chocolate instead of unsweetened chocolate for a real treat.
Replace the cocoa nibs with mini chocolate chips if you want to go a little crazy.
You might already have most of these ingredients in your pantry? If so, I hope you'll try them. 🙂
Have a great weekend!
For another great gluten-free and nut-free granola bar, try my No-Bake Chewy Granola Bars.
Pretzel Chocolate Quinoa Bars
These granola bars are seriously addictive. They're sweetened with dates only and they're nut-free, gluten-free (if using gluten-free pretzels) and vegan! The quinoa puffs, cocoa nibs and pretzels give them a great crispy texture, while still being chewy from the dates. Think of it as a VERY healthy Rice Krispie bar.
Ingredients
1

cup

Medjool dates,

pitted

1/4

cup

sunflower seed butter

(or almond or peanut butter)

2

teaspoons

vanilla extract

1/2

cup

water

1

cup

quinoa puffs

(or rice puffs)

1/2

cup

pretzels,

roughly chopped

1 1/2

cup

rolled oats

1/4

cup

cocoa nibs

Unsweetened chocolate for drizzling

(or dark chocolate)
Instructions
Line a 9″ x 9″ square glass dish with parchment paper.

In a food processor, add dates, sunflower seed butter, vanilla and water. Process until smooth, about 1 minute. Transfer the mixture to a medium bowl.

Add quinoa puffs, pretzels, oats and cocoa nibs to the bowl and mix all the ingredients together.

Press the mixture firmly to the bottom of your prepared dish. Pressing it tightly will prevent the bars from falling apart when cutting.

Chill in the freezer or refrigerator for at least 30 minutes before cutting into 12 bars.
If you try this recipe, make sure to tag your photo #unsweetenedcaroline on Instagram, Facebook and Twitter! Don't forget to also tag me @unsweetened.caroline on Instagram so I can see your creations!