Blueberry Walnut Crumble Bars
Wholesome blueberry crumble bars made with walnuts, oats, dates and a few other basic ingredients. Have them for a quick breakfast, snack or serve with ice cream for dessert.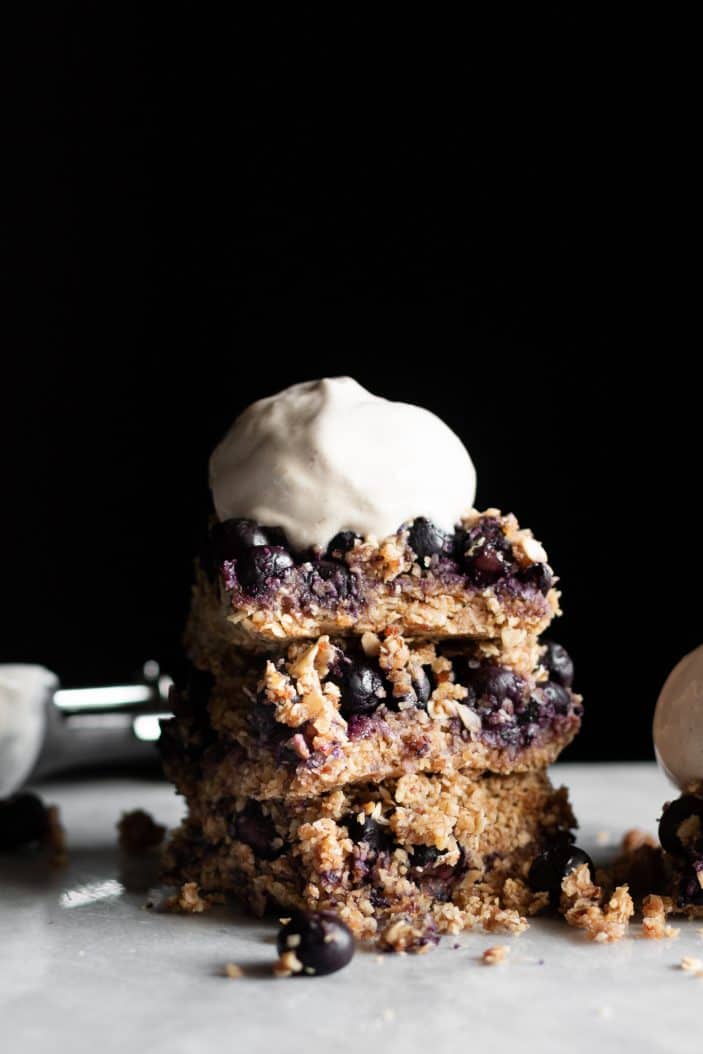 Meet my favorite summer dessert – Blueberry crumble bars. Or any crumble bar, really. Ideally topped with a good scoop of ice cream.
I made these bars for the first time a few weeks back for my little bachelorette party. I'm happy to report that it was a hit. Everyone loved it!
I knew I wanted to create a new crumble bar recipe for the summer and a blueberry crumble seemed like a good way to go. These are inspired by my nut-free strawberry vanilla crumble bars – A recipe I created 2 summers ago (has it really been that long?!). I did change a few things to make them easier, including skipping the extra step of making a chia jam with the fruit. Here, I kept it simple and used the fruit as is.
With my strawberry crumble bars, I wanted to create a nut-free recipe, so I used sunflower seeds. For this recipe, I decided to go another way and used walnuts. Of course you can stick with sunflower seeds if you have an allergy (or if you want a cheaper option), but I have to say, the walnuts pair beautifully with the blueberries.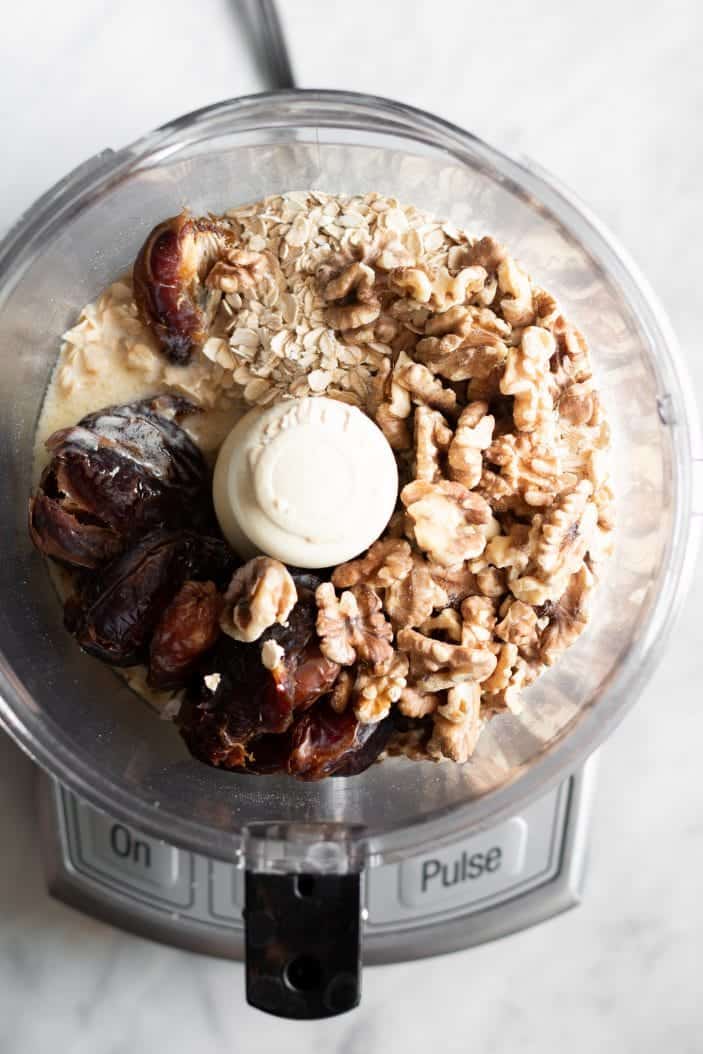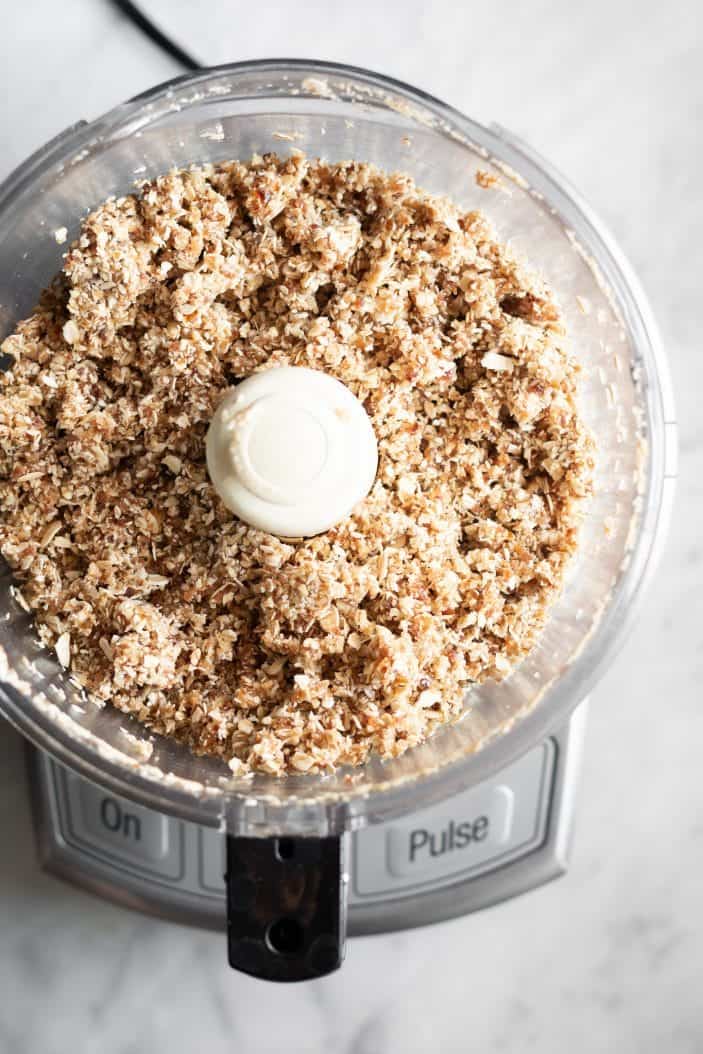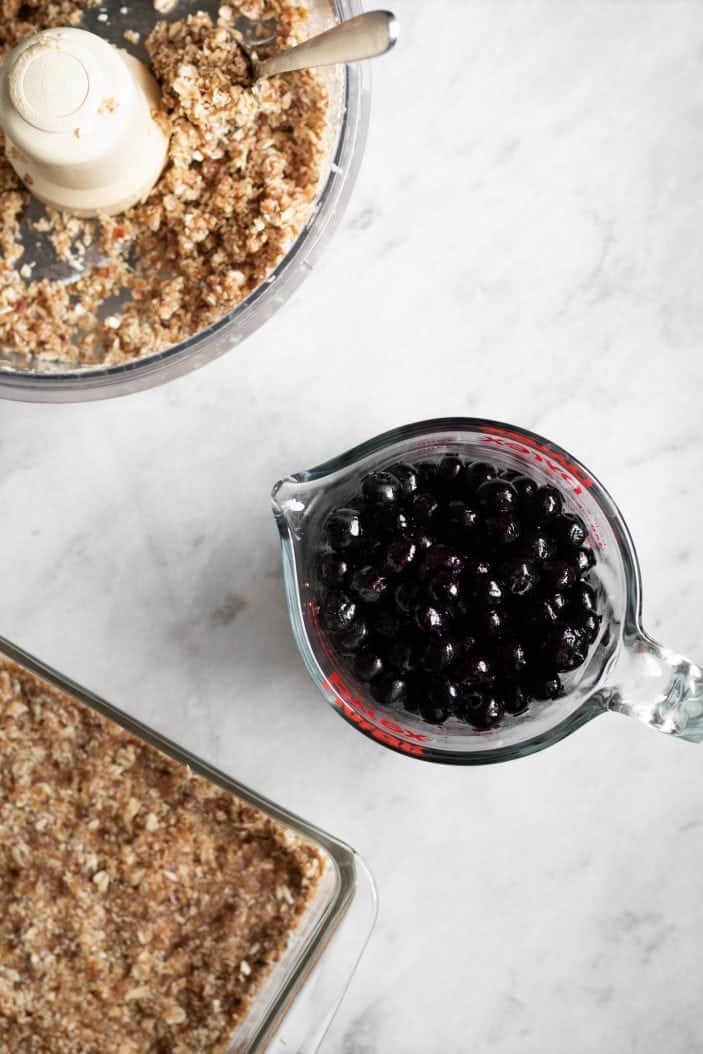 How to Make your Own Crumble Bars:
This recipe is versatile and I encourage you to make it your own, using ingredients you have on hand!
Change the Fruit: Try sliced or diced strawberries, peaches, raspberries, blackberries or other fruits you have on hand. I think I'll try cherry next.
Make a Fruit Jam: Instead of using whole blueberries, you can easily make a blueberry jam using the same steps as I did with this recipe. You could make a chia jam using many different fruits!
Use Other Nuts or Seeds: As I said earlier, I did make similar crumble bars using sunflower seeds. You could also try sliced almonds or pecans. Let me know if you try any alternatives!
Substitute the Butter/Margarine: I haven't tried it yet, but you could probably use melted coconut oil instead of butter/margarine in this recipe. Just note that it will affect the flavor. I would also recommend adding a pinch of salt.
And that's it! I love serving this recipe with ice cream for a real summer treat. I'm working on an ice cream recipe at the moment (which is sweetened with dates). It's also great eaten as is for a quick breakfast on-the-go. (Update: Here's the ice cream recipe!)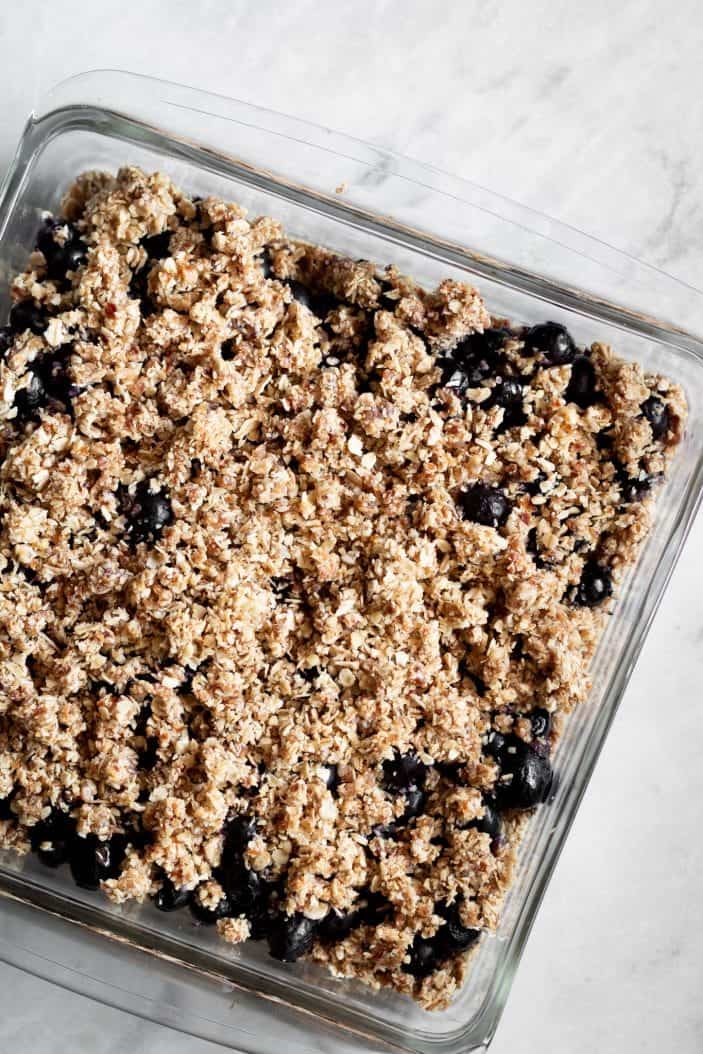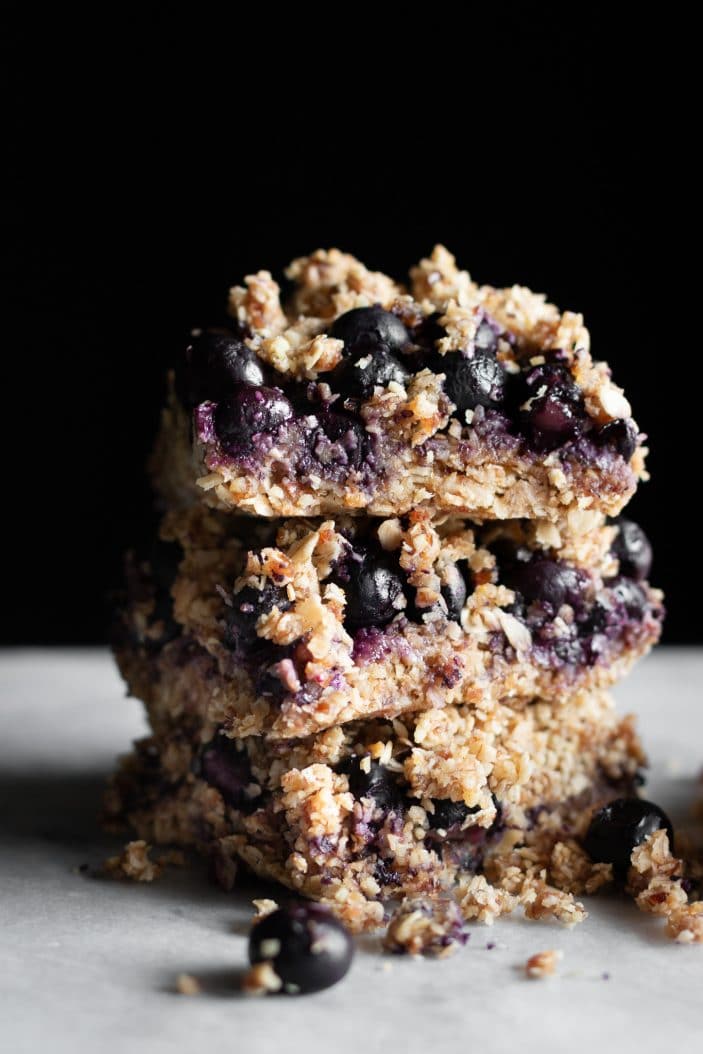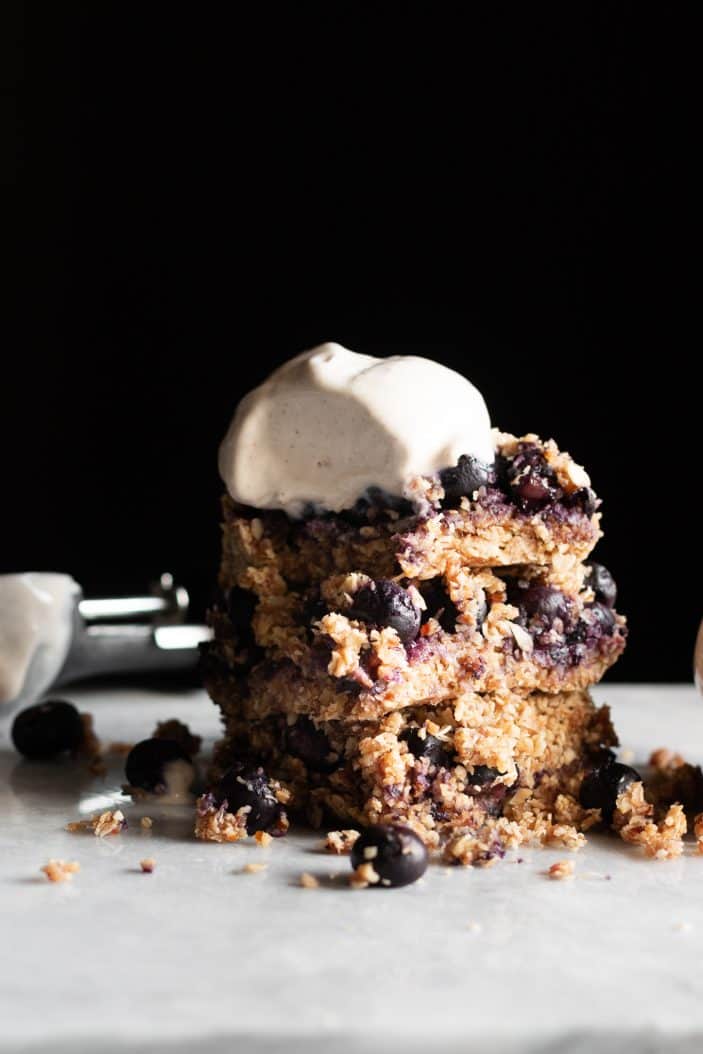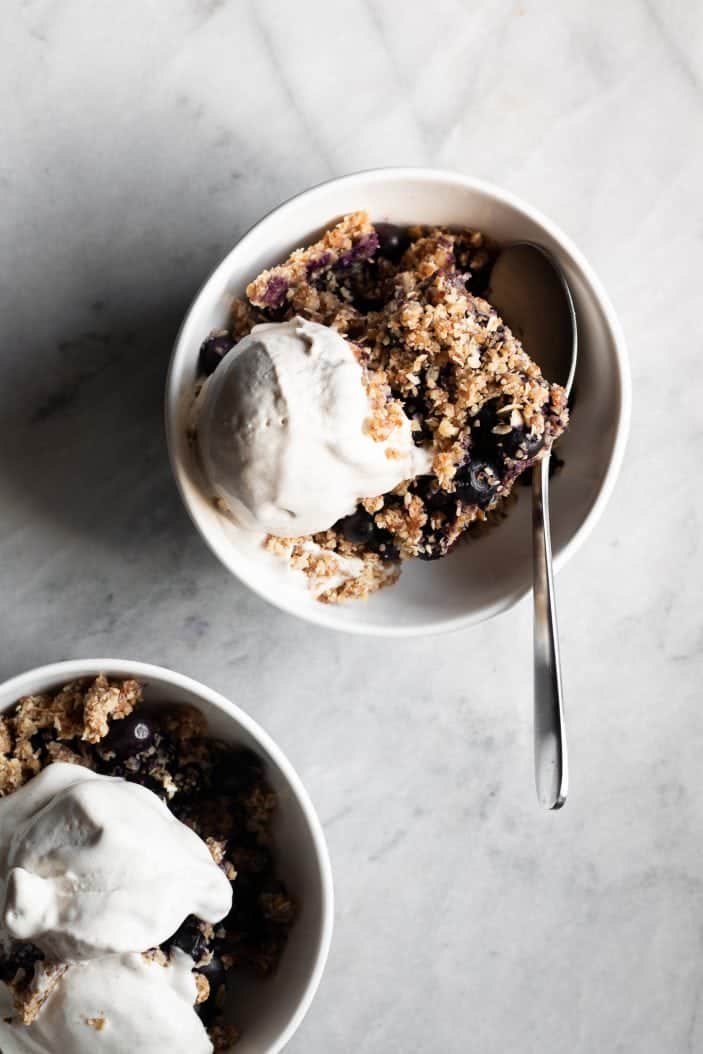 Blueberry Walnut Crumble Bars
Wholesome crumble bars made with walnuts, oats, dates, blueberries and a few other basic ingredients. Have them for a quick breakfast, snack or serve with ice cream for dessert.
Ingredients
1

cup

walnuts,

raw

1

cup

Medjool dates,

pitted

3

cups

rolled oats

5

tablespoons

butter or margarine,

melted (plus more for the dish)

1/2

teaspoon

vanilla extract

1-2

tablespoons

water,

as needed

3

cups

blueberries,

fresh or frozen and thawed
Instructions
Preheat oven to 325F. Grease a 9×9 inch glass dish with margarine or butter. Set aside.

Spread the walnuts on a baking sheet. When the oven is preheated, roast the walnuts for 8-10 minutes until lightly golden. When they're done roasting, remove from the oven and increase to 350F.

Place the roasted walnuts, dates, 2 cups of oats, melted margarine (or butter) and vanilla in a food processor and process until combined and crumbly. Add water and process until the mixture sticks together when pressed. Add the remaining 1 cup of oats and process for a few seconds until combined. You want the mixture to stick well together when pressed, while still having texture.

Press the oat mixture at the bottom of the greased dish, leaving 1.5 cups for topping. Spread the blueberries evenly on top of the bottom layer. Finally, add the remaining oat mixture on top.

Bake for 15 minutes, uncovered at 350F. Let cool 1 hour before cutting. This helps the bars stick together.
Notes
I tested this recipe using vegan margarine, which is salted. If you use unsalted butter, add 1/4 teaspoon of salt.
You can make this recipe using different fruit. You can also make a blueberry chia jam using this jam recipe. This recipe was inspired by my strawberry crumble bars.
Top it with ice cream if desired. Try my homemade cashew coconut vanilla ice cream!
If you make these blueberry crumble bars, be sure to leave a comment and/or give this recipe a rating! I love to hear from you guys. And of course, if you try this recipe, don't forget to tag me on Instagram!