Vegetarian French Onion Soup
Vegetarian French onion soup. This onion soup is made vegetarian by using mushroom broth instead of beef broth. You can also make it vegan by using vegan cheese and vegan butter. It's the perfect vegetarian comfort food.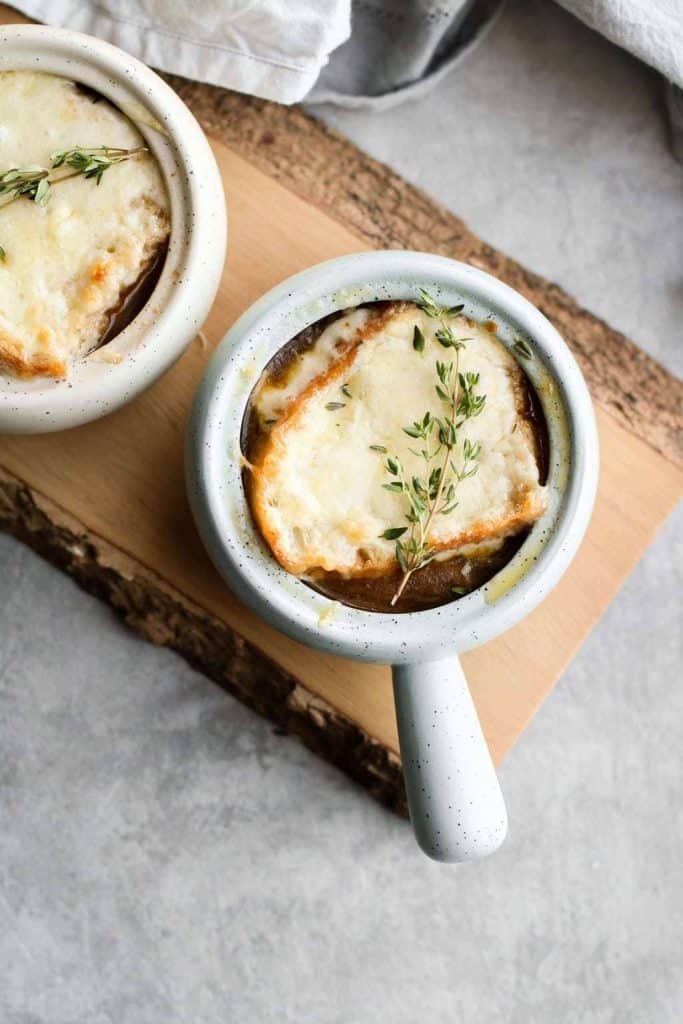 A comforting and flavorful French onion soup. It's the perfect warming meal to enjoy on a cold winter day.
I made this recipe vegetarian by using mushroom broth instead of beef broth. I personally prefer mushroom broth instead of vegetable broth in this recipe. It adds a delicious flavor. I also decided to use old white cheddar cheese instead of gruyère for a cheaper option. If you prefer to use gruyère, then go for it! It's delicious and a little more traditional. If you're like me and you're cheap when it comes to buying cheese, then go for white cheddar. It has a strong taste and goes perfectly with the caramelized onions and mushroom broth. It's absolutely delicious! Swiss and mozzarella would work too.
I also added a vegan options below!
How to Make Vegetarian French Onion Soup:
First, you need to caramelize your onions. This is what takes a little more time and attention as you need to stir every few minutes for 30 minutes. With just a little patience, you'll end up with a perfect soup. Trust me, it's worth the time!
This is what it looks like after about 15 minutes: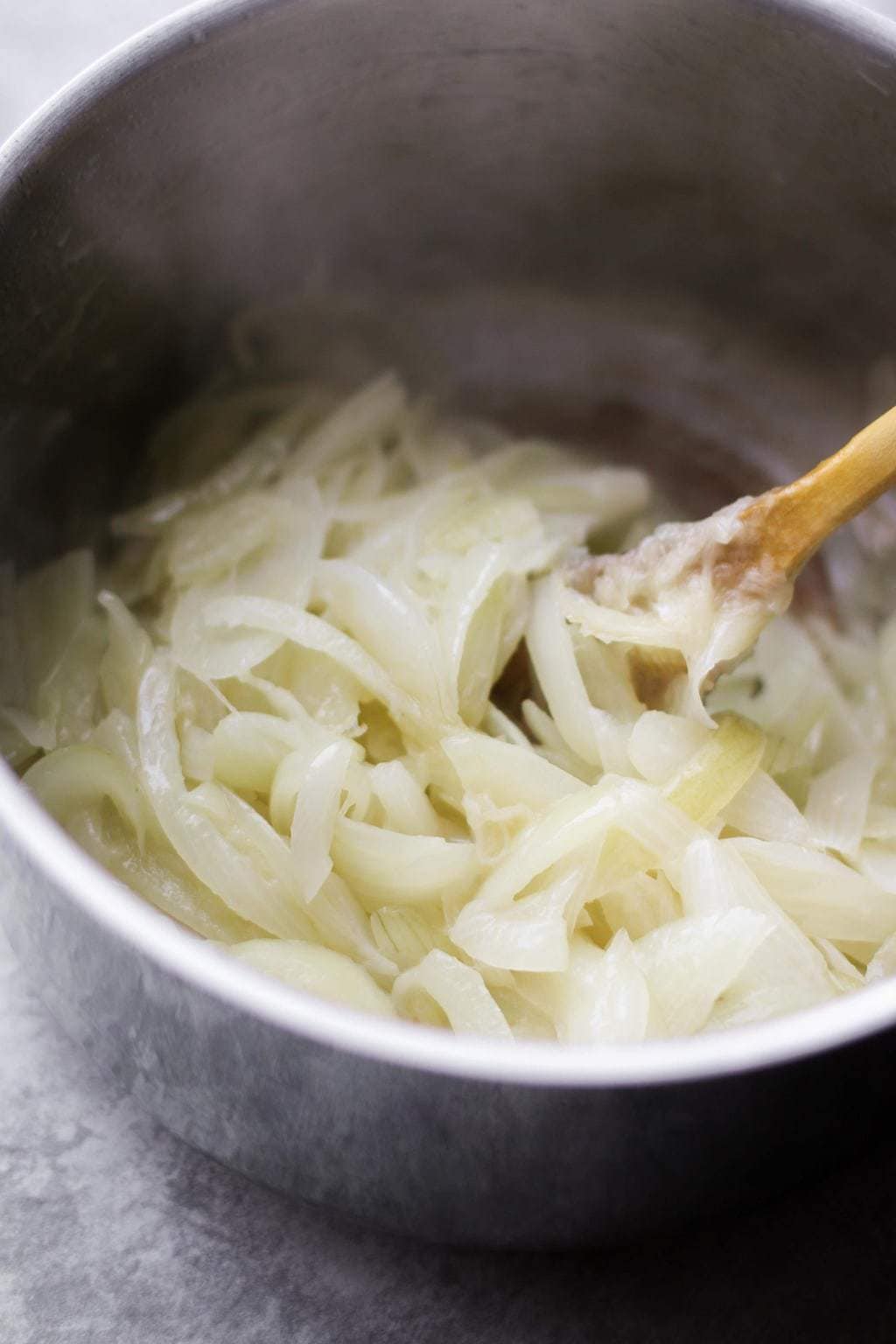 And now after 30 minutes: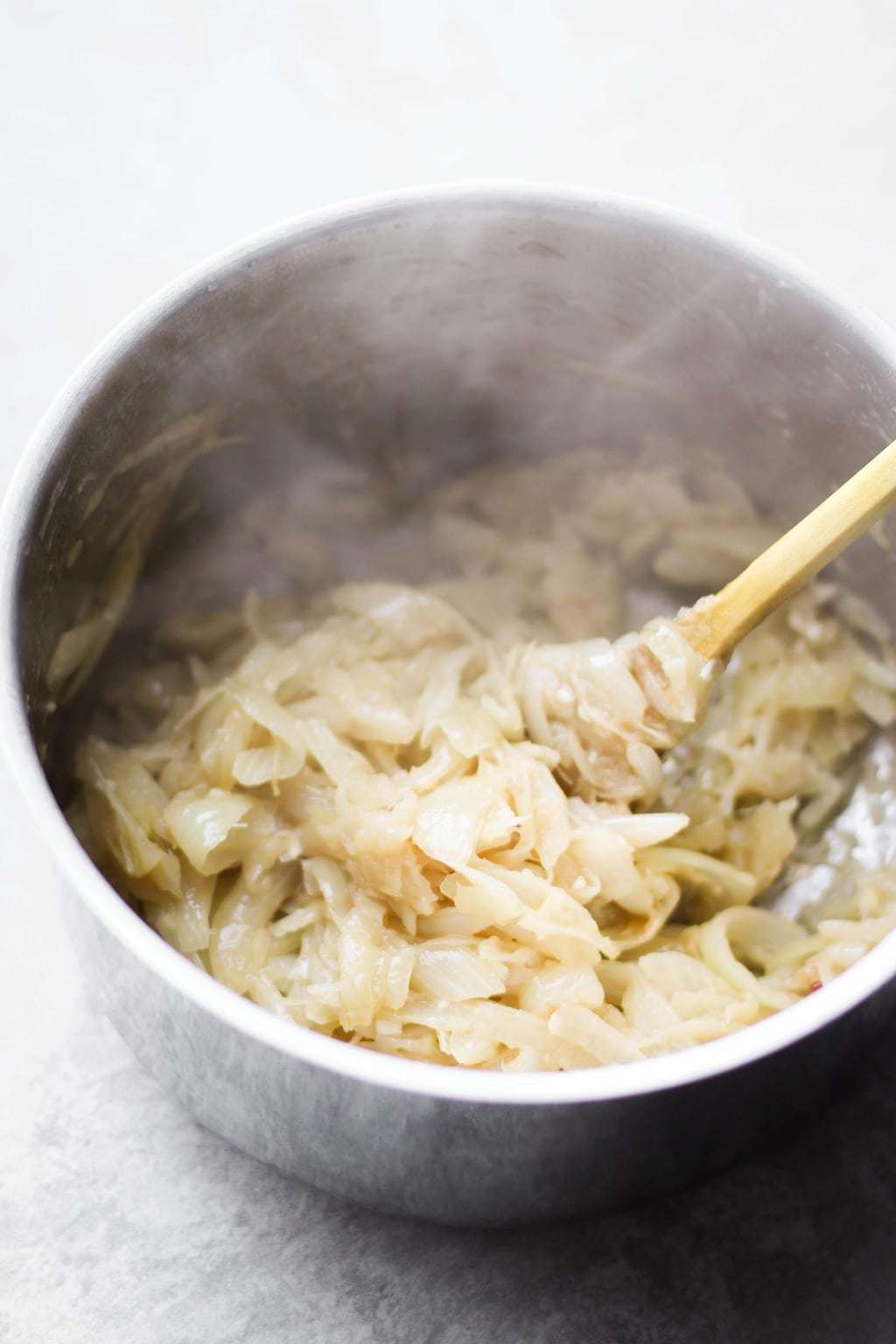 Your onions should be very soft and lightly golden.
Next, add the wine to deglaze.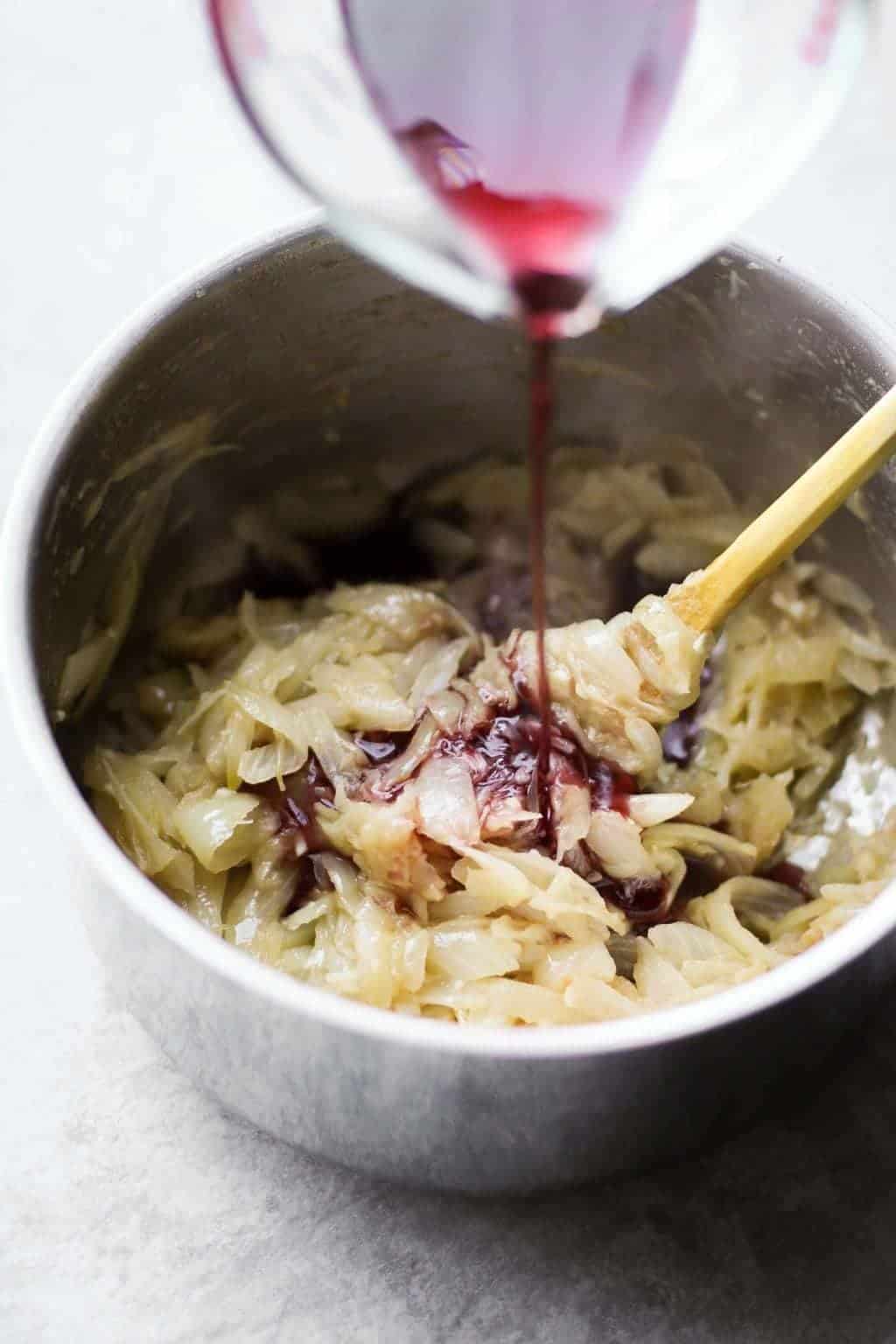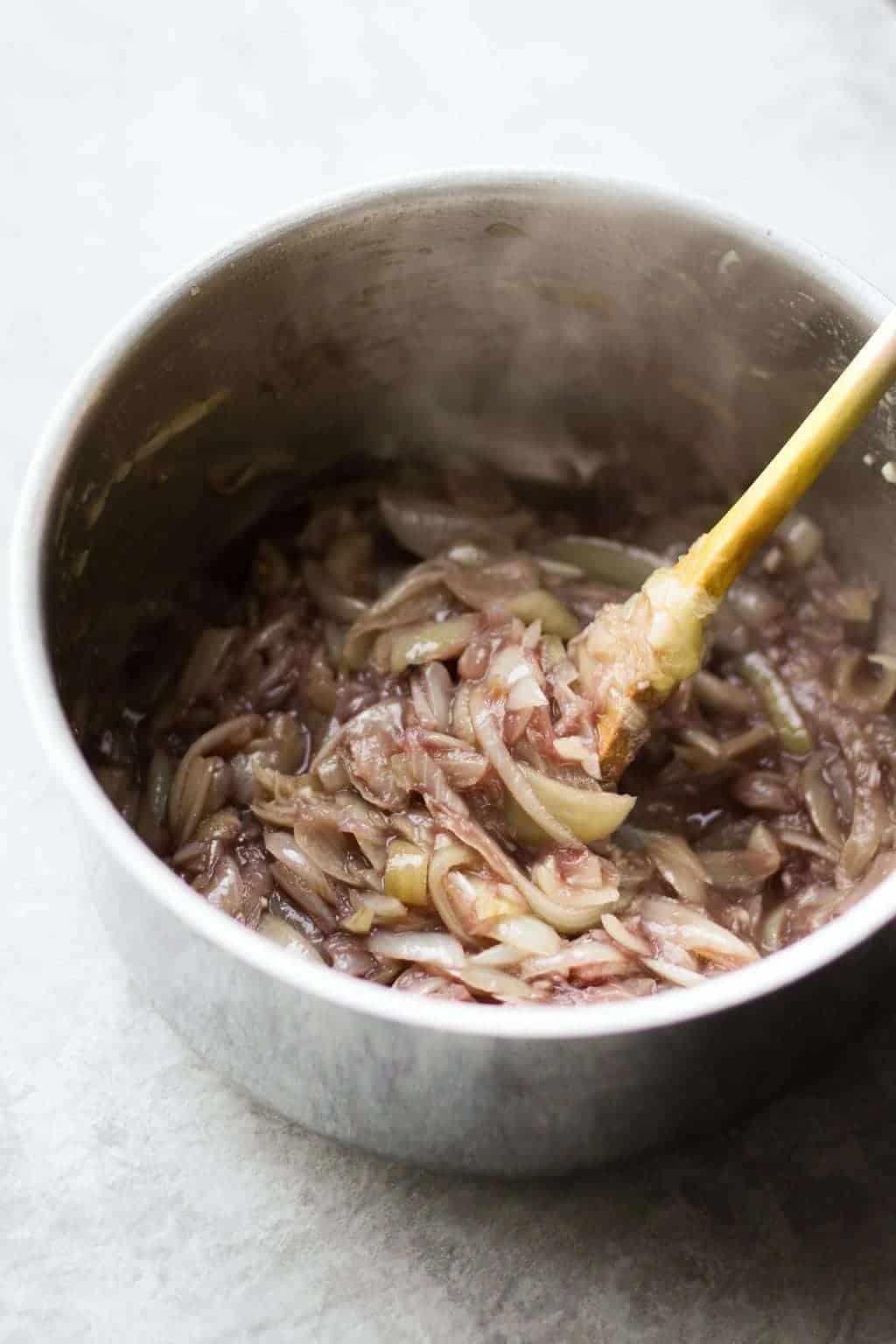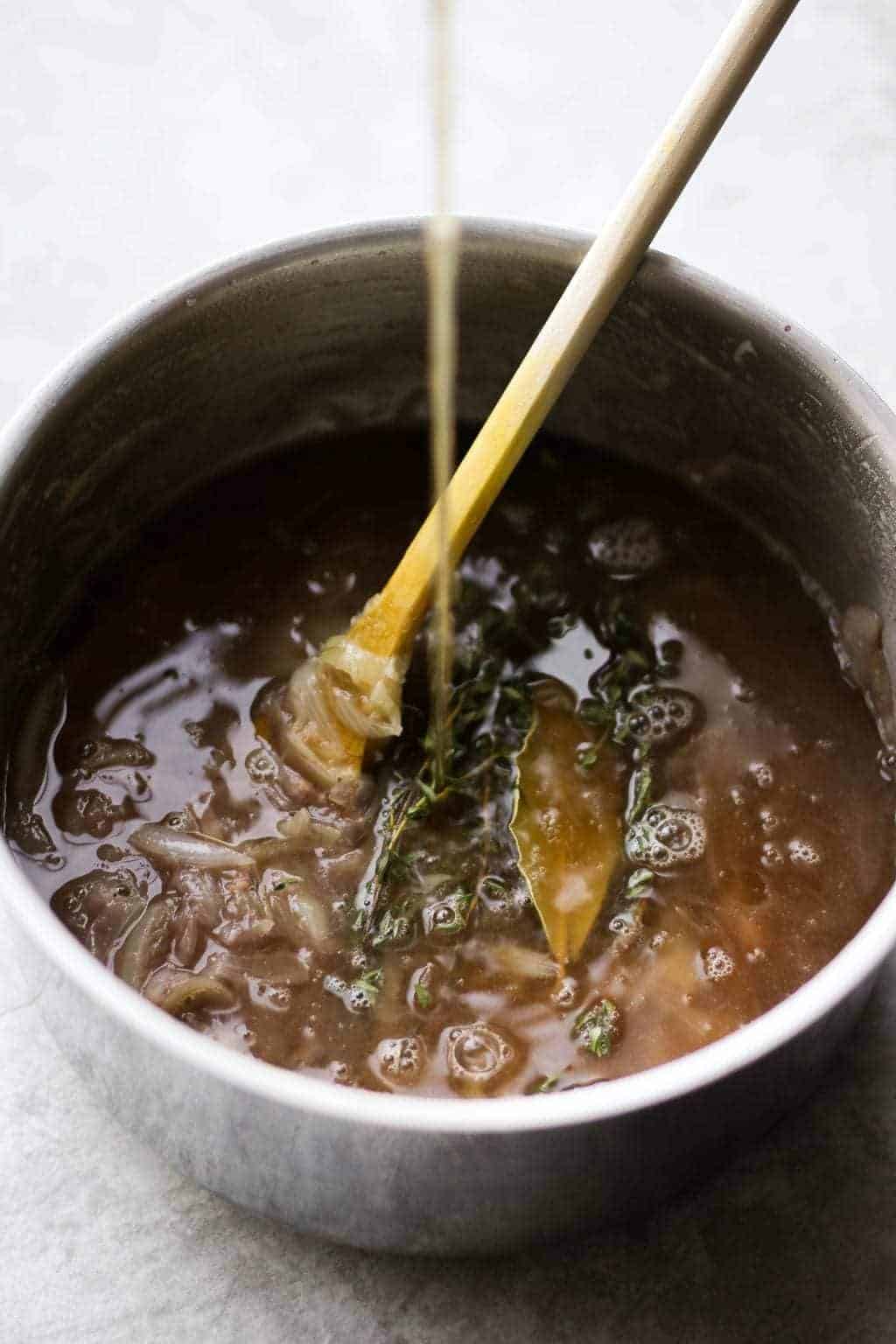 When your onions are caramelized and you've added the wine, add the remaining ingredients. Bring everything to a boil, simmer for 10 minutes, then transfer to oven-safe bowls. Put a slice of fresh bread on top of your soup (I like to use my homemade bread, but fresh baguette works too!) and a generous sprinkle of cheese. I use old white cheddar, but gruyère is just as delicious and a little more traditional. Use what you have on hand!
This soup is versatile and I guarantee it will be delicious no matter what. As long as your onions are well caramelized and that you have some bread and cheese on top.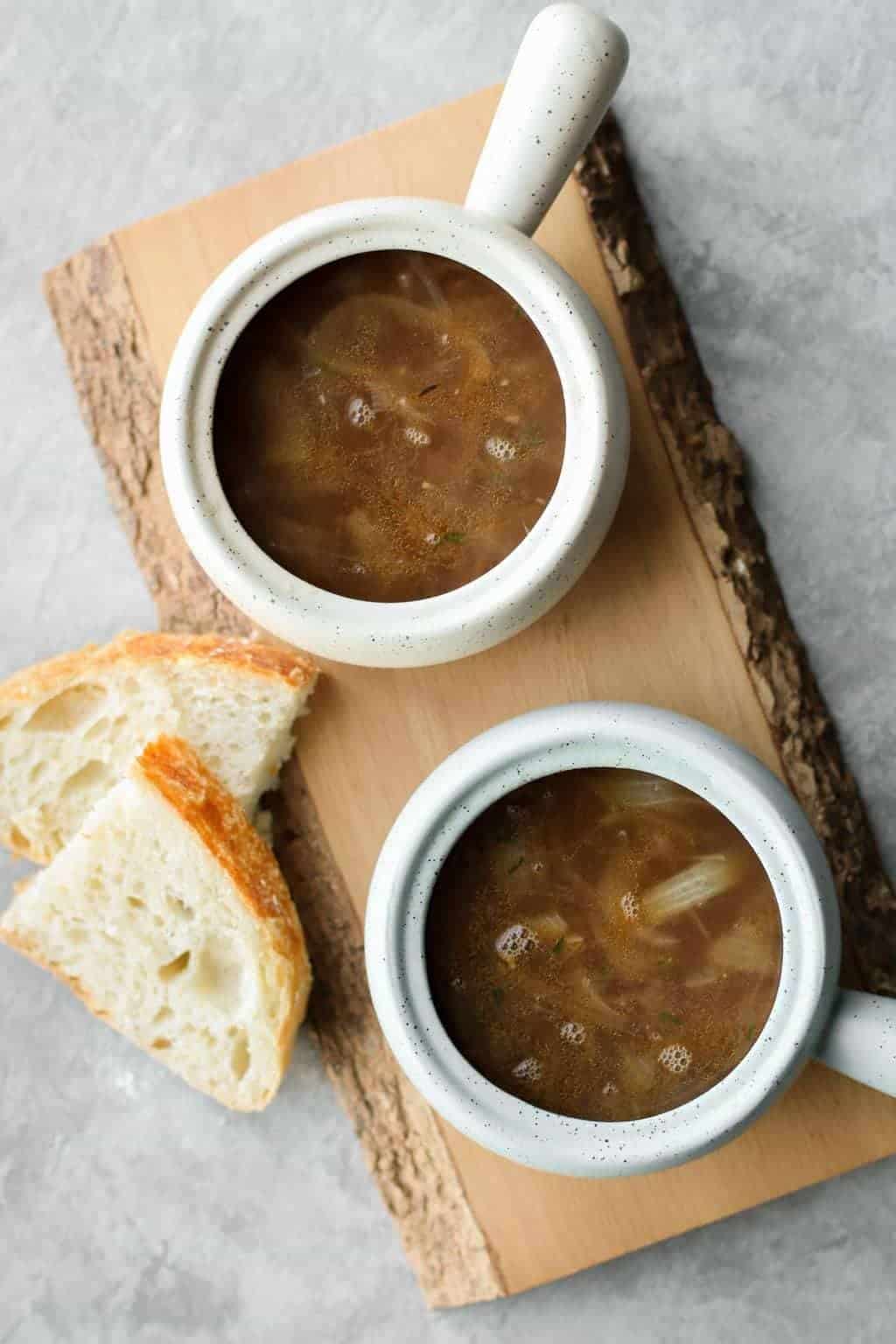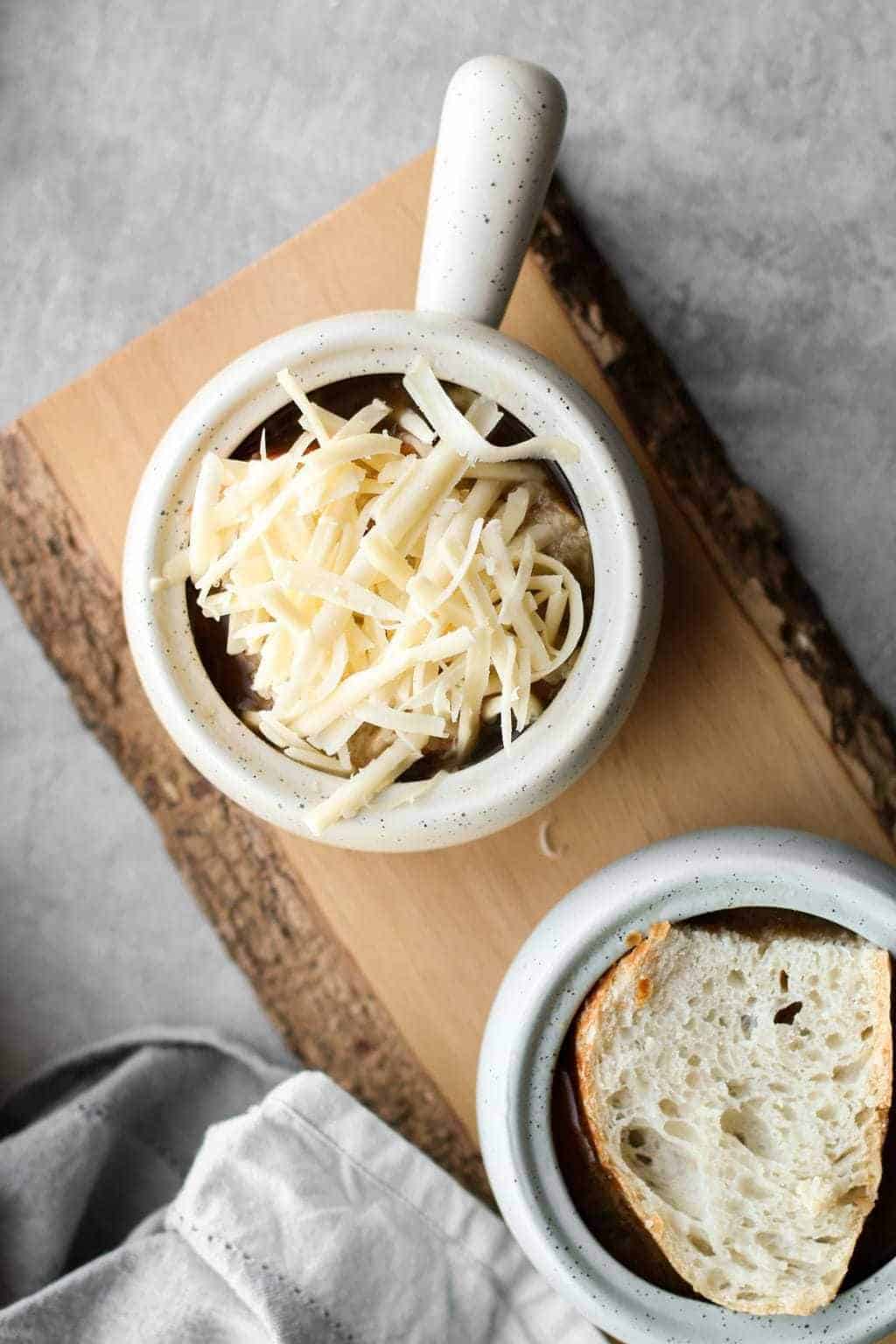 Make it Vegan:
To make this recipe vegan, simply use vegan butter and your favorite vegan cheese! The Worcestershire sauce is also optional or you can use vegan Worcestershire sauce if you have it. It's that simple.
I hope you enjoy this recipe as much as we do!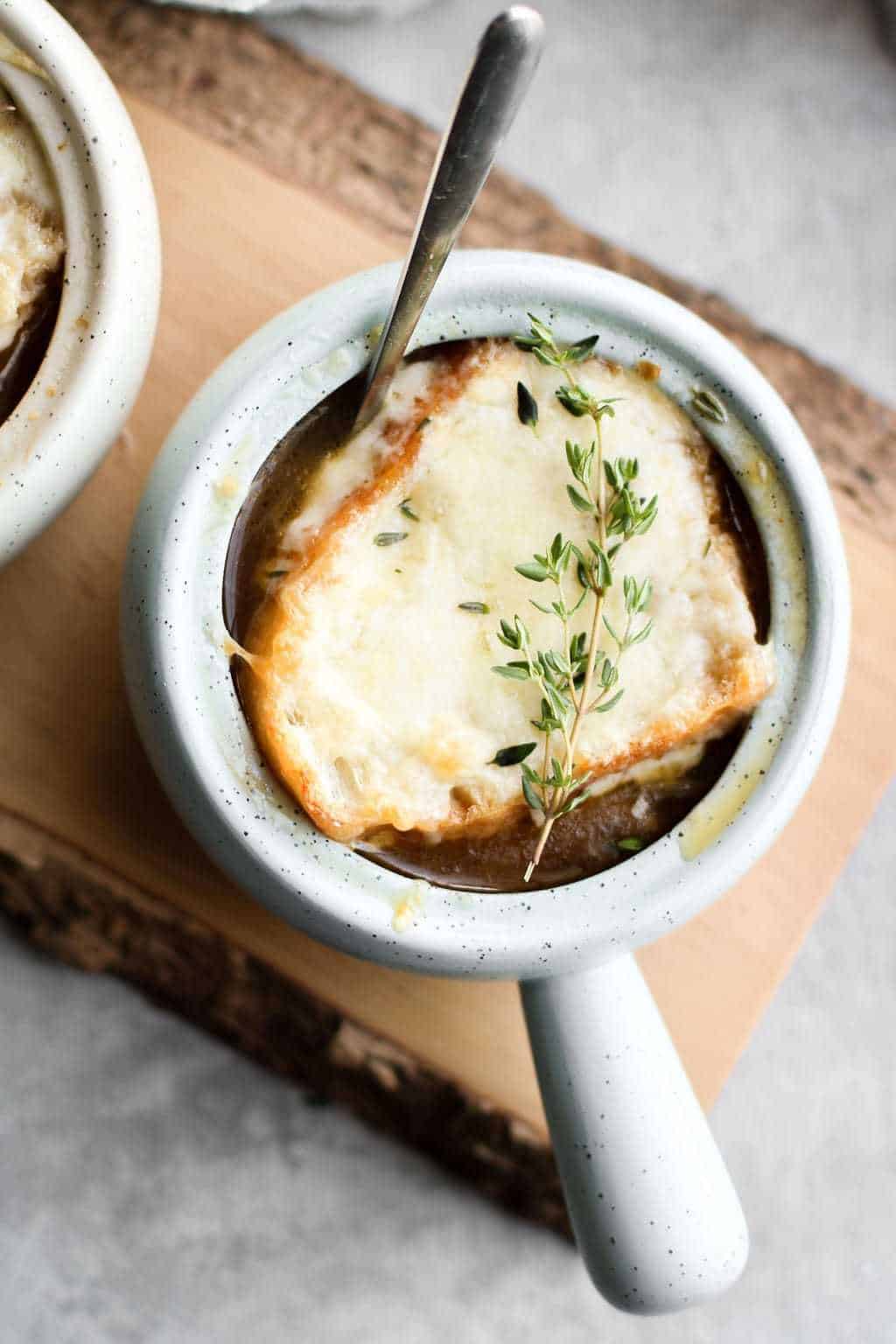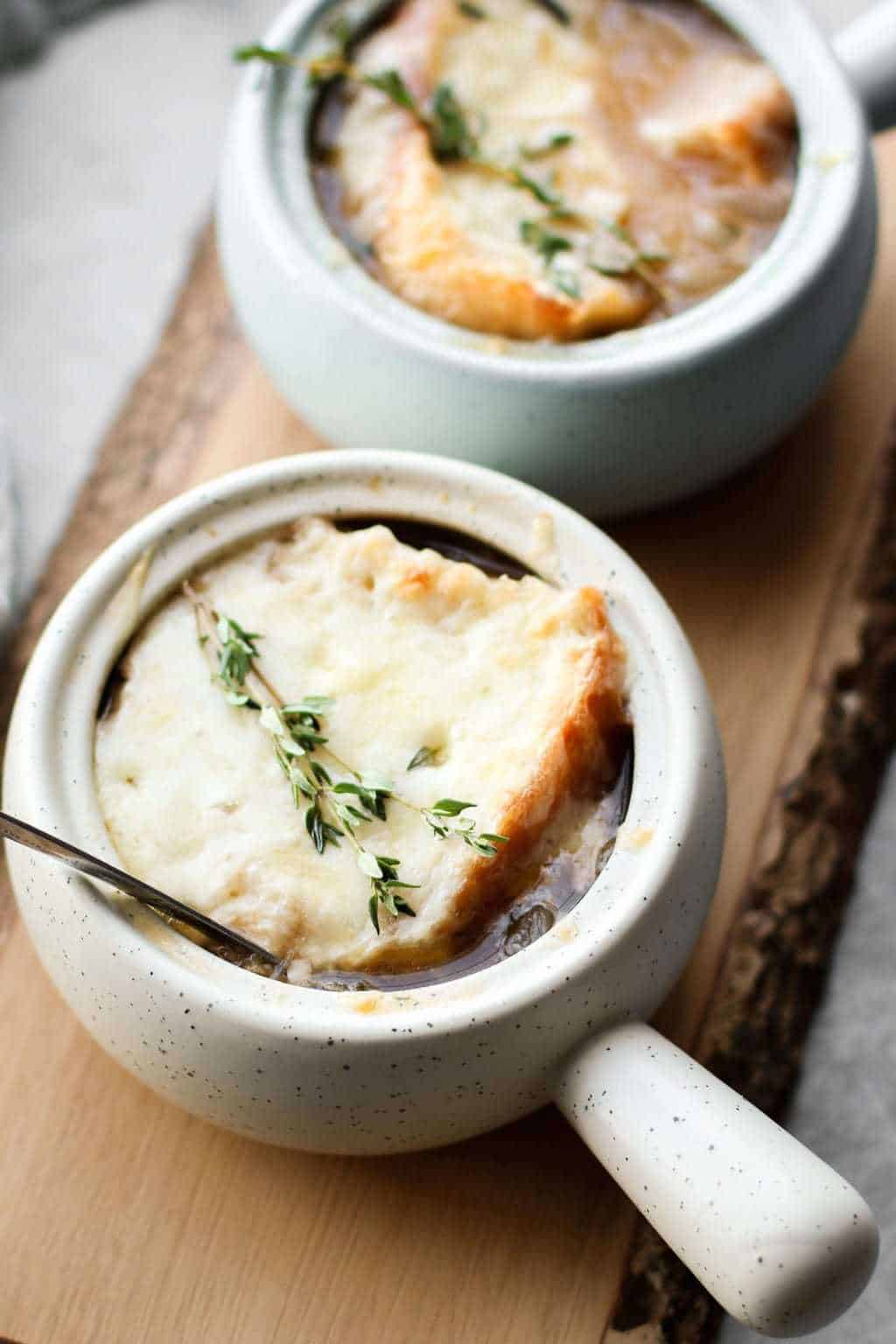 Vegetarian French Onion Soup
This onion soup is made vegetarian by using mushroom broth instead of beef broth, but don't worry, it tastes just as good! Top with fresh bread and a generous amount of cheese, bake until the cheese has melted and has turned lightly golden and bubbly. Enjoy every spoonful.
Ingredients
4

tablespoons

butter or soft margarine

4

medium

yellow onions,

peeled and sliced into half-moons

2

large

garlic cloves

1/2

cup

dry red wine

1

tablespoon

flour

8

cups

mushroom or vegetable broth,

low-sodium

1

teaspoon

Worcestershire sauce

(optional)

3

sprigs

fresh thyme

1

bay leaf

1

teaspoon

fine grain sea salt,

to taste

french bread, such as baguette

1 1/2

cups

Grated cheese

(old white cheddar, gruyere, swiss or mozzarella works)
Instructions
Heat butter/margarine in a large saucepan over medium heat.

Add onions and stir to coat with butter/margarine. Cook for 30 minutes, stirring every few minutes to avoid sticking. The onions should slowly brown, without getting burnt.

After 30 minutes. stir in the garlic and salt and cook for another minute. Using a wooden spoon, scrape up any pieces sticking to the pan.

Slowly stir in the wine to deglaze the pan. Stir in the flour, followed by the broth, Worcestershire sauce, thyme and bay leaf.

Bring the soup to a boil, then reduce heat to low-medium and simmer for 10 minutes, covered. Meanwhile, preheat oven to 400F.

Remove the sprigs of thyme and bay leaf using a spoon. Spoon the soup in oven-safe bowls. Top with a slice of french bread and a sprinkle of cheese (approximately 1/4 cup on each).

Bake for 6 minutes, then broil until golden and bubbly, being careful it doesn't burn. Serve immediately.
Notes
Use dry red or white wine, whichever one you prefer.
I use whole wheat flour, but white flour works as well. I haven't tried a gluten-free flour, but for a gluten-free option, omit the flour.
Feel free to use beef or vegetable broth if preferred. I tend to use half mushroom and half vegetable broth as my vegetable broth is salt-free and it helps reduce the salt in the recipe. You can use low-sodium mushroom broth if available. Adjust the salt to taste.
Store leftover soup in the fridge. When ready to eat, heat up your soup, then transfer to an oven safe bowl and bake with the bread and cheese as directed. I don't recommend storing leftovers with the baked bread and cheese on top.
If you make this vegetarian French onion soup, be sure to leave a comment and/or give this recipe a rating! I love to hear from you guys. And of course, if you try this recipe, don't forget to tag me on Instagram!