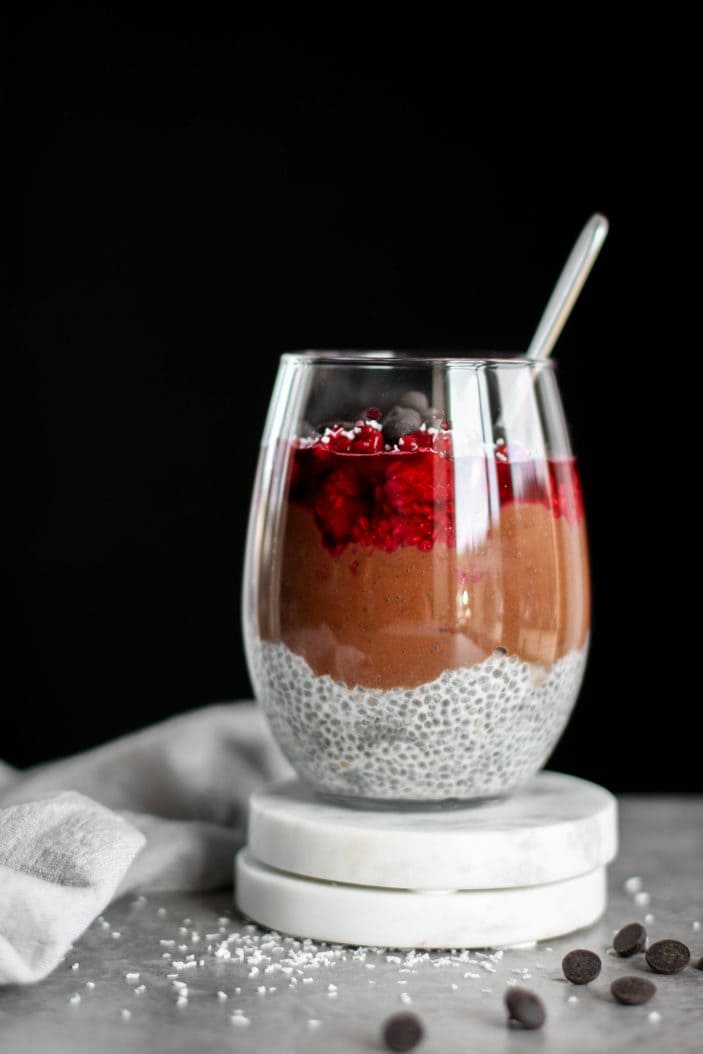 Luxurious Chocolate Chia Pudding Parfait
As I look out the window, everything is white. It seems that winter has just started in our part of Canada and I'm not sure how I feel about those recent cold temperatures and constant snow storms. It's truly a winter wonderland – A very cold winter wonderland. It's a good thing I'm not tired of winter yet. I'm still excited about walking in the trails, surrounded by snow-covered trees and frozen lakes. I still love coming home to a warm cup of tea and a comforting bowl of soup. I like staying cozy inside during a snow storm, watching a movie and eating cookies.
Sadly, my love for winter doesn't last forever and by the end of the month, I'll be craving the sunshine and warmth that comes with spring.  If there's one thing I love about spring is that I won't have to scrape ice off my car at seven in the morning. That's the worst thing about winter if you ask me! That and the fact that it's cold and flu season… I had my first cold of the season last week. It seemed like forever since the last time I was sick (about a year and a half actually) and I didn't miss it at all! On the bright side, I got to relax at home for a day… You know you work too much when you enjoy having a cold just because you get to relax at home for the first time in forever. I know, that's pathetic. You better believe that I didn't enjoy it as much when I had to go to work the next two days. Having to wear a mask while seeing patients, having to sit down because my head was spinning and stopping every two seconds to blow my nose… Let's just say, I wasn't too cute. I'm glad that's over!
And in a little less than two months, winter will be over as well. Seriously, I can't believe it's Valentine's Day tomorrow already! What are your plans for Valentine's Day? We don't usually buy each other anything, but we always do a little something to celebrate. Our first year, we went skiing together and the last two years, we just went out for dinner. We decided to go out last Saturday instead of doing anything on a week night. We enjoyed a nice dinner at one of our favorite restaurants. It's simple, but I don't believe we need to go to the extreme to celebrate Valentine's Day. We just enjoyed each other's company.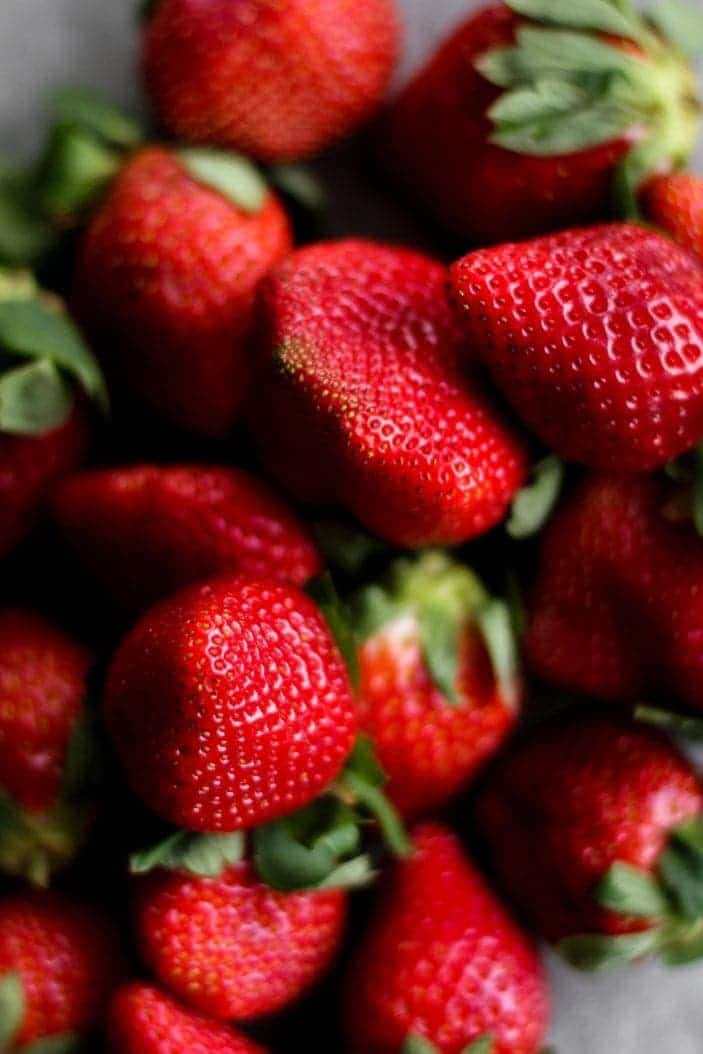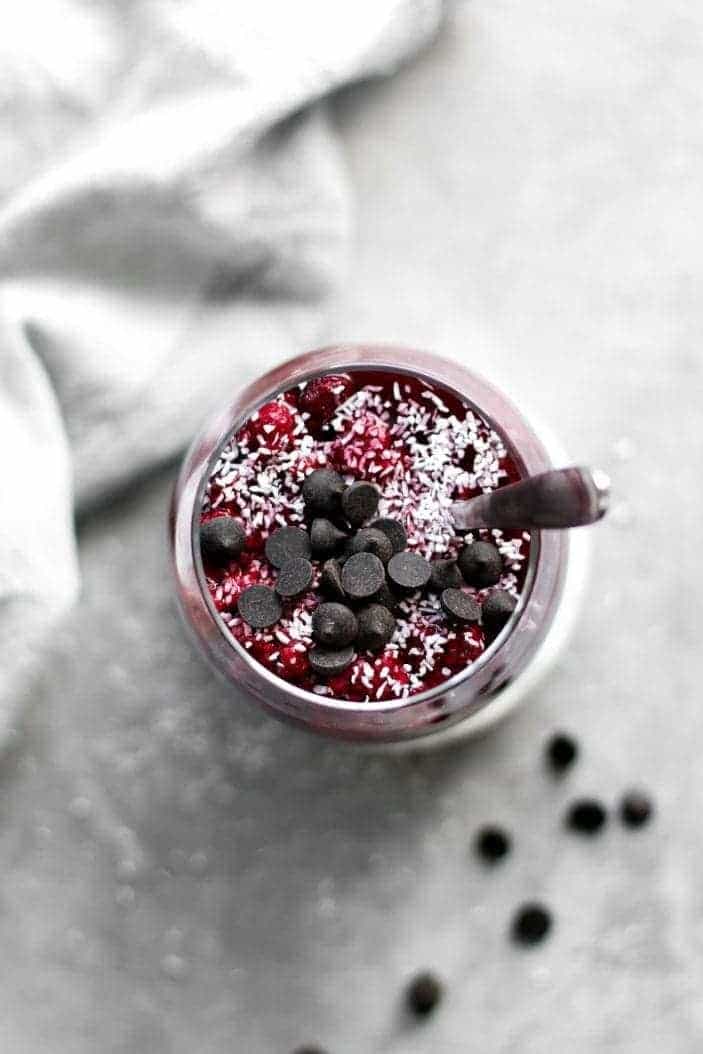 Now I've got a simple Valentine's Day recipe for you guys. You could say it's a dessert, but I think it could pass as breakfast or a snack as well. It may look fancy, but this parfait uses everyday ingredients that you probably already have on hand. Lets face it, those are the best recipes. Let me explain each layer of this luxurious parfait:
The first layer is a creamy and nutrient-packed chia pudding, made by soaking chia seeds in your milk of choice. It's as simple as putting two ingredients together and leaving them in the fridge overnight. I like to use unsweetened vanilla almond milk, since that's what I usually have on hand, but low-fat coconut milk would also be lovely.
The second layer is a decadent chocolate pudding made with bananas, avocado, cocoa powder, nut butter and vanilla. All you need to do is blend all the ingredients together in a blender! You can also make this pudding and eat it by itself for a snack, it's that good.
The third layer is simply a compote made with your choice of berries! I like strawberries, but raspberries, blueberries and blackberries would work as well. Just mash them with a fork. It's that easy!
Add your choice of topping. I like unsweetened carob chips and shredded coconuts, but chocolate chips, dried fruits, nuts and seeds would be good as well.
Combine everything together and you've got yourself a healthy, nutrient-packed dessert! The sweet and creamy chocolate pudding compliments the simple chia pudding perfectly and the berries add a light and sweet flavor. You can make two big parfaits for a fancy Valentine's Day breakfast or you can make several little parfaits if you want something lighter for dessert. Either way, I hope you like them!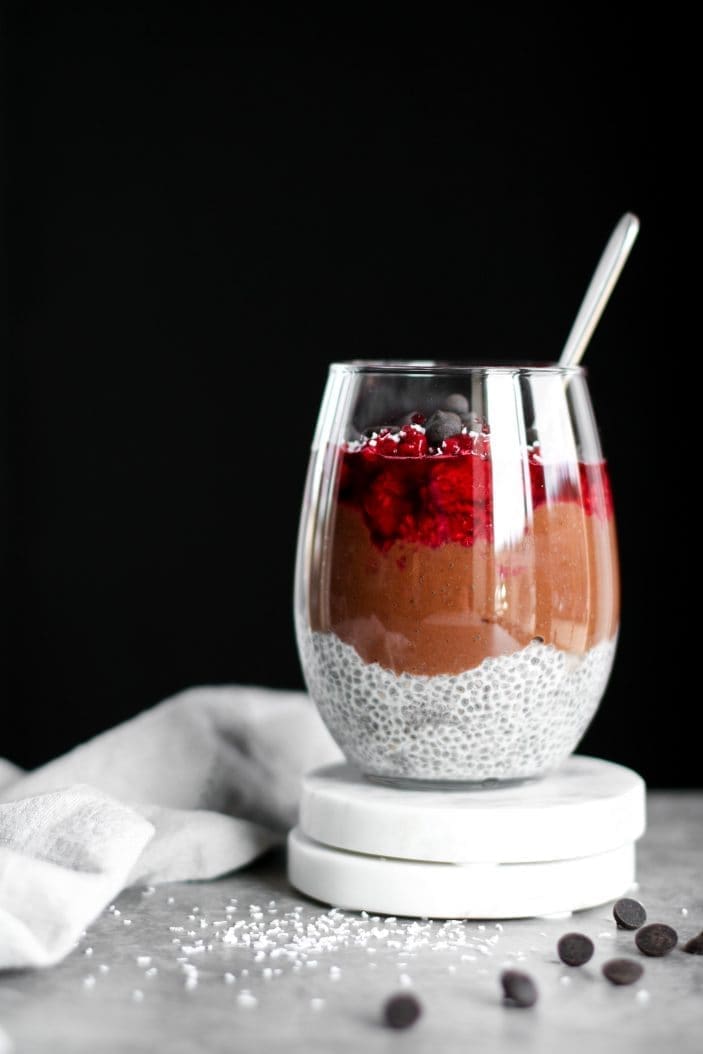 Luxurious Chocolate Chia Pudding Parfait
This luxurious parfait makes the perfect healthy treat for Valentine's Day - Or any other day really. It starts with a layer of simple chia pudding, followed by a layer of decadent chocolate pudding made with bananas and avocado, then finished with a layer of berry compote. It may sound fancy, but this recipe uses everyday healthy ingredients.
Ingredients
Chia Pudding
3

tablespoons

chia seeds

1

cup

unsweetened vanilla almond milk

(or milk of choice)
Chocolate Pudding
1

large

ripe banana

1/2

ripe avocado,

pitted

3

tablespoons

unsweetened cocoa powder

1

tablespoon

nut butter

(I like peanut butter, almond butter or sunflower seed butter)

Strawberries or berries of choice

(fresh or frozen)
Instructions
Make the chia pudding (the night before): Combine the chia seeds and milk in a small container making sure the seeds are evenly distributed in the milk. To help the seeds soak the milk evenly, stir the pudding once after 10 minutes of soaking. Let soak in the fridge overnight. The next morning, stir the pudding. If the seeds were clumped up and the milk wasn't entirely absorbed, whisk the mixture to remove the clumps and let it soak another hour.

Make the chocolate pudding: Add the banana, avocado, cocoa powder and almond butter in a blender. Blend until smooth.

In a small bowl, mash your strawberries (or other berries) with a fork to make a compote. Remove excess liquid if preferred (this might be necessary if you use frozen and thawed berries).

Assemble the parfait in two glasses: Start with a layer of chia pudding in each glass. Top with your chocolate pudding and finally your strawberry compote. Add toppings of choice and enjoy!
Notes
Store leftovers in an airtight container in the fridge.
If you try this recipe, make sure to tag your photo #unsweetenedcaroline on Instagram, Facebook and Twitter! Don't forget to also tag me @unsweetened.caroline on Instagram so I can see your creations!