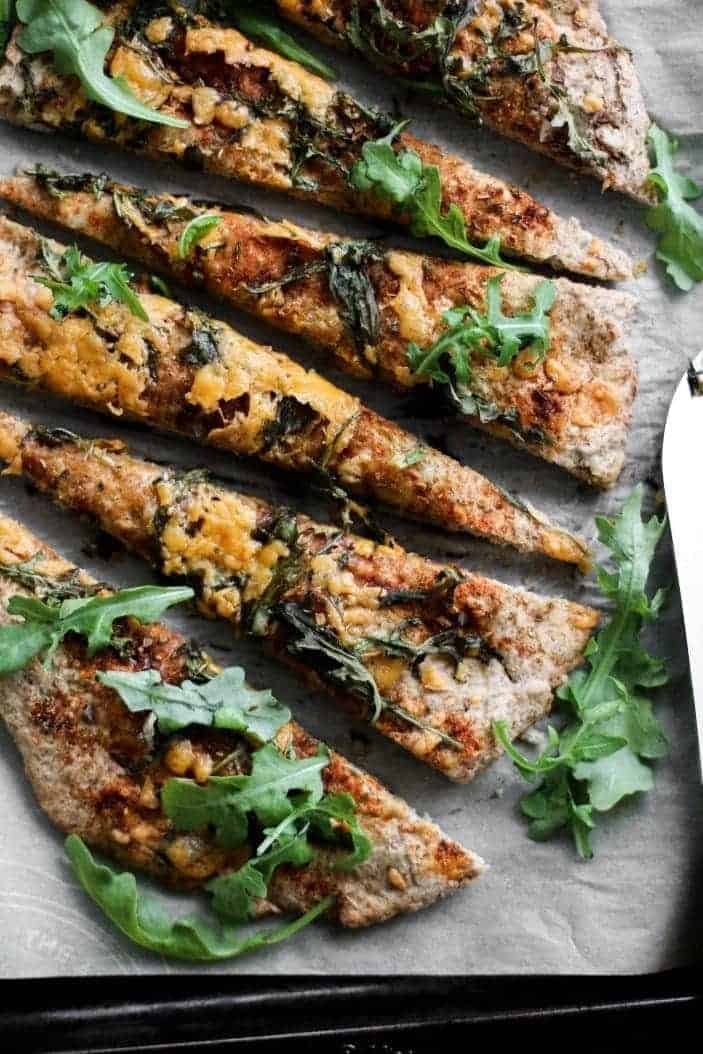 Cheezy Whole Wheat Spiced Garlic Flatbread
It's the Super Bowl weekend and I'm sharing a last-minute recipe for the occasion.
The truth is, I couldn't care less about the Super Bowl (sorry, it's true). I'm not one to watch sports and honestly, I don't even own cable. My television time is limited to a couple of Netflix shows, so owning cable felt like a waste of money for us. Shaun however, is a big football fan. He did play football in high school and unlike me, he will be watching the Super Bowl.
So for those of you who are planning to watch the big game, I have a great healthy recipe for you to try! I know that people don't usually care about anything being healthy during the Super Bowl, but trust me, this garlic flatbread doesn't taste healthy! It's made with a whole wheat crust, which is crispy on the outside and soft on the inside (the best). If you're short on time, you could always use a store-bought pizza crust. The dough is brushed with olive oil, then sprinkled with grated garlic and a delicious spice blend. I added arugula for color and nutrients, then finished it with a generous amount of cheddar cheese. Pop it in the oven for 15-20 minutes and voila! The most healthy and flavorful cheese bread. I like to cut them in long, skinny triangles and eat them with a side salad.
I might not like watching football, but someone might be able to convince me if it involves eating good food. Isn't that what the Super Bowl is all about? Probably not, but it is for me!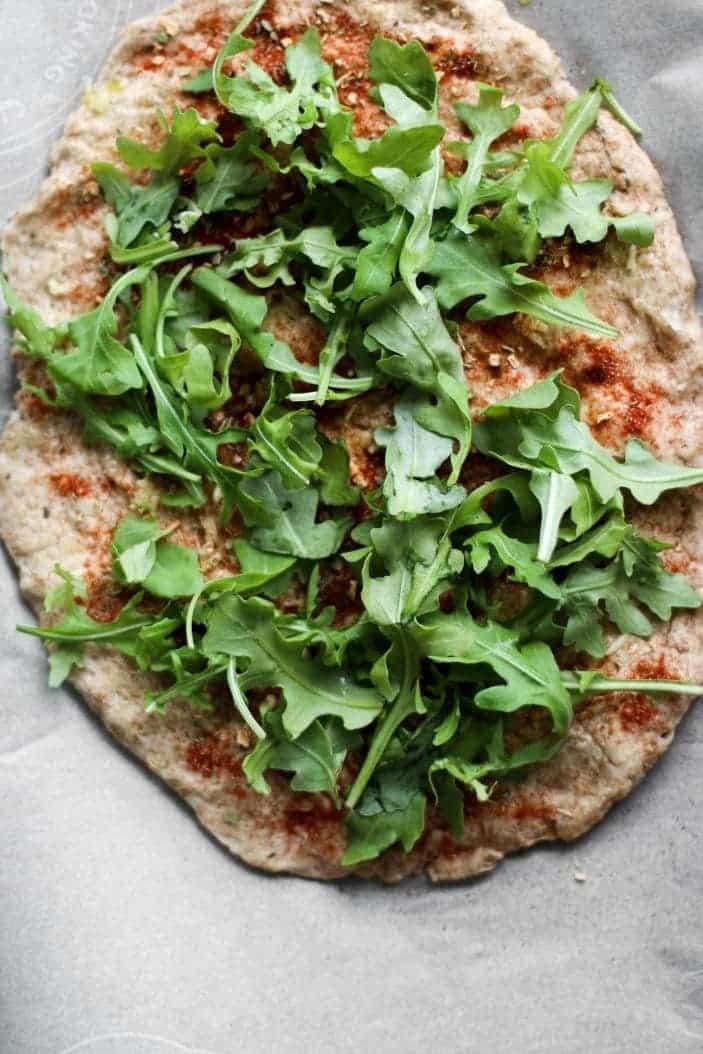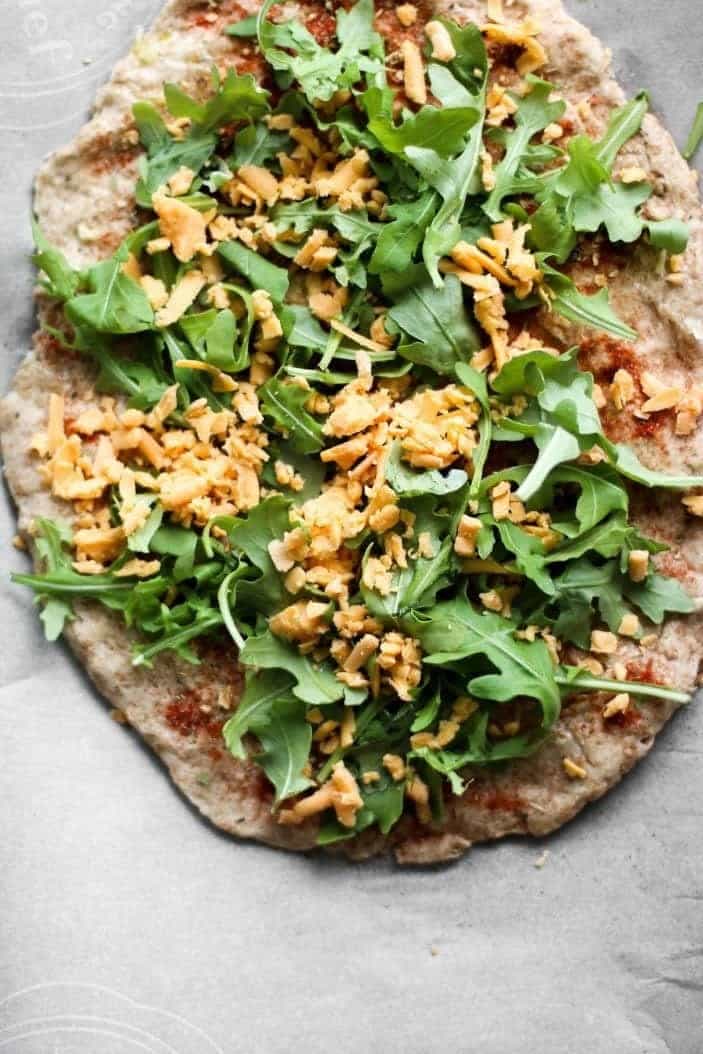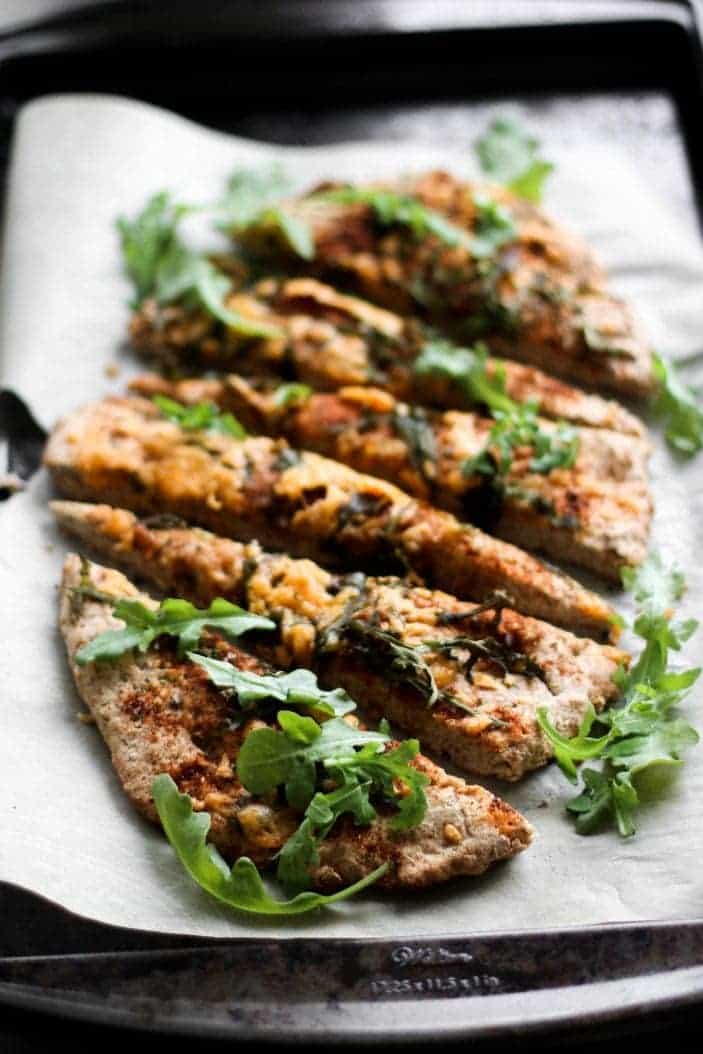 Cheezy Whole Wheat Spiced Garlic Flatbread
This is not your typical garlic bread. This healthy flatbread is made with whole wheat flour and sprinkled with a flavorful spice blend, garlic, arugula and a generous amount of cheddar cheese.
Ingredients
For the Crust
1

cup

all-purpose whole wheat flour + more for kneading

2

teaspoons

active dry yeast

1/2

cup

warm water

1

tablespoon

olive oil

1/4

teaspoon

salt
For the Pizza
1

teaspoon

olive oil

2

garlic cloves

1/2

teaspoon

dry minced onion

1/2

teaspoon

smoked paprika

1/4

teaspoon

dried oregano

1/4

teaspoon

dried thyme

1/4

teaspoon

garlic powder

1/4

teaspoon

salt

1

cup

arugula

2/3

cup

cheddar cheese,

or more to taste
Instructions
Make the Dough
In a large bowl, combine active dry yeast with warm water. Let it sit for 10 minutes until you see foaming on the surface.

Add the whole wheat flour, olive oil and salt. Combine the ingredients together with a spoon until it comes together, then transfer to a lightly floured surface. Knead the dough until smooth and elastic. If the dough is too sticky, add a bit more flour.

Coat the large bowl with a bit of oil, then place the dough back in and cover with a towel. Let the dough rise in a warm place for 45 minutes.
Make the Flatbread
Preheat oven to 425F. Line a baking sheet with parchment paper.

In a small bowl, combine onion, paprika, oregano, thyme, garlic powder and salt.

When the dough is ready, transfer to the prepared baking sheet and spread until you get a thin layer of dough. Rub with olive oil, then sprinkle with minced garlic and spice mix. Top with arugula and cheddar cheese.

Bake for 15-20 minutes, until the crust is crispy on the outside and soft on the inside. Enjoy!
Notes
You can use a combination of white flour and whole wheat flour for the dough if preferred.
If you try this recipe, make sure to tag your photo #unsweetenedcaroline on Instagram, Facebook and Twitter! Don't forget to also tag me @unsweetened.caroline on Instagram so I can see your creations!