Basic Maple Peanut Butter Granola
A basic maple peanut butter granola made with just a few simple ingredients. It tastes better than store-bought granola and requires less than 15 minutes of preparation!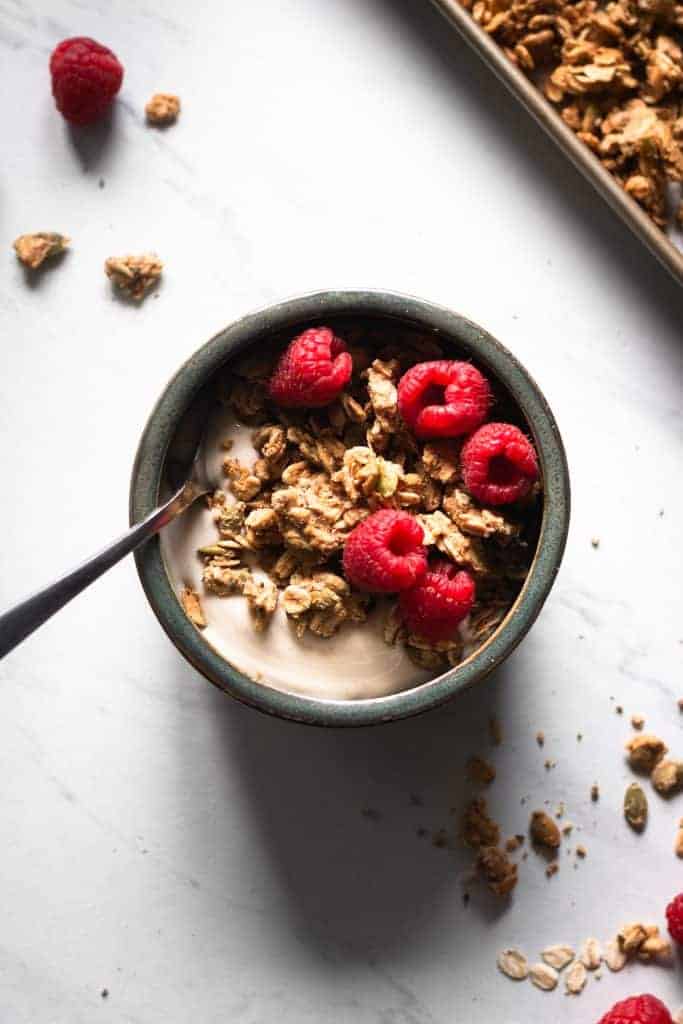 There's a lot of stress and uncertainty in the world at the moment. Maybe you're home with your family or maybe you're still at work. Either way, I hope you're safe and healthy.
In a period of stress like this, I can only hope that you're finding a way to stay safe and take some time to take care of yourself and others.
Here are my plans for the unforeseeable future:
Take my private practice at home and do virtual consults only.
Work a few shifts at the hospital to help out in this period of stress.
Take some extra time to relax and manage my stress. I'm definitely feeling the anxiety at this time, not only for myself, but for those who are most vulnerable.
Continue to share my recipes as planned. I hope you'll find some comfort in cooking at home.
My favorite ways to relax: Watch my favorite shows on Netflix (Friends and This is Us right now), read, walk in nature, do yoga and of course, bake.
If you're looking to spend more time in the kitchen over the next few weeks, I hope this peanut butter granola will give you some inspiration.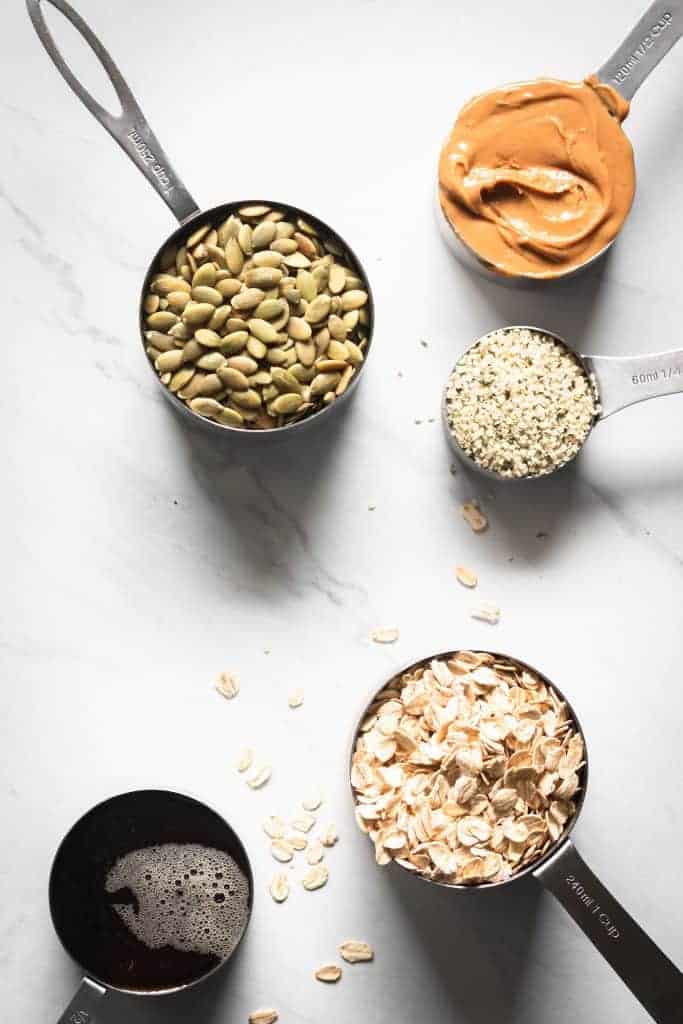 I've been making this granola weekly and it doesn't get old. Why is this my favorite granola recipe?
It takes less than 15 minutes of preparation (just stir everything together in one bowl).
It's full of seeds and peanut butter, making it satisfying and crunchy.
I find it perfectly sweet. If you love sweet and salty snacks, this one is for you.
It's full of flavor from the peanut butter and vanilla.
The granola is full of perfectly-sized chunks.
It's cheaper than store-bought (and tastier if you ask me).
I made this granola with seeds, including pumpkin seeds, hemp hearts and a few tablespoons of ground flax seeds. Why ground? Because it allows our body to absorb the fats from the seeds.
A Few Notes on the Recipe:
To make it nut-free, you can use sunflower seed butter instead of peanut butter. It's so good!
You can use different seeds in this recipe (or nuts instead). I haven't tried them all, but sunflower seeds, chopped walnuts, pecans and almonds would work well. You can try others too.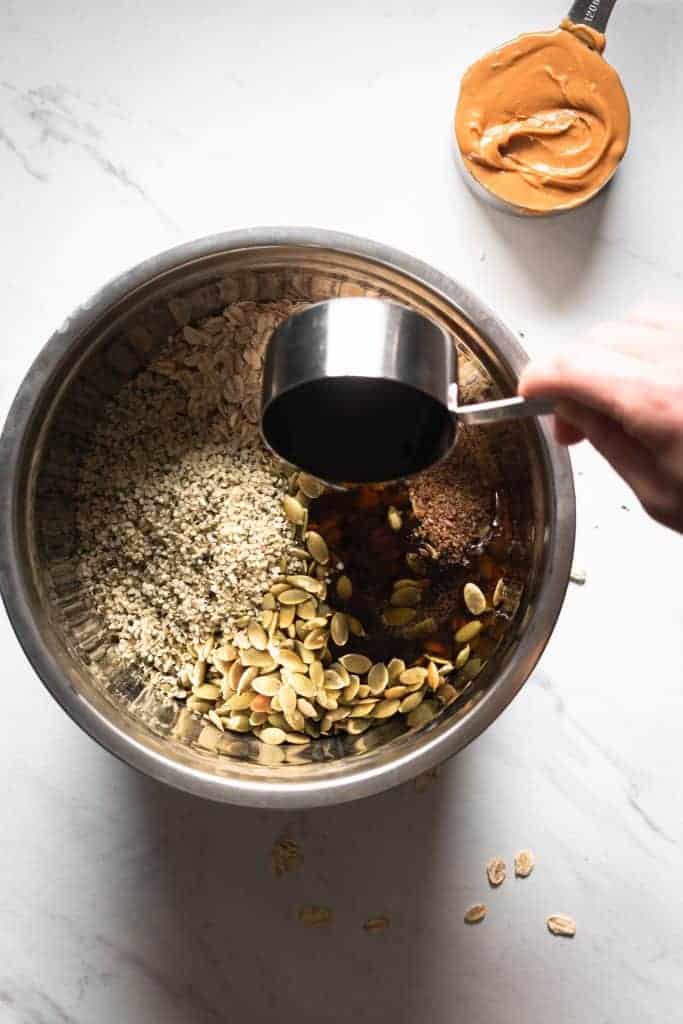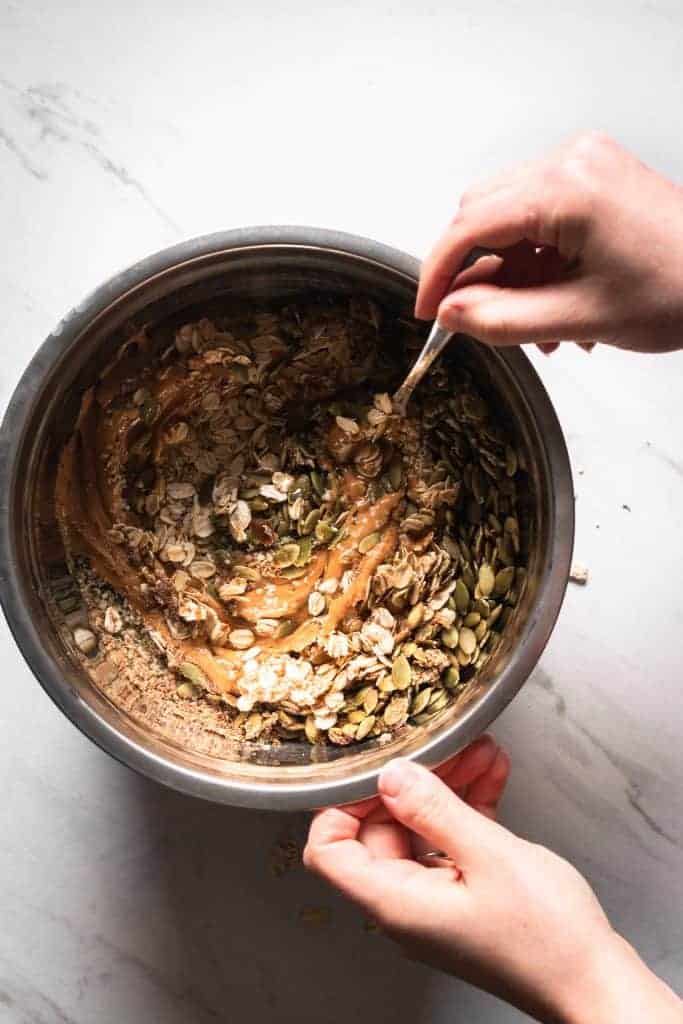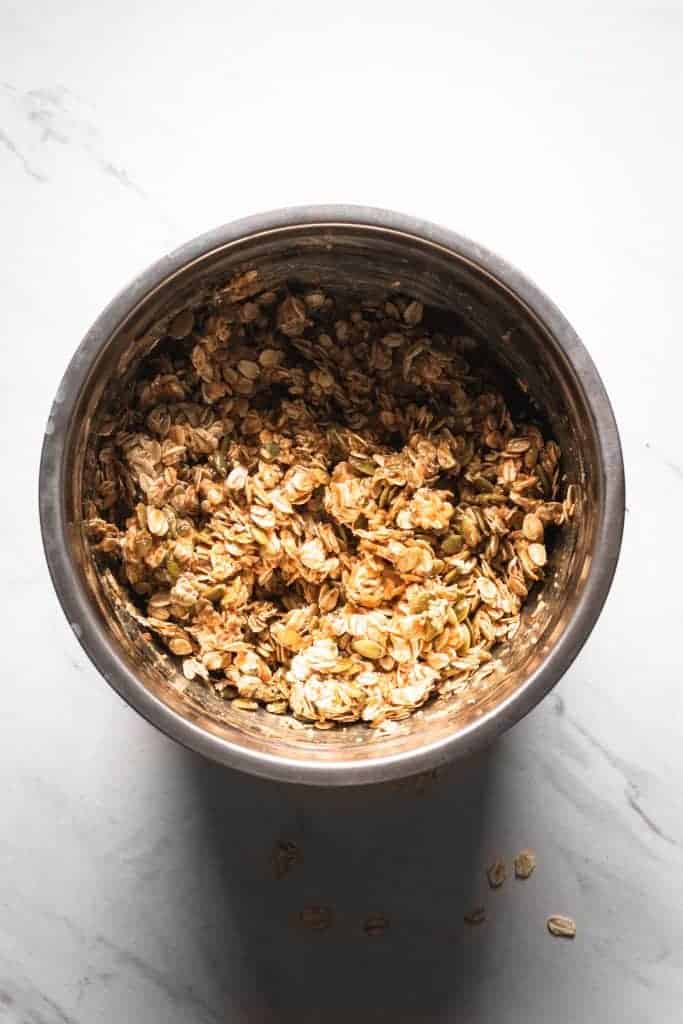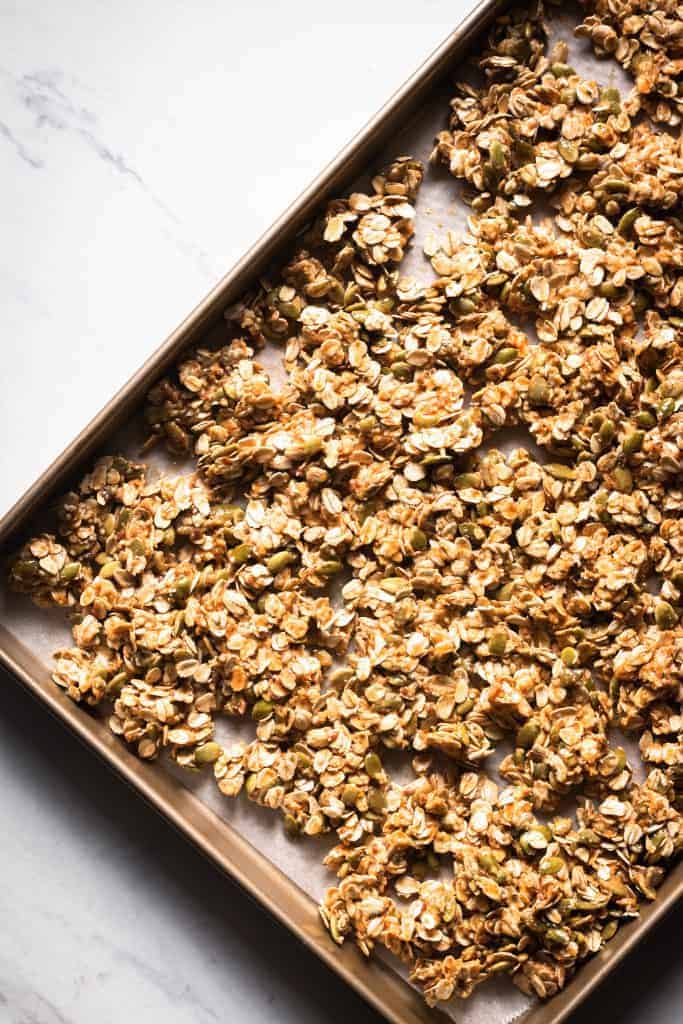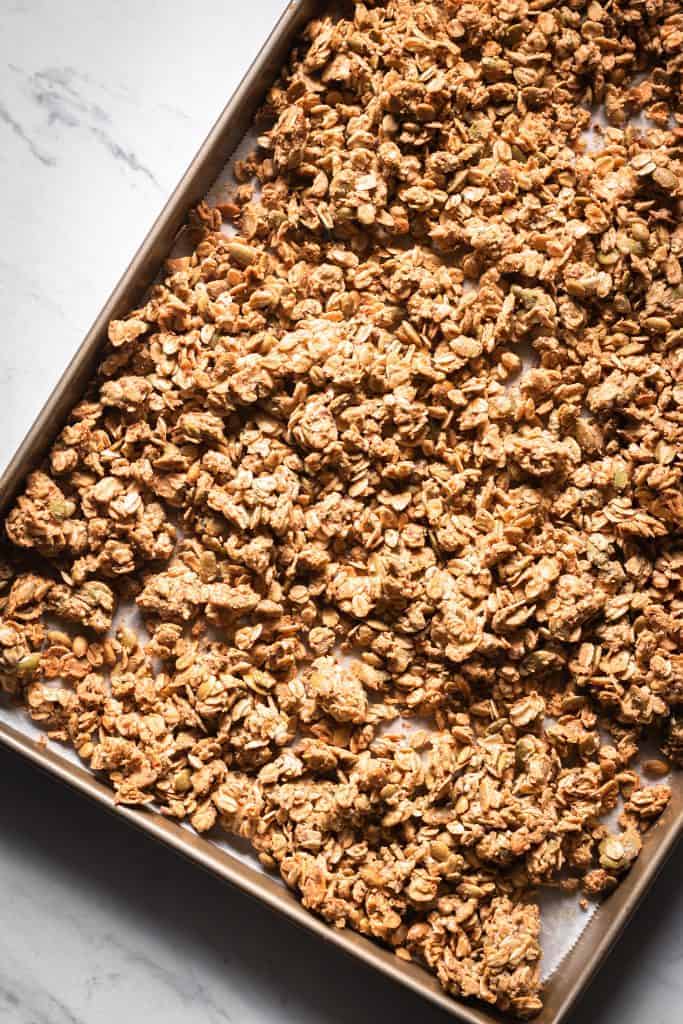 How To Use the Granola?
I love to eat mine with Greek or plant-based yogurt. You can also have it in a bowl with milk, like you would with cereal. It's great topped with berries!
Other options include smoothie bowls, ice cream and oatmeal.
And of course, it's great on it's own.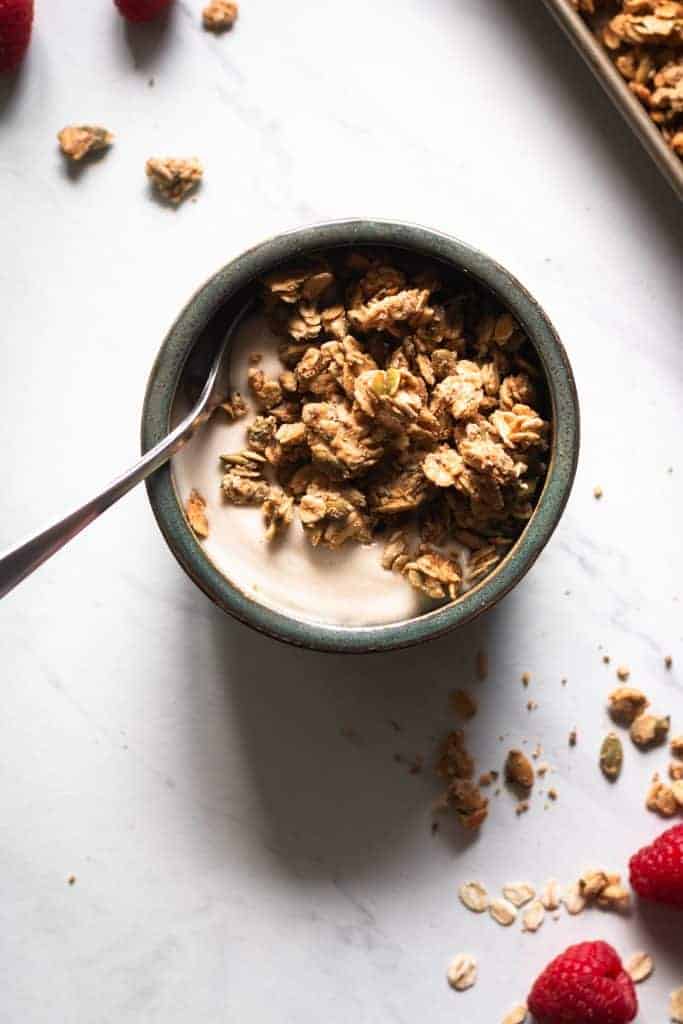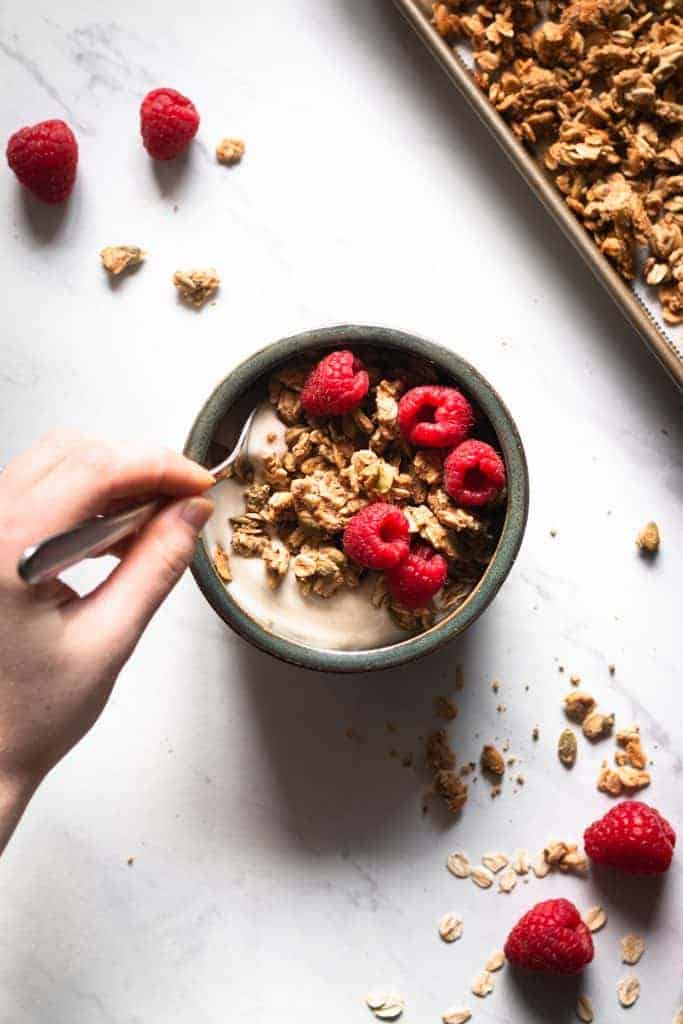 Watch How to Make the Recipe:
Basic Maple Peanut Butter Granola
A basic maple peanut butter granola recipe, made with simple ingredients you likely have in your pantry. It requires less than 15 minutes of preparation! Serve it with milk, yogurt, smoothie bowls, oatmeal or more. It's also great on it's own!
Ingredients
2

cups

rolled oats

1

cup

pumpkin seeds,

raw or dry roasted, unsalted

1/4

cup

hemp hearts

2

tablespoons

ground flax seeds

1/2

cup

smooth natural peanut butter

(I used salted)

1/2

cup

maple syrup

1/4

teaspoon

salt

1

teaspoon

vanilla extract
Instructions
Preheat oven to 325F. Line a large baking sheet with parchment paper.

Add all the ingredients to a medium bowl. Stir until combined.

Spread the mixture on the prepared baking sheet. Bake for 30 minutes, tossing halfway through.

Let cool on the baking sheet. It will get crispier while cooling.

Serve with yogurt or milk of choice, on top of smoothie bowls, oatmeal or eat it by the handful.
Notes
You can use different seeds or use nuts instead. I haven't tried other options, but chopped walnuts, pecans, almonds or sunflower seeds should work. You can also omit the ground flax if you don't have any.
To make this recipe nut-free, use sunflower seed butter. Almond butter would also work if you're not allergic.
You don't want to overcrowd the granola on the baking sheet. Make sure to spread it out to get crispier granola. If your baking sheet isn't large enough, bake it in two batches.
This recipe is a good mix of sweet and salty if using salted peanut butter (which I did). If you're not a sweet and salty fan, reduce the salt to 1/8 teaspoon and/or use unsalted peanut butter.
If you make this peanut butter granola, be sure to leave a comment and/or give this recipe a rating! I love to hear from you guys. And of course, if you try this recipe, don't forget to tag me on Instagram!