15-Minute Blueberry Flax Oatmeal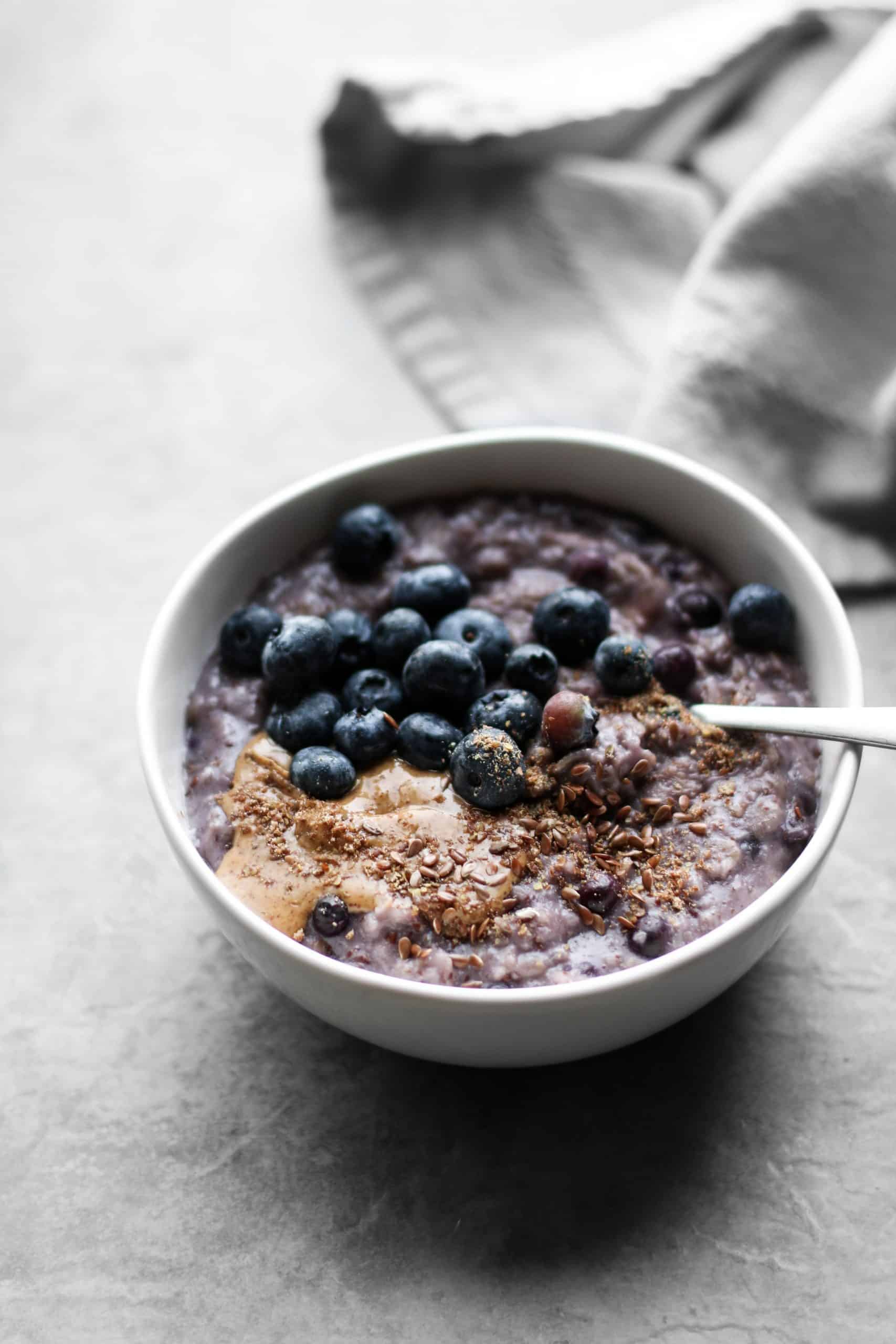 Recently, my go-to breakfast has been this blueberry flax oatmeal. I'm taking full advantage of blueberry season!
Truth: This was initially supposed to be an overnight oat recipe. I tried it a few times, but it never ended up the way I wanted. It was a just a little too liquid for my taste – I like my oatmeal on the thick side. while I could have reduced the amount of liquid a little more and figured it out, I decided that since fall is coming, warm comfort food wouldn't be a bad thing. This bowl is a perfect blend of comfort and summer. Fresh blueberries + warm oats. Plus, I've been eating these oats for several months now, so why not share the recipe with you? The overnight oats may come later!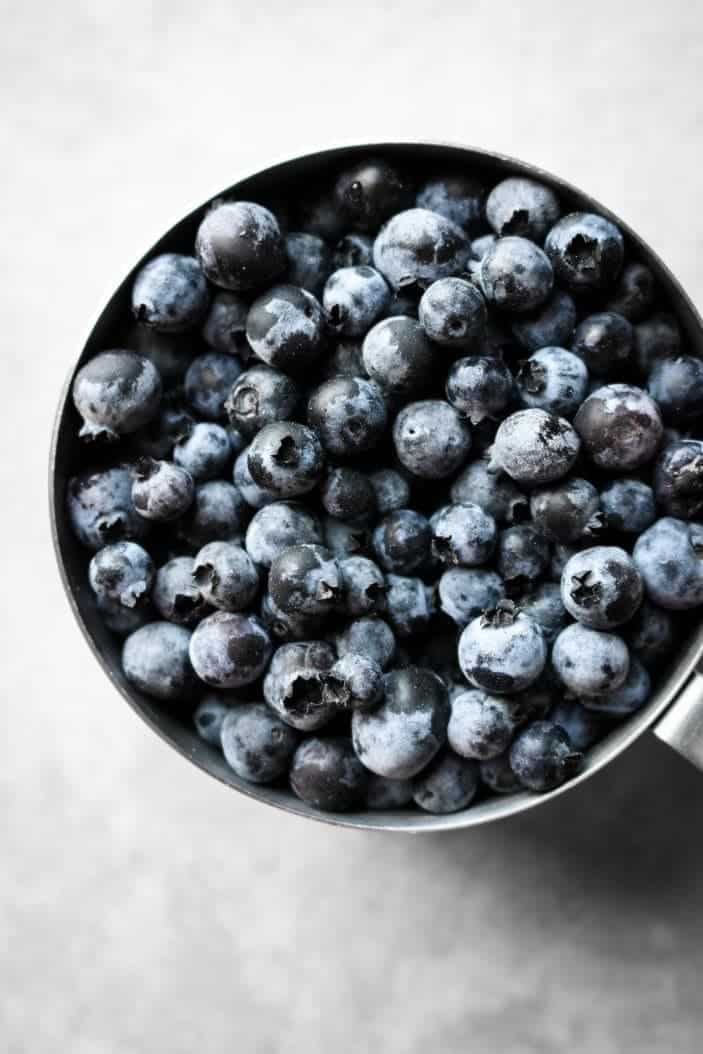 I actually had a hard time with this recipe, which is strange because it's oatmeal, something I make almost daily. I've been making these oats for the longest time and I always enjoyed them until this week. I was measuring the ingredients correctly to share the recipe, but honestly, it never turned out good! It tasted bland. After trying it many times with different variations, I believe that the reason is the bananas that I've been using. I took a bite of one to find that they taste like water… Weird.
All that to say that if you try out this recipe, make sure that you use good, sweet bananas… I'm not sure what happened with mine. I am buying more this weekend and I'll be enjoying this oatmeal a lot more next week! Also, I'm out of sunflower seed butter and almond butter is just not the same. Maybe I'm just a little obsessed with Sunbutter.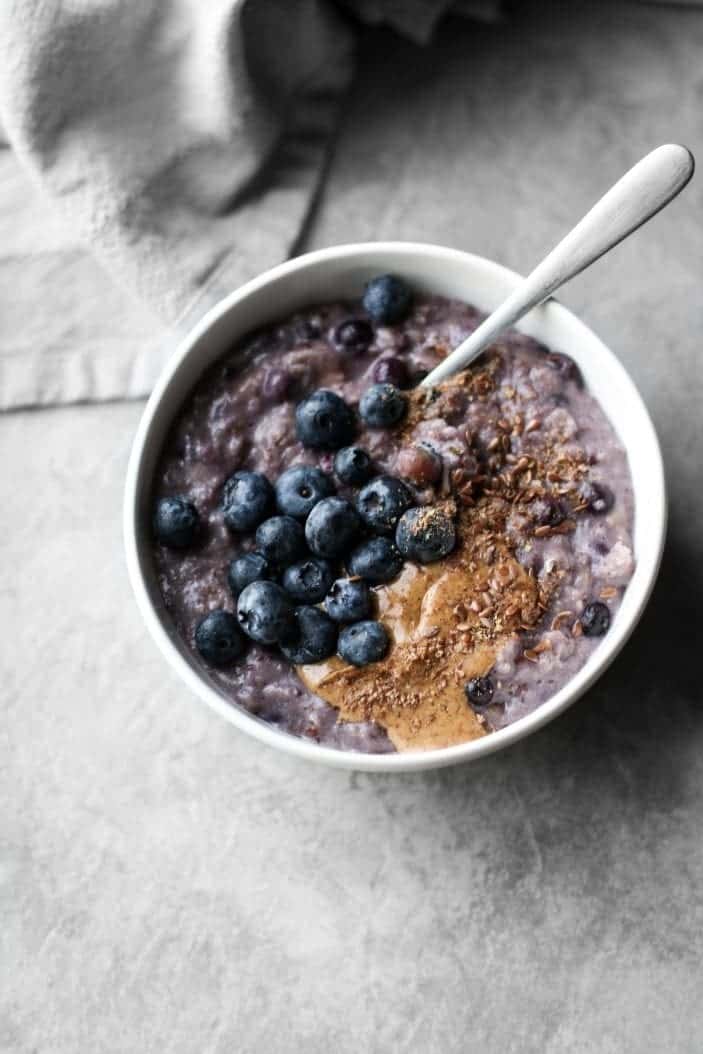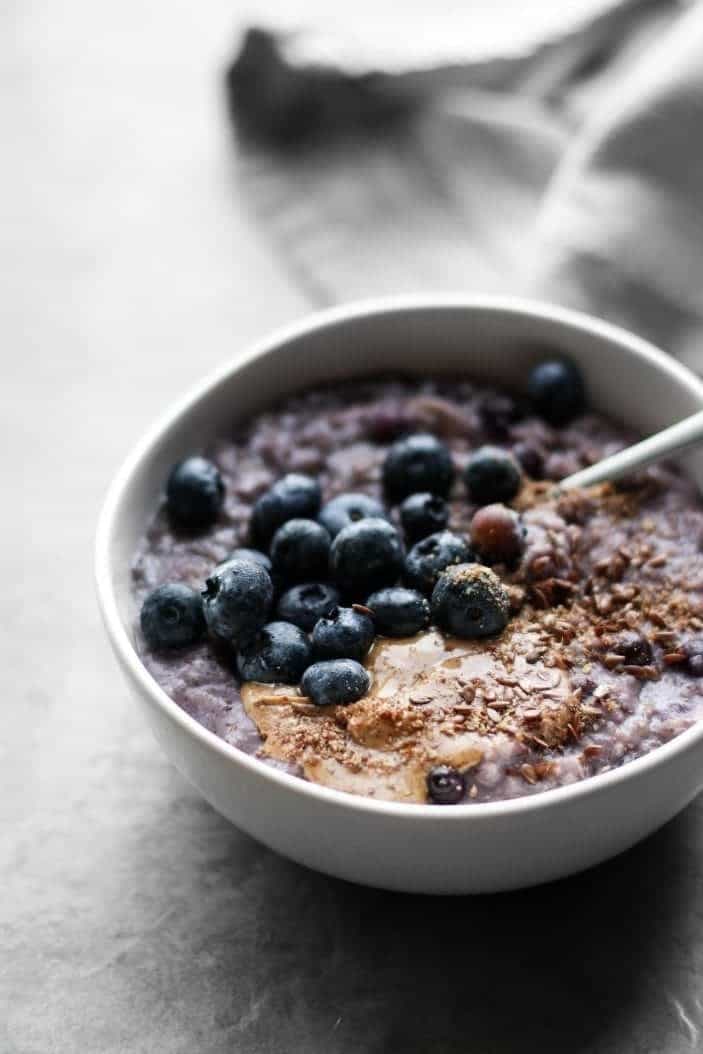 Anyways, this bowl is also very simple. All you need is one saucepan and 15 minutes. Throw the milk, flax seeds chia seeds and oats in the saucepan, bring to a low boil, then reduce to medium heat. Add the vanilla and blueberries, stir everything together and let it all simmer for 5 minutes until you get creamy oats. I like to add the mashed banana in the last minute of cooking. You can let it simmer more or less, depending on your desired thickness. I typically leave it for 5 minutes, stirring often so it doesn't stick to the bottom of the pot. You'll notice that the oats will instantly turn very purple if you use frozen blueberries. This doesn't happen with fresh berries, but it does taste the same! As long as you use good, sweet blueberries. Wild blueberries are just perfect this time of year. Yum!
I tried the recipe many times and found that if I added the same liquid to oat ratio as I normally use, my oats would turn out too thin. Why? If you use frozen blueberries, the ice adds liquid to the mixture. For this reason, I reduced the amount of liquid. If you're using fresh blueberries, you may want to use a 1:2 oat to liquid ratio.
When everything is done cooking, transfer it to a bowl and add all the toppings! My personal favorite is Sunflower seed butter (always) more ground flax (more omega-3!) and more blueberries. Other good toppings could include walnuts, sliced almonds, shredded coconut, dried fruit, pepita seeds, hemp seeds, chia seeds or other fresh fruit. Use whatever you have on hand!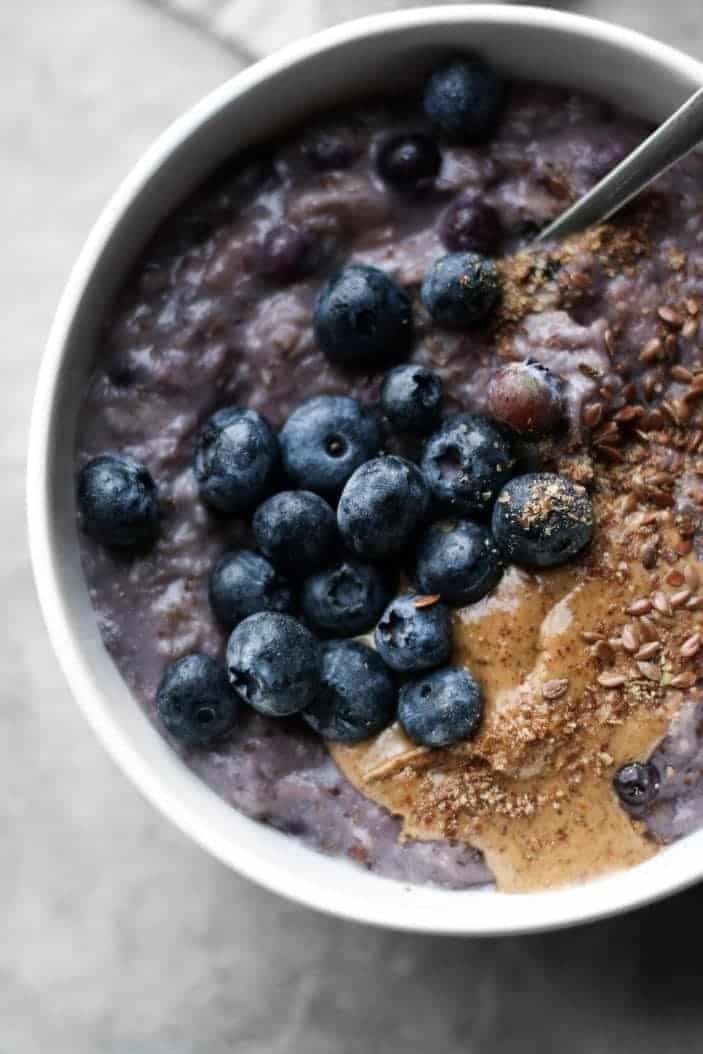 In other news, I added a pantry page to the blog on Monday! There, I'm sharing what I keep in my pantry and use on a daily basis. I also included storage information and how I like to use the products. Plus, there's a note on my (small) cookbook collection. I hope this page will inspire you to add some healthy products in your pantry and maybe try something new! There's also a printable list that you can bring to the store. I really hope you'll find this page helpful.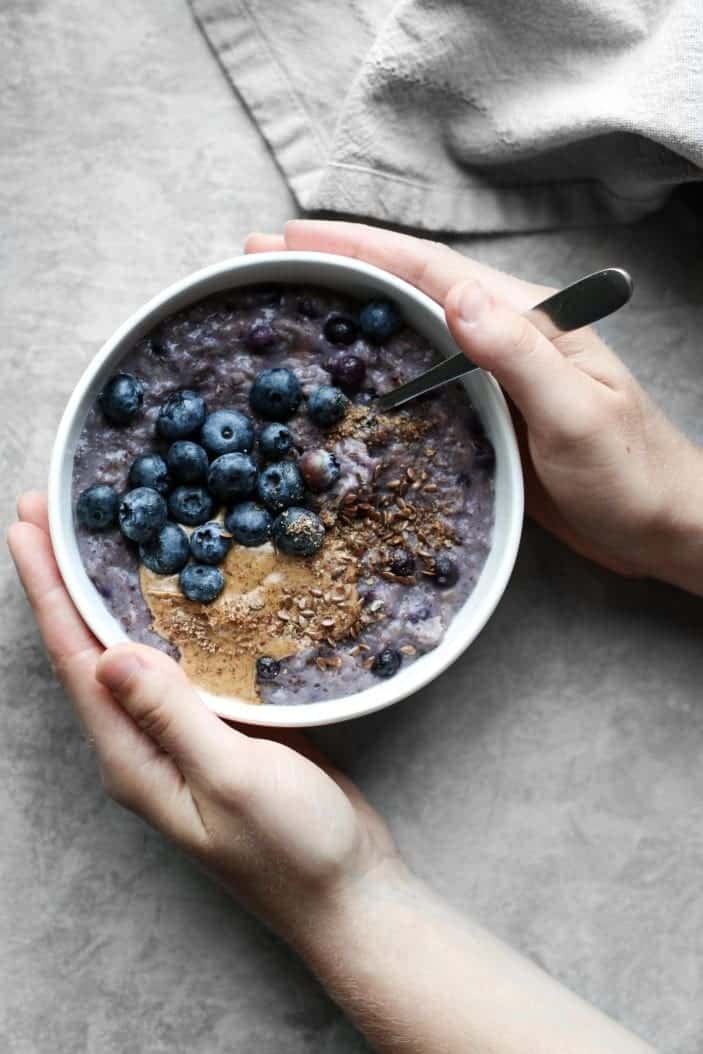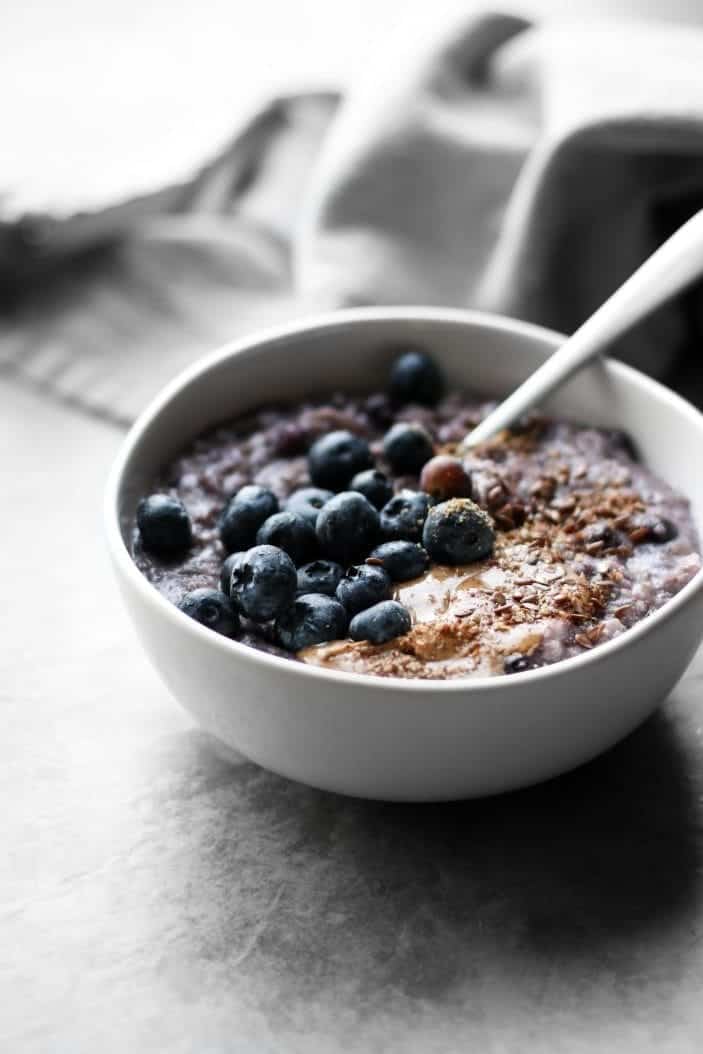 15-Minute Blueberry Flax Oatmeal
Warm, comforting, yet full of summer goodness. This bowl of oatmeal is filled with omega-3's from ground flax seeds. Top it with sunflower seed butter (a must!) plus more blueberries for a filling, yet healthy breakfast. Enjoy it all year long by using frozen blueberries or use fresh ones during summer!
Ingredients
1

cup

rolled oats

1 1/2

cup

unsweetened almond milk (or milk of choice)

1

large

banana (or 2 small),

mashed

1/2

cup

blueberries,

frozen or fresh

2

tablespoons

flax seeds,

ground

1

tablespoon

chia seeds

1/4

teaspoon

vanilla extract
Suggested Toppings
Sunflower seed butter

Nuts and seeds

More blueberries

Dried fruits
Instructions
In a small saucepan, bring the oats, milk, flax seeds and chia seeds to a low boil over high heat.

Reduce to medium heat and stir in the blueberries and vanilla. Let simmer for 5 minutes or until the oats have absorbed the liquid and reaches your desired thickness. Stir in the mashed banana in the last minute of cooking.

Serve immediately with desired toppings.
Notes
If using fresh blueberries, add more milk as needed (the frozen blueberries add more liquid because of the ice).
If you try this recipe, make sure to tag your photo #unsweetenedcaroline on Instagram, Facebook and Twitter! Don't forget to also tag me @unsweetened.caroline on Instagram so I can see your creations!