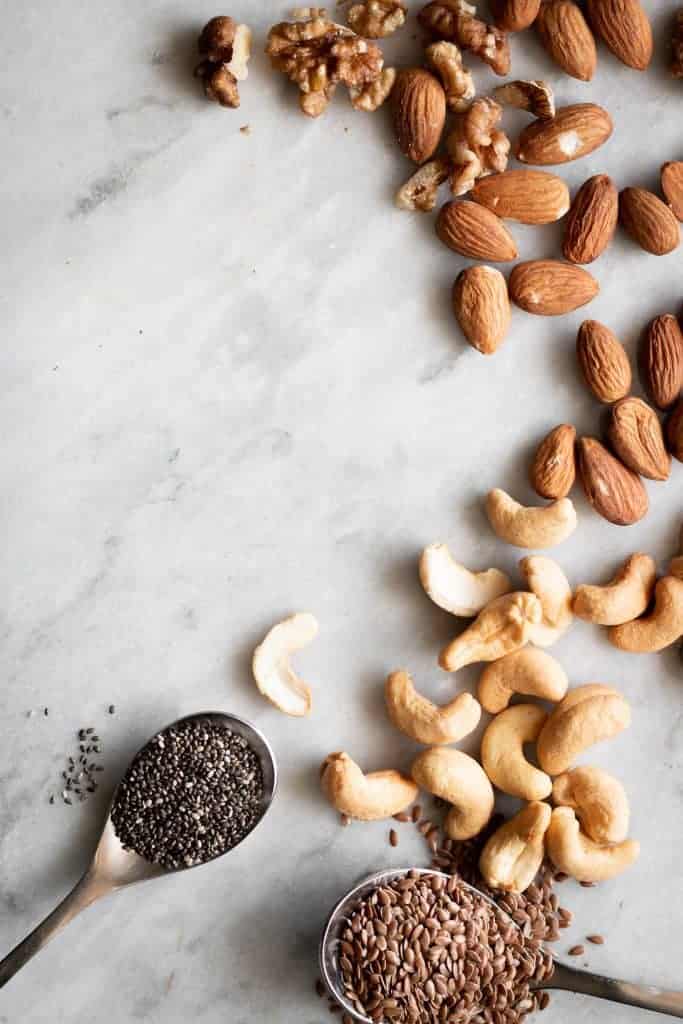 Nuts and seeds are high in healthy fats and contain a good amount of plant protein.
Stock your pantry with nuts and seeds for quick and healthy snacks. They are very dense in nutrition, so keep in mind that a small amount goes a long way! 1/4 cup is a good portion for most.

Make sure you buy them raw or dry roasted, unsalted. Flavored or salted nuts will be high in salt and sugar and can make it harder to stop eating.
Storage: Keep them in an airtight container in a cool, dark spot. They will last a few months at room temperature this way. If you're not using them in a few months, consider storing them in the refrigerator or freezer to prevent them from turning rancid. This way, they can keep fresh for 6 months to one year respectively. Keep ground nuts and seeds in the refrigerator as they turn rancid faster. Hemp hearts should also be kept in the refrigerator.
Nuts and seeds to keep in your pantry:
Walnuts
Almonds
Cashews
Peanuts (technically a legume, but used a a nut in cooking)
Pecans
Hazelnuts
Sunflower seeds
Pumpkin seeds (Pepitas)
Chia seeds
Sesame seeds
Whole flax seeds (you can grind them yourself in a blender or buy pre-ground)
Recipes using nuts and seeds:
Chocolate Hazelnut Overnight Oats
Roasted Brussels Sprouts with Garlic Pecans